Runway Maintenance
Dublin Airport's main runway 10/28 was officially opened in June 1989.

This runway is an essential piece of national infrastructure, underpinning the local and national economy.

Runway 10/28, which is 2,637m long, has been the workhorse of the airport facilitating over four million aircraft movements since it opened 27 years ago. This runway has allowed Dublin Airport to grow from five million passengers in 1989 to 31.5 million passengers in 2018.

Last year Dublin Airport had almost 233,000 aircraft movements in total, 95% of these took off or landed on the main runway R10/28, and just 5% of total aircraft movements used runway 16/34.
General Maintenance
Like all airport assets, the main runway has been subjected to regular, ongoing maintenance over the years to ensure its safe operation.
A major project to resurface the runway finished in September 2018. The project started in November 2016 and included the application of three new layers of asphalt to the main runway, the resurfacing of three taxiways serving the runway, an upgrading of the runway's ground lighting system with 1,700 new LED lights, reducing energy consumption by 66%, and more than 10 kilometres of new electrical ducting and 200 kilometres of electrical cabling.

This runway has two flight paths, the R16 flight path brings aircraft over rural areas of North Dublin while the R34 approach brings aircraft over South Dublin, across Dublin Bay to Clontarf, Artane, Beaumont, Santry before landing at the airport.

The preferred flight path to/from the secondary runway is R16 and the Irish Aviation Authority use this flight path for the duration of maintenance works. On occasion when wind direction is an issue, R34 will be used.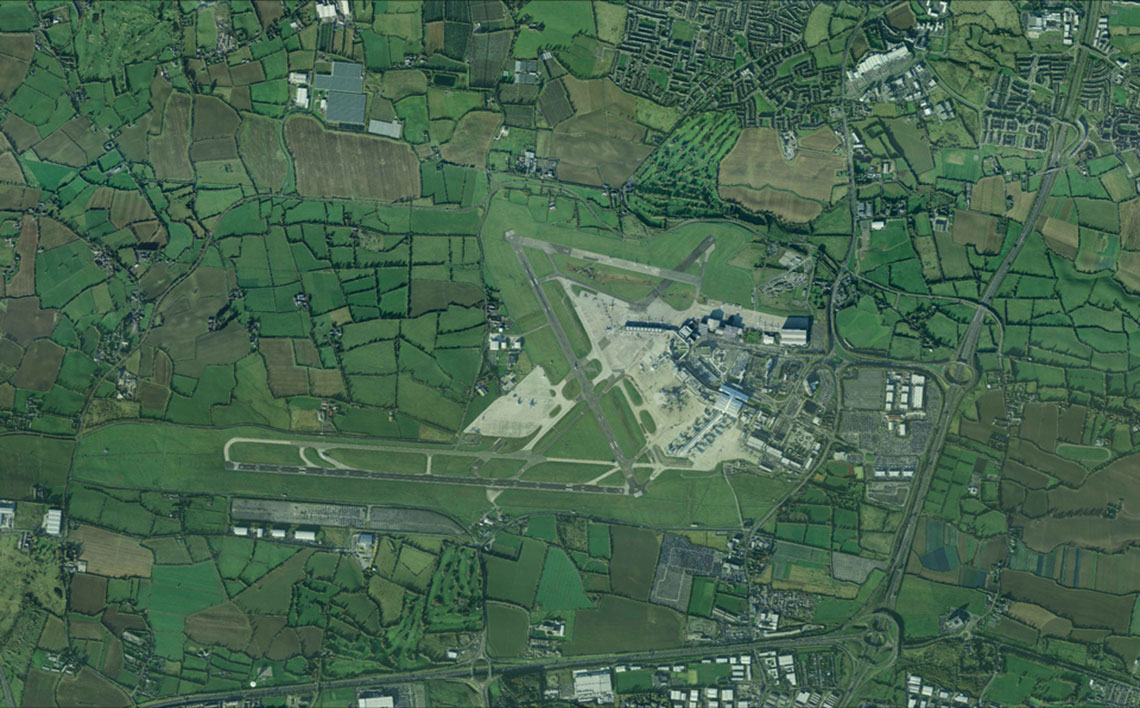 Rubber Removal

About 700 – 750 aircraft land and take off on Dublin Airport's main runway every day. Each landing leaves rubber residue from the aircraft's tyres which in turn starts to progressively build up on the surface of the runway.
This accumulation of rubber on the runway can compromise the gripping or friction levels required for aircraft to land safely. To ensure our runway is safe, we engage a specialist contractor to remove this rubber residue using ultra high-pressure washing equipment. This work is carefully planned and is carried out at night time to as not to impact the day to day flight operations.
Rubber removal from the main runway needs to be carried out about three times during the year.

Grass Cutting

Birds can be a major hazard at all international airports and it is a challenge to keep them away from the airfield. Dublin Airport has over 670 acres of grasslands which needs to be managed carefully to stop birds nesting and foraging for food on the airfield.
Grass cutting involves a trained team using a combination of tractors and mowers, ride-on mowers and grass strimmers to maintain the grass areas.
The teams work their way progressively around the around the airfield cutting the grass around all lights and signs, taking care not to impact on the day to day operations as they complete their work. Dublin Airport has a long grass policy which deters birds from landing on the airfield, this means that the grass is never cut too short.
For areas that cannot be cut during the day time hours, the team completes cutting activities at night time in co-ordination with airport operations.
Runway maintenance normally takes place for a week about three to four times per year between midnight and 05.00.
During these times, the northerly approach to the secondary runway R16 will be used with the only exception being if the wind dictates that the southerly approach, R34 has to be used.

Previous repair works on Runway 10/28
Dublin Airport's main runway, R10/28 had maintenance work, similar to that carried out between 2016 -2018, carried out over a six month period in 2010 when a thin, porous friction course overlay was applied to extend the runway life by 6-8 years.

The runway was closed at night from 11pm to 5am to facilitate this work and R16/34 was the active runway during this time.

R10/28 was closed again at night for two months in April and May, 2015 for extensive survey works to ascertain the extent of overlay required, again R16/34 was the active runway during this time.
Use of R16/34:
Runway 16/34 is just over 2,000 metres long and is Dublin Airport's secondary runway.
This runway is brought into use when the crosswind component on the main runway reaches 15 knots and is expected to increase over a prolonged period of time. It is also used when essential maintenance is needed on the main runway.