Air Quality
Dublin Airport is committed to monitoring our impact on Air Quality. The airport undertakes a voluntary ambient air quality monitoring programme. This includes the operation of an on-site air quality monitoring station that measures a range of parameters on a continuous basis, complemented by monthly monitoring, undertaken at 11 locations in communities surrounding the airport.
Dublin Airport publishes quarterly reports on air quality monitoring to keep our local communities informed, and these reports can be viewed by clicking here. Monitoring results indicate good air quality with concentrations of the main transport related parameters well below the national ambient air quality standards (Air Quality Standards Regulations 2011).
daa continues to implement initiatives to further reduce our impact on air quality whilst also improving resource efficiency on site. This includes the use of electric vehicles, fixed electrical ground power, fuel hydrant systems, improved efficiency of boilers and regularly updating and implementing the Mobility Management Plan.
Community Ambient Air Quality Monitoring Stations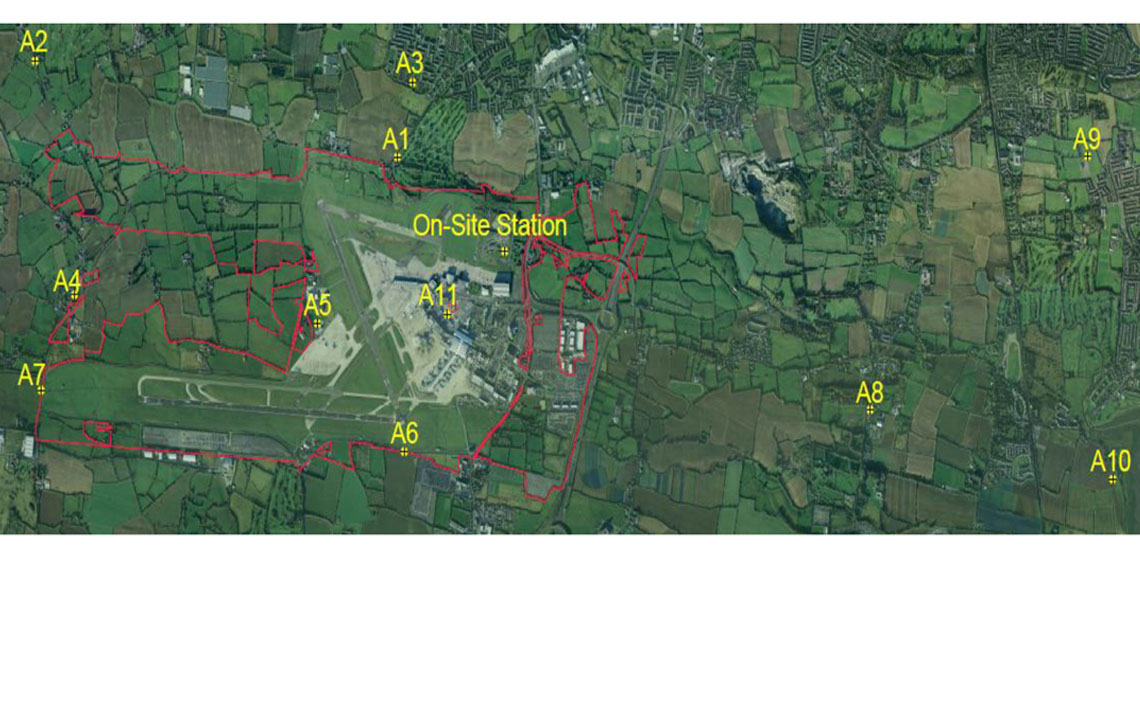 | | | | |
| --- | --- | --- | --- |
| Ref | Location | Method | Parameter |
| On-site | Dublin Airport | Continuous analyser | NO2 and PM2 |
| A1 | Forrest Little Golf Club | Passive Tubes | NO2 Benzene |
| A2 | Kilreesk Lane, St. Margaret's. | Passive Tubes | NO2 Benzene |
| A3 | Ridgewood Estate West, Swords. | Passive Tubes | NO2 Benzene |
| A4 | St. Margaret's School and Parish House. | Passive Tubes | NO2 Benzene |
| A5 | Fire Station, Huntstown, Dublin Airport. | Passive Tubes | NO2 Benzene |
| A6 | Southern Boundary Fence, Dublin Airport | Passive Tubes | NO2 Benzene |
| A7 | Western Boundary Fence, Dublin Airport | Passive Tubes | NO2 Benzene |
| A8 | St. Nicholas of Myra School, Malahide Road. | Passive Tubes | NO2 Benzene |
| A9 | Naomh Mearnóg GAA Club, Portmarnock. | Passive Tubes | NO2 Benzene |
| A10 | Oscar Papa Site, Portmarnock. | Passive Tubes | NO2 Benzene |
| A11 | Dublin Airport Bus Depot | Passive Tubes | NO2 Benzene |