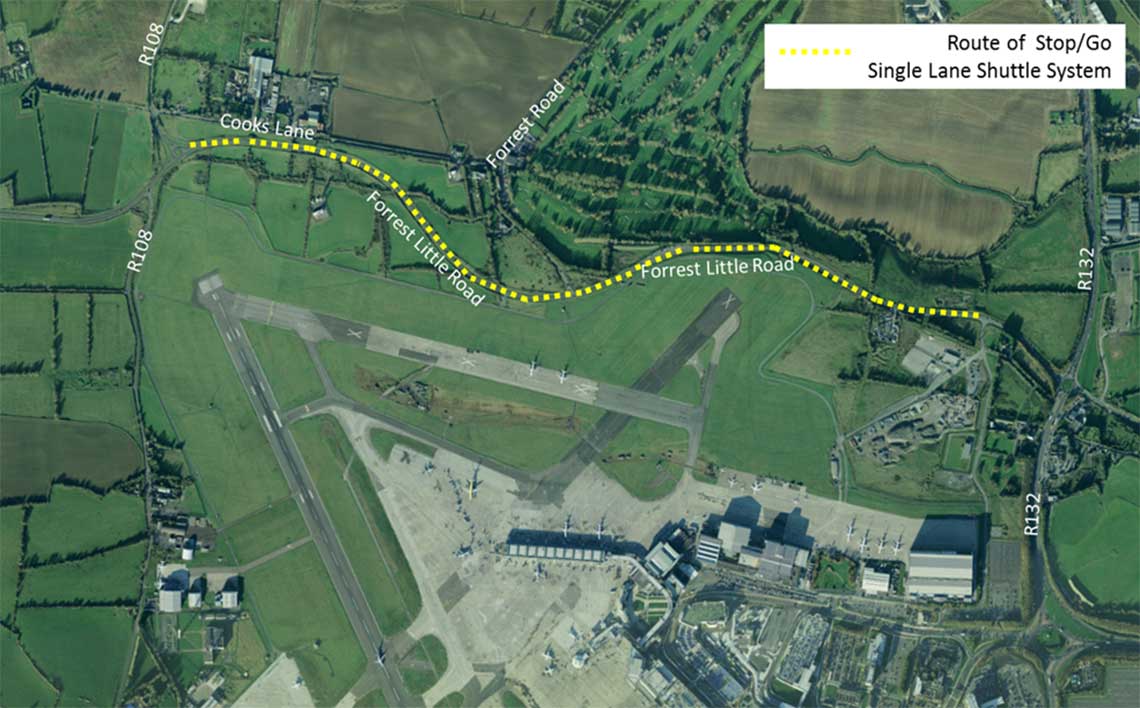 Applications have been made to Fingal County Council for permission to operate a stop/go single lane shuttle system on Forrest Little Road during the following periods to facilitate the installation of service ducts under this road:
| | | | |
| --- | --- | --- | --- |
| Time | From | To | Duration |
| 09.30 am to 04.00 pm | Thursday, 22 June | Friday, 23 June | 2 days |
| 07.00 am to 07.00 pm | Saturday, 1 July | Sunday, 2 July | 2 days |
| 09.30 am to 04.00 pm | Monday, 3 July | Friday, 7 July | 5 days |
| 07.00 am to 07.00 pm | Saturday, 8 July | Sunday, 9 July | 2 days |
The stop/go shuttle system will be approximately 500m in length at any given time, and, starting at the Castlemoate Junction at the eastern end of Forrest Road, will advance westerly as the work progresses. The route of the shuttle system is marked on the map below.
We have had extensive consultation with Fingal County Council's Planners and Traffic/Operations regarding these measures. We are specifically trying to undertake as much work as is possible during weekend periods in order to limit the impact on road users and avoid heavier traffic volumes during the working week.
All necessary traffic management measures will be in place to ensure the safety of staff and the public, and to reduce the impact on road users as much as possible.
Again, please note that the above dates are tentative and are subject to Fingal County Council's approval.
We apologise for any inconvenience these works may cause and are happy to clarify any of the details outlined above. If you have any queries, please feel free to contact us directly via email on northrunway@daa.ie or by freephone on 1800 804 422.