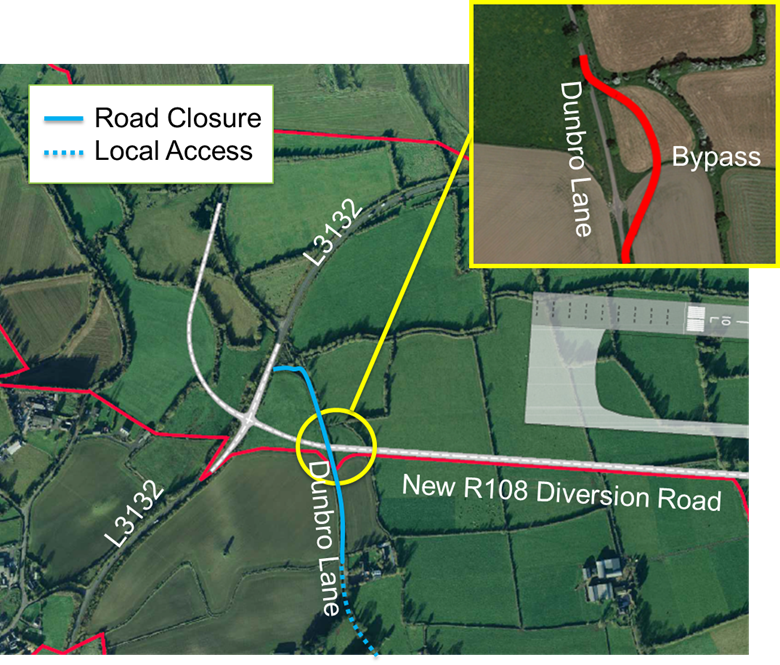 A temporary closure of part of Dunbro Lane is necessary in order to carry out works associated with the new R108 diversion road linking to the L3132. As Dunbro Lane is not wide enough to maintain two-way traffic at the works site, a temporary bypass has been constructed at the location marked on the map below.
In order to facilitate this work, the Lane will be closed for a period of two days on 16th and May 17, 2017.
During the two-day closure period, access to all properties will be maintained from the eastern end of Dunbro Lane, and all necessary traffic management measures will be in place.
The temporary bypass will be in operation from May 18. There will be flashing amber traffic lights at either end of the works on Dunbro Lane to warn road users to proceed with caution through the works site. There will also be flagmen operating a Heavy Plant Crossing at the works site for the duration of the works. These arrangements will remain in place until the new Naul Road and the new signalised junction on the St. Margaret's Bypass is opened to traffic work, c. August 2017.

We apologise for any inconvenience and welcome queries to the North Runway Team on freefone 1800-804422 or email northrunway@daa.ie.