Sustainability
Here you will find sustainability information on Dublin Airport
Established in 1940, Dublin Airport has two passenger terminals and runways. Today, the airport occupies a site in excess of 1,000 hectares. During 2015, passenger traffic increased by 14% to 25 million passengers with more than 33 airlines growing their business at Dublin Airport.
Specific environmental highlights include a doubling of the percentage of waste being recycled to approximately 34% of the overall waste footprint. Dublin Airport is accredited at Level 2 – "Reduction" status as part of the ACI Europe – Airport Carbon Accreditation programme.
daa's Sustainability Policy Statement
The daa vision is to deliver a quality airport travel experience to the best international standards.
In operating Dublin Airport, daa will:
Contribute to Irish economic growth by developing Dublin Airport;
Provide a safe environment and facilities for employees and visitors;
Make a positive contribution to the community in which we operate;
Reduce energy consumption and carbon emissions;
Increase water conservation;
Minimise waste and reuse and recycle as much waste as feasible;
Increase use of environmentally and socially responsible products and services;
Communicate and promote sustainable practices amongst all users of the airports and in the wider community;
Incorporate sustainable planning, design, procurement and construction into projects;
Prevent pollution, comply with relevant environmental legislation and encourage best practice environmental management;
Integrate sustainability into relevant policies, processes and agreements;
This Policy will be reviewed annually and updated as required.
Sustainability Reports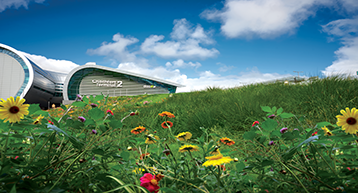 As part of daa's commitment to Sustainability, daa reports regularly in relation to Sustainability, Corporate Social Responsibility and Environmental issues at daa airports. In this section, you will find links to historic reports in relation to Dublin Airport and daa's most recent Sustainability Report, issued in 2014.
Please send us your feedback and ideas by emailing: sustainability@daa.ie
Airport Carbon Accreditation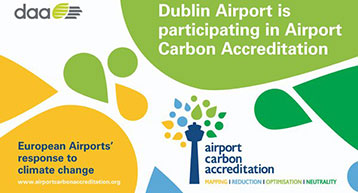 Airport Carbon Accreditation is the European standard for carbon management and emission reductions at airports. This certification programme, specifically designed for airports, has received widespread support and endorsements from both the EU and the UN Environment Programme. Launched in June 2009, the programme has four levels of accreditation: Mapping, Reduction, Optimisation and Neutrality.
Dublin is accredited at Level 2: "Reduction" status. This means that an independently verified carbon footprint for Dublin Airport has been compiled and that the airport has successfully reduced its overall emissions and its carbon footprint year on year.
At present, some 67 airports welcoming over 53% of European passenger traffic each year, are participating in the Airport Carbon Accreditation programme. In November 2011, this initiative expanded to the Asia-Pacific region, gaining the support of International Civil Aviation Organisation at that time too. Currently, 5 airports in Asia-Pacific are already accredited. The programme is also endorsed by the United Nations Environmental Programme.
Airport Carbon Accreditation is an annual certification programme and consequently requires ongoing commitment to managing energy and improving resource efficiency on a continuous basis.
To find out more, go to www.airportcarbonaccreditation.org
Enviro Aero
Facts about aviation and the environment
Choosing to travel by air whether it is for our summer holidays, a weekend city break or business travel poses a dilemma for the environmentally conscious among us who endeavour to minimise our contribution to greenhouse gases.
CO2 emissions are the principal cause of climate change and the United Nation's Intergovernmental Panel on Climate Change (IPCC) states that aviation contributes 2% of the world's CO2 emissions. This figure is forecasted to reach 3% in 2050. These are some of the facts concerning aviation and the environment outlined on the Enviro.aero website.
Unfortunately there are many myths and untruths concerning aviation and the environment as we become ever more conscious of our contribution to global warming.
Enviro.aero is an initiative supported by daa and the commercial aviation industry with a purpose to providing clear information on the many industry measures underway to limit the impact of aviation on the environment.
Enviro.aero has been developed under the umbrella of the Air Transport Action Group (ATAG). ATAG has over 70 members worldwide including International Air Transport Association (IATA), Airports Council International (ACI), Boeing and various airline and airport members and supporters.
The website can be viewed at www.enviro.aero and includes a number of topics such as: what causes climate change, impact of flying, emissions trading and an interactive feature called The Flying Experience showing how the environmental impact of flying is being minimised at every step of every journey.
For more detailed information on 'What Causes Climate Change' click here
Did you know?
By shortening routes and reducing weight, airlines saved 12 million tonnes of C02 last year, equivalent to taking three million cars off the roads. The new Airbus A380 and Boeing 787 aircraft are more fuel efficient per passenger kilometre than hybrid cars.
By 2020, aircraft operations will be at least 25% more fuel efficient than today.
Today's aircraft fly more than three times as far with the same amount of fuel as they did 40 years ago.
Transport contributes to just 14% of global C02 emissions.
Inclusion of Aviation in the EU Emissions Trading Scheme (ETS)
The European Emissions Trading Scheme is a measure taken by the EU to incentivise the reduction of CO2 emissions by allocating emission certificates (1 certificate for 1 tonne of CO2 produced).
Directive 2008/101/EC was published in January 2009 to include the aviation sector into EU ETS from 2012 onwards. Airlines have to monitor and report Annual Emissions regularly from 2010 onwards. The EU ETS will cover any aircraft operator, whether EU or foreign-based, operating international flights to, from or between EU airports.