Face Mask Guidelines
Wearing a mask or face covering reduces the risk of spreading COVID-19 and helps protect us all.
It is now a legal requirement that all passengers wear a face mask or appropriate face covering throughout their full airport journey. Passenger should come to the airport with their face masks, but if new or more are required, masks will be available to purchase from vending machines and other outlets throughout the airport.
Exemptions only apply to children under the age of 13 or passengers who can provide evidence of a valid medical reason.
Please see our guidelines below on how to put on and remove your face mask safely.
Face Mask Correct Usage Guidelines
Putting On
Wash or sanitise your hands to avoid contamination.
Check if your mask is damaged, dispose of it and replace with a new mask if it is.
Cover your nose and mouth with mask and pinch the metal strip to secure it over the bridge of your nose.
Position the ear loops around your ears and ensure the mask covers the nose, mouth and entire chin.
Taking Off
Wash or sanitise your hands before removing the mask
Do not touch the outside of the mask while removing it as it may be contaminated.
Remove the mask by the ear loops.
Place the mask in a bin after removal.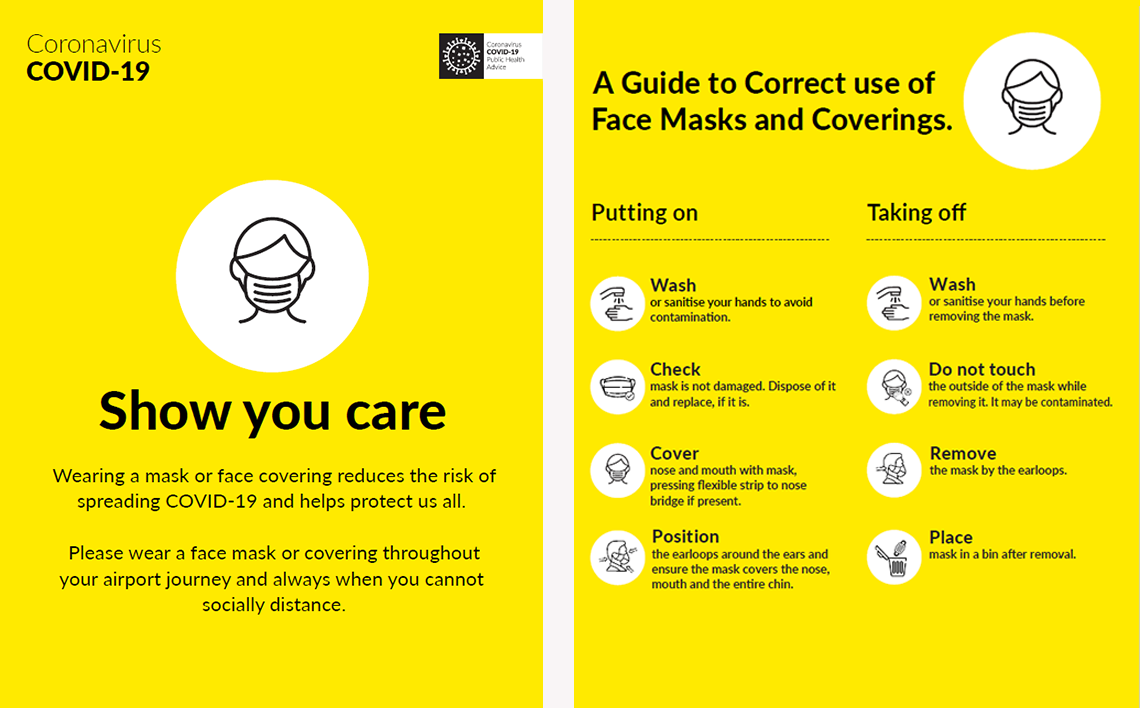 COVID-19 Travel Guidelines
You can view our COVID-19 safety video and travel guidelines here.
FAQS
View our full list of COVID-19 related travel FAQs here.
Related Links