COVID-19 Tests
Randox provides RT-PCR COVID-19 testing and rapid/antigen testing at Dublin Airport. We have two Randox testing facilities on-site, one for T2 and one in T1. Randox is government-approved and provides Digital COVID Certificates.
For details of other approved companies, please go to gov.ie and for details of antigen only test suppliers that are government approved and provide Digital COVID Certificates, please click here.
*Please note COVID-19 tests at Dublin Airport need to be pre-booked in advance. For more information on how to pre-book a COVID-19 test, please see the details below.

Overview of Randox Services:

PCR test €59 with results available the next day.
Express PCR test €89 results in 1-3hours.
Rapid Antigen test €35 with results available after one hour.
Antibody tests €49 with results available the following day.
Randox Health Centre T1
Opening hours: 06.00-22.00 daily.
Location: Walk northwest from Terminal 1 on the departures road, then take the second left just before the Garda Station and then the first right. Please see the map below. *Pre-booking is required.
Directions: Please follow the directional signage from outside Terminal 1 on the departures level.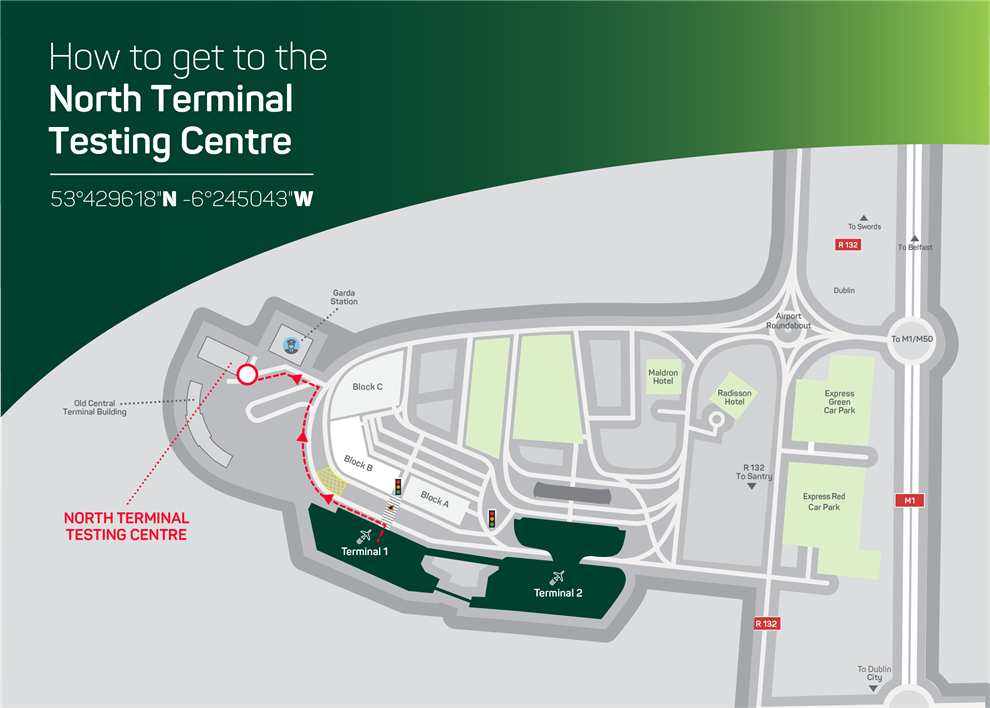 Randox Health Centre T2
Opening Hours:
02:00am-11:00pm daily
Location: The Randox Travel Centre is located close to the Terminal 2 Short Term multi-story car park at Dublin Airport. Dedicated parking is available on Level 5 of the Terminal 2 Short Term multi-story car park. *Please note pre-booking is essential.
Directions:
When arriving at the airport, follow the directional signage for Terminal 2 parking. A detailed video can be found here.
After you have parked in the dedicated area, take the lift down to the ground floor.
When you come out of the lift, turn to your left to exit the car park.
You are now facing the back of the Randox Travel Centre. Cross the road and walk around the building to the Randox Travel Centre entrance.

Booking:
Please see the website for more information on how to book: https://booking.randox.ie
You can also call the Randox booking helpline direct on tel: 0044 2894 343 005
Alternative Off-site Testing Suppliers
In all cases, departing passengers must check the COVID-19 test and quarantine requirements for entry into the destination they are travelling to. Randox is the COVID-19 test supplier on-site at Dublin Airport.
There are off-site suppliers available, however, we strongly advise passengers to verify with their airline or destination State that these testing services fit entry requirements. For details of Government approved companies who provide Digital COVID Certificates and Antigen testing, click here and for RT-PCR testing, click here.