Check-in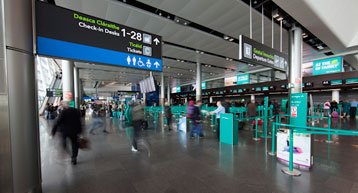 For passengers on the earliest morning departures, please note that Security in T1 is now open 24 hours a day, 7 days a week while Security in T2 opens from 04.00.
View Security Queue Times here
We advise that you allow 2 hours before a short-haul flight, and 3 hours before a long-haul flight
If checking a bag, verify your airline's check-in & bag drop desk opening times, and if possible, allow up to one hour of additional time to check-in luggage.
You can also view check-in times by airline and by Terminal below.
Terminal 1

The check-in desks in Terminal 1 are located on the first floor of the building. Please see below the list of airlines in Terminal 1 and their check-in times and locations.
Terminal 2

The check-in desks in Terminal 2 are located on the ground floor of the building. Please see below the list of airlines in Terminal 2 and their check-in times and locations.
Preparation for check-in and security screening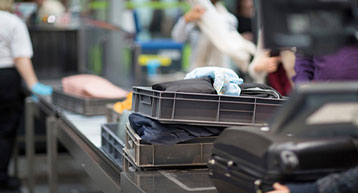 For Security please have your boarding pass ready, you do not need your passport at this stage, passports are checked at the departure gate at boarding.

Separate out your liquids, gels and pastes into one single, clear 1 litre plastic bag with each container no bigger than 100ml.

Check-in times
Airline check-in desk and bag drop opening times vary, so please contact your airline to confirm and plan your journey accordingly. Please allow up to an hour of additional time for your airline's check-in and/or bag-drop, and then time to complete the security screening process.
Self-service online check-in and bag drop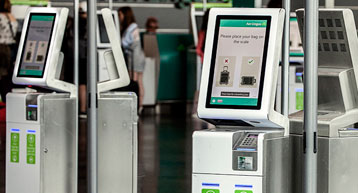 A number of scheduled airlines offer self-service check-in kiosks and internet check-in technologies in order to facilitate their passengers with early check-in, seat selection and issue of boarding passes.
Airline employees should be on hand if you require any assistance with the self-service kiosks.
Passengers can check in their check-in luggage at the check in area – either with an airline customer bag drop desk, or at the self-service bag drop kiosks.

Online check-in passenger information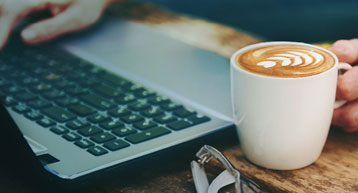 Online check-in passengers must proceed through security screening areas as normal.
Please allow plenty of time to proceed through security screening.
Please refer to the flight information screens located after security screening throughout the shopping and boarding areas.
These screens list flight departures for your destination, boarding time and gate number.