Prepare
Save time and have a smoother journey by preparing correctly and ensuring that all items in your hand luggage meet security requirements.
Departing passengers
Help us reduce the queues at security control by ensuring that you do not pack prohibited items in your carry-on luggage. Make sure you leave plenty of time after check-in for the security screening process. Passengers should plan to arrive in the terminal building at least 2 hours before their flight departure time irrespective of whether they are checking in online or at the airport. Dublin Airport would like to thank all passengers for their cooperation with security procedures. Please watch our security preparation video below.

Security checklist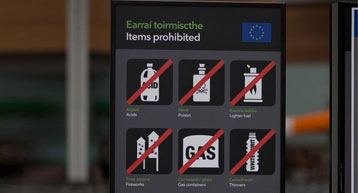 Get airside quicker by preparing for airport security
Passengers are advised to carry just ONE piece of hand luggage
Sharp objects should be removed from carry-on luggage and placed in checked-in luggage
Follow our guidelines below to prepare your liquids, sprays, gels and pastes before travel
The Four S's Liquid Rules
Before travel prepare your liquids, gels and pastes using these four simple rules.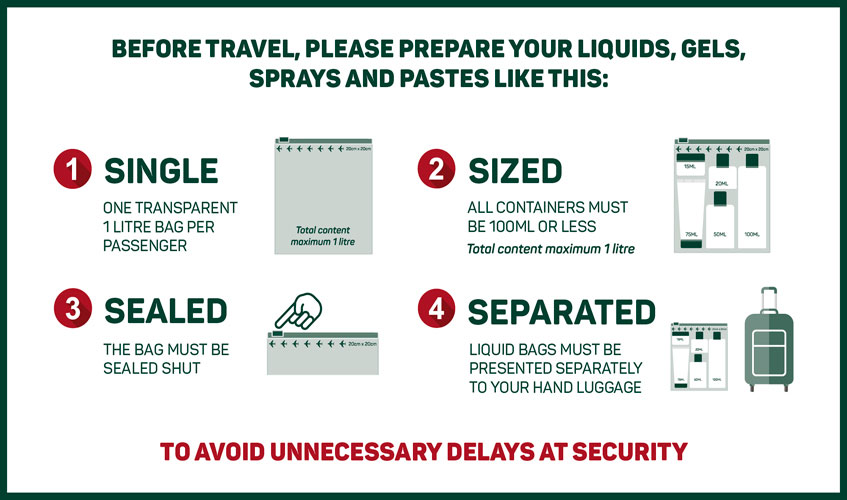 Permitted Liquids
Please check our infographic for more information on the restrictions and permitted liquids at security screening.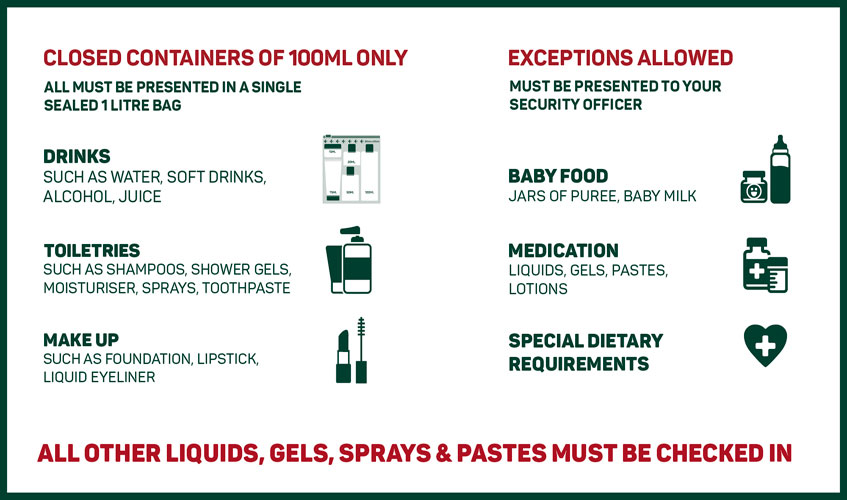 Hand Luggage Permitted  Items Guidelines:

Special dietary requirement/ baby food or baby milk: you can bring enough for the duration of the flight(s)
Prescription liquid medicines: you may be asked for documentation, e.g. prescription or doctor's letter
Liquids purchased after Security Screening in an airport or on a flight: these are permitted provided they are presented in an official, sealed security bag with the receipt of purchase. 
If you need to bring liquids, gels, sprays and pastes in quantities larger than 100ml, you must place them in your checked in baggage, unless they fall into the above exceptions.
Restrictions apply even when you intend to check in your bag in at the boarding  gate.
Security FAQs