Connection Guide
The video below will show you how quick and easy it is to connect at Dublin Airport.
With our Flight Connections Hosts and all gates under one roof, connecting between your flights has never been easier.
Follow our easy to follow guide to make your flight connection at Dublin Airport as easy as possible.

Before you fly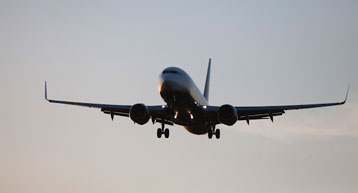 To ensure a smooth connection at Dublin Airport, please make sure you have your boarding pass for your onward flight from Dublin otherwise you may have to exit and re-check in with your airline.
Aer Lingus passengers can be issued their boarding pass at the Aer Lingus connections desk at Flight Connections.

When You Land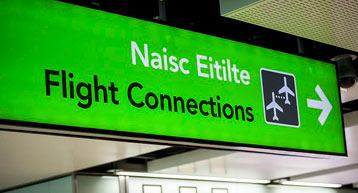 When you land, follow the signs for Flight Connections. Please have your entire documentation (passport and boarding card) ready for inspection. Proceed through Flight Connections.
Flight Connection Hosts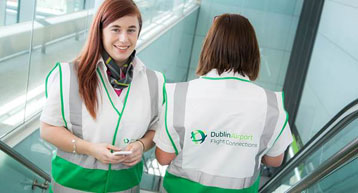 If you need a helping hand during your connection at Dublin Airport, please don't hesitate to ask our dedicated Flight Connections Hosts, look out for them in their white and green hi-vis jackets along your arriving journey.
Our hosts will have helpful information on connecting gates, services at the airport, and information on US Preclearance.

Finding your gate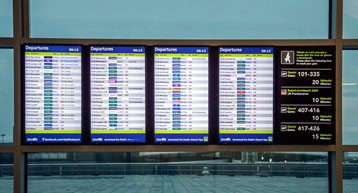 Your flight number is on your boarding pass. Please consult the Flight Information Display Screens to locate your gate and further instructions.
For flights to the USA, follow signs for US Preclearance.
Go to your gate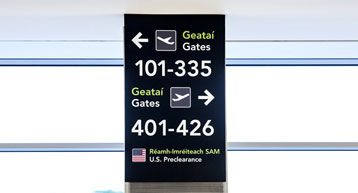 Having identified your gate number number, follow the signage and proceed to your gate.
Enjoy your flight and onward destination.
Flight Connection Guide PDF 3793 KB
Main Connecting Gates PDF 356 KB
Flight Connection FAQS
No, self-connecting passengers will be unable to use the flight connection facility.
We advise you allow 2 hours for a short-haul flight departure time, and 3 hours for a long-haul flight departure time. If checking a bag, verify your airline's check-in & bag drop desk opening times, and if possible, allow up to one hour of additional time to check-in luggage.
No, as the terminals are a short walking distance between each other.