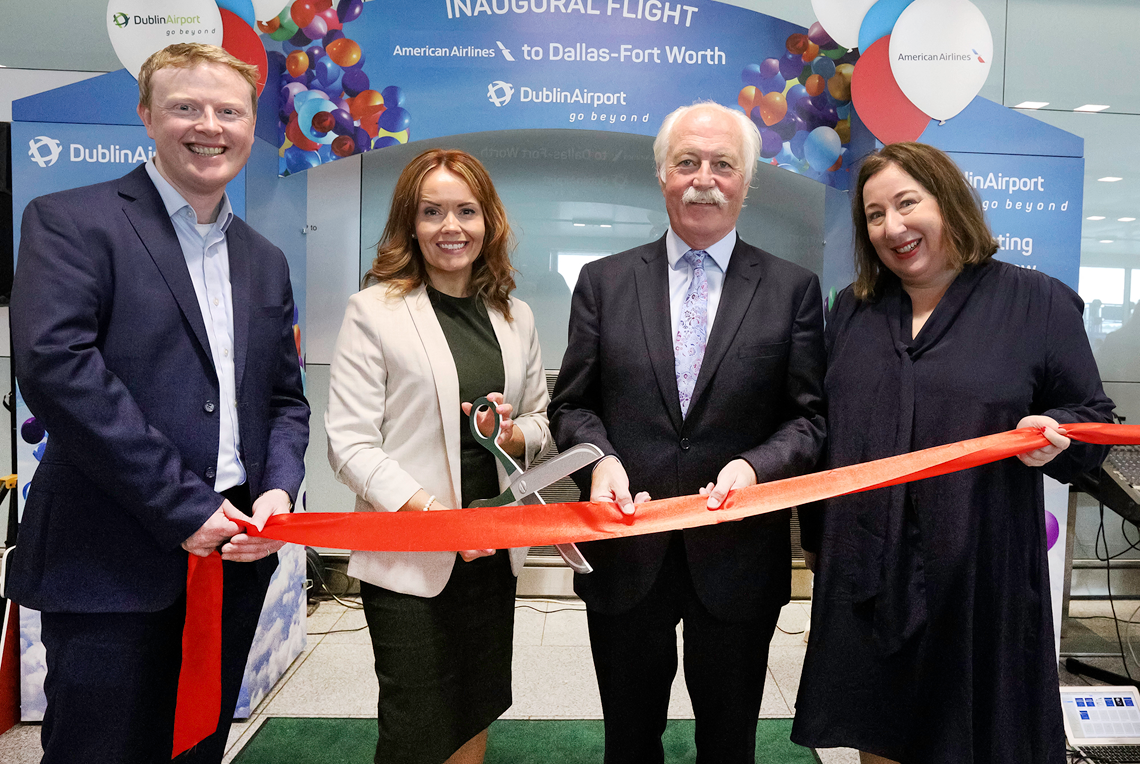 Dublin Airport is delighted to welcome American Airlines new daily direct service to Dallas Fort Worth.
The new route will be operated with a Boeing 787-9 Dreamliner and will be Ireland's first direct flight to Dallas, which is American's largest hub for connecting traffic.
"Dallas is an excellent addition to the existing route network from Dublin Airport and we are thrilled that American Airlines will be serving this market with a daily summer service," said Dublin Airport Managing Director Vincent Harrison.
"This new route will further grow the already strong links between Ireland and the United States and will boost tourism and trade between the two countries," Mr Harrison added.
"This is the first time Ireland and Texas have been connected with a direct flight and the new service will help meet the increased demand for travel between both markets. We will be working closely with American Airlines in order to promote this new service on both sides of the Atlantic."
Dublin Airport has direct services to 18 destination in the US this year as part of its largest ever transatlantic offering.
From Dallas, Irish travellers can connect onto top onward destinations including Hawaii, Las Vegas, Cancun, Los Angeles and New Orleans" said Vasu Raja, American Airline's Vice President of Network and Schedule Planning.
"We're really excited to provide Irish travellers with direct access to the largest hub of American, the world's largest airline" he added.
Dallas Fort Worth Airport welcomed 67 million passengers last year, making it the twelfth largest airport in the world.
American Airlines operates more than 800 flights per day from Dallas to destinations across the United States, the Caribbean, Mexico, Canada and South America.
The new route will operate daily from today until September 28, 2019, departing Dallas at 20.35 and arriving in Dublin at 11.40 the following day. The return flight will depart Dublin at 13.40, arriving in Dallas at 17.45.
So far this year, more than 18 million passengers have travelled through Dublin Airport, which is a 6% increase over the same period last year.
Dublin Airport is having its busiest ever summer and is currently welcoming more than 100,000 passengers per day on a regular basis. It has flights to 195 destinations in 42 countries, operated by 56 airlines.
Pictured above: Stephen O'Reilly, Aviation Business Development Manager, Dublin Airport, Caitriona Toner, Country Sales Manager, Ireland, American Airlines, John Spollen, President, ITAA, Siobhan McManamy, Director of Markets, Tourism Ireland.