Unique Atmosphere
Dublin Airport Media Sales bring the exciting unrivalled opportunity to hyper target your brand to a massive Irish and international audience. Few locations create an atmosphere charged with more excitement and anticipation while bringing a guaranteed diversity of people. Dublin Airport's passengers are a constantly changing captive audience with 76% of passengers saying they are in relaxed a mindset. This relaxed mindset means our audience is more receptive to your messaging. Our passengers travel through a specifically engineered pedestrian flow, this allows our audience to be profiled precisely according to their behaviour status and mobility. We use this extensive research to hyper target your message to passengers. Early check-in ensures a continuously mobile audience with time on its hands and an interest that can be stimulated by exciting and vibrant messaging.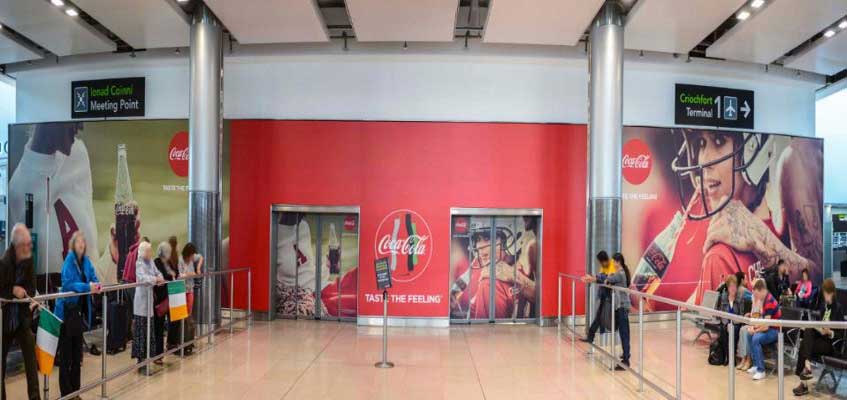 Advertising Opportunities
Vibrant messaging can be delivered through a variety of digital and classic opportunities and partnerships. These opportunities are strategically located at every point along the passenger's journey throughout Dublin airport. Whatever the audience, we can offer it all day, 364 days of the year.
We operate a fluid approach to our booking time-frames on our digital and classic opportunities. These can be bought on a long, short-term, programmatic or partnership basis depending on your campaign needs whilst offering precise audience targeting. Such breadth and precision can drive value whilst ensuring little or no wastage to your brand. Whatever the timescale, Dublin Airport can offer a range services to suit your brand.
Contact us
If you require detailed maps of the advertising locations or want to learn more about advertising opportunities at Dublin Airport please call +353-1-9449371 or email leonard.miller@dublinairport.com