This page outlines the key information for bus operators operating services to and from Dublin Airport. Below you will find information on where coaches can pick up and drop of passengers, charges for using airport infrastructure and the rules for operating services on the campus.
General information
Bus stop locations
Dublin Airport has 22 designated bus stops for the provision of scheduled bus and coach services, located in Zones 1, 2, 10 – 15, 20 & 21. Only operators who tender for a designated bus stop are permitted to operate from these locations. These stops are tendered via the government etender website every 2-3 years.
All other operators are restricted to pick up passengers from Zone 16 only.
Set down location
All operators are permitted to set down to drop off passengers on the T2 Departures Road Inner located directly outside Terminal 2 check-in. Operators are not permitted to pick up at this location without permission from airport authorities.

Parking locations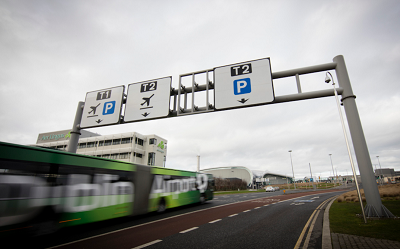 The Dublin Airport campus is extremely busy, serving over 30 million passengers per year.
We request operators not to park on the main campus for extended periods of time.
For operators on layover or with long wait periods, free parking for periods of up to 3 hours are permitted at the Express Red Coach Layover facility.
Charges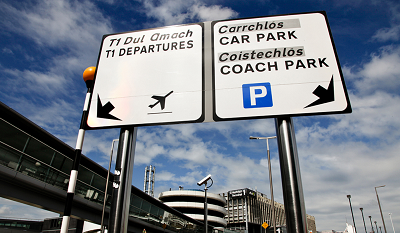 Operators should be aware of charges for use of facilities at Dublin Airport.
Please see below the charges for use of the Dublin Airport Coach Park at Zone 16.
| | |
| --- | --- |
| Time | Fee |
| 0-30 mins | €5 |
| 30-60 mins | €8 |
| +1 hour & subsequent hours | €10 |
There are no charges for use of the T2 Departures Road Inner set down area for passenger drop off and free parking for periods up to 3 hours are available at the Express Red Coach Layover facility.
Operating Rules
Dublin Airport enforces the below rules on operators on the Dublin Airport campus to reduce congestion and ensure passenger safety.
Operators are required to follow all rules as set out below and the directions of airport employees when on the Dublin Airport campus.
Failure to comply with these rules may lead to permission for your services on the campus being withdrawn, fine being issued or arrest.
Operators are not permitted to drop off or pick up passengers outside of Zones 1, 2, 10, 11, 12, 13, 14, 15, 16, 20 or 21 without the permission of airport authorities.
Operators are not permitted to park vehicles in set down areas including the T2 Departures Road Inner. Vehicles using set down areas are required to vacate the area once passengers have disembarked.
Bus and Coaches are not permitted to drive on the T1 Departures Road. Passengers can be dropped off at T2 Departures Road Inner or Zone 16.
Bus and Coaches must be pulled in to stops and set down areas in a safe position and can not have part of the vehicle in an active roadway while passengers are disembarking.
Vehicles can not be cleaned in set down areas or bus stops. Litter and rubbish from bus and coaches cannot be left on the campus.
Vehicles can not be left unattended in set down areas and all vehicles must be left secured.
Drivers must follow all reasonable requests and directions of airport staff including airport operations and Airport Police.
No idling of vehicles. Engines must be switched off in parking spots.
Drivers are responsible for the safe navigation of passengers on to and around bus and coaches.
Abuse of airport staff is not tolerated.