Safe, secure, great value and a 5 minute bus transfer to the Terminals.
Dublin Airport has two long-term car parks with 18,600 spaces serving both Terminals 1 and 2. Our long-term car parks are available for both drive up parking and online pre-booking spaces. We recommend online pre-booking for all your car parking requirements, especially during the busy summer period. Follow the sign posts for long-term parking when approaching the airport.
Please note The Holiday Blue Car Park is temporarily closed to the end of September 2021 due to essential maintenance.
Customers should arrive early to allow adequate time to park, unload and transfer via bus from the car park to either Terminal. If you're in a rush and looking for a quick park option short term car parking is only a 5 minute walk from both Terminals. You can also book Fast Track to save time through Security in Terminals 1 and 2.
** There is a limited service available in our Express Red Car Park at the moment. The car parking zones that are open are displayed upon entering the car park. The Free Shuttle Bus Service is still operating to both Terminals 1 & 2. The Holiday Blue Car Park is closed due to essential maintenance.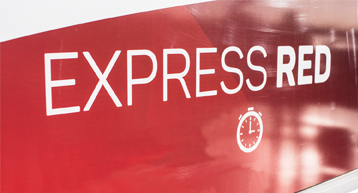 Express Red
This is Dublin Airport's quality long term car park with 8,000 spaces and is the closest long term car park to Terminal 1 and 2, with a 5 minute transfer time.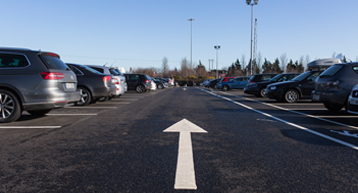 Express Green
Express Green is a seasonal long term car park located beside Express Red. It is open from May through to September and has 2600 spaces for use for both Terminals 1 & 2. Please note Express Green is a pre-book car park only.
COVID-19
We have implemented a number of new measures at our car parks for your safety and protection. Click below to find out more about these new measures.
No-H2O Car Valeting Service
NoH2O waterless car valet service is located in T1, T2 and in the Express Red Car Park.
Customers can find NoH2O at the Vehicle drop off area, located beside the NoH2O advertising board after the entry barriers into Express Red Car Park.
Please call NoH2O Dublin Airport staff 15-20 minutes before arriving into Express Red Car Park on 086 170 0150.
Contact Us
If you have any queries or require assistance, please contact us on: +353 1 944 0440 or email us on: parkingdublin@dublinairport.com
Refund Queries
By e-mail: parkingdublin@dublinairport.com
Car Parks Breakdown Assistance
If you have a problem with your car at Dublin Airport, we have a team on hand 24 hours a day, 7 days a week, who can fix a flat tyre or flat battery free of charge, or help you make arrangements for other assistance. Please contact the team from the car park by telephone on +353 1 814 4828.