Self Connecting Passengers
Self connecting passengers are those passengers who are travelling on two or more connecting flights which were booked separately to each other and have independent tickets. From an aviation standpoint, these flights are regarded as separate journeys (point to point flights). If you are travelling as a self-connecting passenger please follow guidelines below:
Self Connecting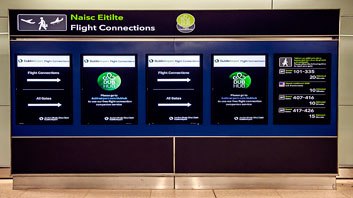 Please proceed to the baggage hall to retrieve your bags
Exit the baggage hall
Flight Information Display Screens in arrivals will display your flight and which terminal you depart from
Proceed to departures to check in with your airline
Terminals 1 & 2 are linked and within a 5 minute walk of each other, and are clearly signposted
Self connecting passengers are not permitted to use the Flight Connections Facility
Flight Connection FAQs
No, self-connecting passengers will be unable to use the flight connection facility.
We advise you allow up to 2.5 hours for a short-haul flight departure time, and up to 3.5 hours for a long-haul flight departure time.
No, as the terminals are a short walking distance between each other.