WebTrak Flight Monitoring System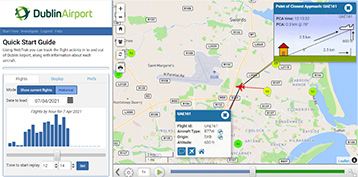 WebTrak is a web-based service that monitors and provides information on flights and noise levels related to aircraft using Dublin Airport.
Developed by Envirosuite environmental management experts, and used at many international airports, WebTrak provides near real-time information on flight origin and destinations, aircraft types, altitudes and flight paths, as well as noise levels registered at Dublin Airport's noise monitoring terminals.
The system also provides an additional simplified way for members of the public to monitor flights and submit noise complaints.
The interactive tool allows users to identify their location by Eircode or map, and view flight data in relation to that specific location. Historic flight information is of particular interest to aviation enthusiasts, but also supports the system's automated noise complaint system, which is supplementary to the existing electronic, telephone and postal options.
Dublin Airport's WebTrak can be accessed here.