Sustainability Strategy

Dublin Airport understands the global environmental and climate challenge; we have set clear and effective environmental sustainability targets and embedded them in our overall business strategy.
Our approach to sustainability is dynamic and is at the heart of the strategic plan for the future of Dublin Airport. In it, we commit to achieving Net Zero carbon emissions by 2050, a landmark agreement signed in 2019. We are also working to achieve the Public Sector climate targets for carbon reduction and energy efficiency across our campus.
We are delivering improvements and sustainability initiatives across the campus which will provide a range of benefits to those that work at Dublin Airport, and to our local communities. In addition to our focus on Carbon and Energy to meet our Net Zero commitment, we also set targets around waste, water and air quality, as well as a continuing programme of noise management.
Our commitments are driven by the daa ESG Strategy which you can view more information on here
Dublin Airport Carbon Reduction Strategy

Link will open in a new window

Dublin Airport Carbon Reduction Strategy PDF 7363 KB
Airport Carbon Accreditation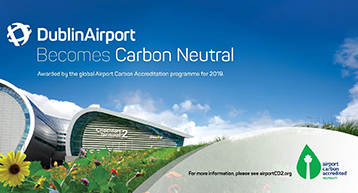 Dublin Airport has achieved a status of Carbon Neutrality from Airport Carbon Accreditation of the ACI (Airport Council International). Awarded by the global Airport Carbon Accreditation programme for 2019 to recognise that carbon emissions were reduced by -25% from 2013 to 2019, while passenger numbers grew +63% during the same period.
Airport Carbon Accreditation is the European standard for carbon management and emission reductions at airports. This certification programme, specifically designed for airports, has received widespread support and endorsements from both the EU and the UN Environment Programme. Launched in June 2009, the programme has four levels of accreditation: Mapping, Reduction, Optimisation and Neutrality.
At present, some 67 airports welcoming over 53% of European passenger traffic each year, are participating in the Airport Carbon Accreditation programme. In November 2011, this initiative expanded to the Asia-Pacific region, gaining the support of International Civil Aviation Organisation at that time too. Currently, 5 airports in Asia-Pacific are already accredited. The programme is also endorsed by the United Nations Environmental Programme.
Airport Carbon Accreditation is an annual certification programme and consequently requires ongoing commitment to managing energy and improving resource efficiency on a continuous basis.
To find out more, go to www.airportcarbonaccreditation.org
The daa vision is to deliver a quality airport travel experience to the best international standards.
In operating Dublin Airport, daa will:
Contribute to Irish economic growth by developing Dublin Airport;
Provide a safe environment and facilities for employees and visitors;
Make a positive contribution to the community in which we operate;
Reduce energy consumption and carbon emissions;
Increase water conservation;
Minimise waste and reuse and recycle as much waste as feasible;
Increase use of environmentally and socially responsible products and services;
Communicate and promote sustainable practices amongst all users of the airports and in the wider community;
Incorporate sustainable planning, design, procurement and construction into projects;
Prevent pollution, comply with relevant environmental legislation and encourage best practice environmental management;
Integrate sustainability into relevant policies, processes and agreements;
This Policy will be reviewed annually and updated as required.
Facts about aviation and the environment:
Choosing to travel by air whether it is for our summer holidays, a weekend city break or business travel poses a dilemma for the environmentally conscious among us who endeavour to minimise our contribution to greenhouse gases.
CO2 emissions are the principal cause of climate change and the United Nation's Intergovernmental Panel on Climate Change (IPCC) states that aviation contributes 2% of the world's CO2 emissions. This figure is forecasted to reach 3% in 2050. These are some of the facts concerning aviation and the environment outlined on the Enviro.aero website.
Unfortunately there are many myths and untruths concerning aviation and the environment as we become ever more conscious of our contribution to global warming.
Enviro.aero is an initiative supported by daa and the commercial aviation industry with a purpose to providing clear information on the many industry measures underway to limit the impact of aviation on the environment.
Enviro.aero has been developed under the umbrella of the Air Transport Action Group (ATAG). ATAG has over 70 members worldwide including International Air Transport Association (IATA), Airports Council International (ACI), Boeing and various airline and airport members and supporters.
The website can be viewed at www.enviro.aero and includes a number of topics such as: what causes climate change, impact of flying, emissions trading and an interactive feature called The Flying Experience showing how the environmental impact of flying is being minimised at every step of every journey.
For more detailed information on 'What Causes Climate Change' click here.
Sustainability Reports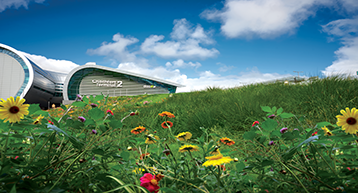 To view our Environmental Sustainability Policy, please click here
We are always interested to hear your feedback and ideas on airport sustainability. You can contact us at: sustainability@daa.ie. You may also use this e-mail address to query an environmental issue or to make a complaint regarding an environmental matter.
To contact us about aircraft noise or make a complaint, please telephone our dedicated free phone noise complaint line on 1800 200 034 or you can use the complaint form, by clicking here. Alternatively, you can print this form in PDF by clicking here and post it to Noise & Flight Track Monitoring Service, Energy, Environmental & Utilities Department, Asset Care Base (Landside), Dublin Airport. Complaints must be submitted within 7 days of the incident.
We fully respect your right to privacy and undertake to only collect your data as required to deliver the service, with your clear permission and consent. Please see our Privacy Policy here for more information.
Business Working Responsibly Mark

daa has achieved the Business Working Responsibly Mark. Established in 2010 by Business in the Community Ireland and audited by the NSAI, the Business Working Responsibly Mark ('the Mark') is the leading standard for sustainability that fosters a culture of continuous improvement, ongoing accountability and leadership.