Airport Noise
The International Civil Aviation Organisation (ICAO) has endorsed the EU Directive 2002/30/EC concept of a ''balanced approach'' to aircraft noise management. This approach incorporates four key elements to the mitigation of noise levels at airports.
The reduction of noise at source (quieter aircraft)
Use of land planning and management
Noise abatement operational procedures
Operating restrictions
Aircraft noise is measured in decibels or dB for short. Modern subsonic jets are about 30 dB quieter than their first generation, similar sized counterparts. As a sound reduction of 10 dB is roughly equal to a halving of noise volume perceived this technological development represents about a 90% reduction in perceived noise. All aircraft operating at Dublin Airport conform to the current ICAO standards and as older aircraft are phased out in the short term, this situation will continue to improve.
Dublin Airport Noise Management Plan
Noise & Flight Track Monitoring Service
All aircraft arriving and departing Dublin Airport come under the direction of the Irish Aviation Authority who provides air traffic control services in Ireland and they are responsible for the controlling and routing of aircraft. Nonetheless, the daa have regular meetings with the Irish Aviation Authority to continuously review the track keeping of aircraft in the vicinity of the Airport. This function is carried out by the Noise & Flight Track Monitoring Service of daa.

The primary objective of the Noise & Flight Track Monitoring Service (NFTMS) is to provide an information and complaints handling service to the local communities to deal with all aspects of aircraft noise and track keeping. In recognition of its own responsibilities in this area, Dublin Airport introduced a noise & flight track monitoring system to ensure minimum disruption to the local community and to challenge deviations when they occur through an investigation process with the IAA and the airlines in question. The NFTMS gathers all information on aircraft approach and departure routes and the resultant noise levels at a number of key locations. In this context Dublin Airport has invested €1 million in the installation of a Noise and Flight Track Monitoring System, purchased from Bruel & Kjaer in Copenhagen, Denmark. Besides its aircraft tracking facility, the system is comprised of a number of fixed NMTs (Noise Monitoring Terminals) that monitor arriving and departing aircraft. The NMTs are located at:

Balcultry monitoring Runway 34 Departures & Runway 16 Arrivals
Artane monitoring Runway 16 Departures & Runway 34 Arrivals
Bay Lane monitoring Runway 28 Departures & Runway 10 Arrivals
St. Doolaghs Monitoring Runway 10 Departures & Runway 28 Arrivals
Coast Road monitoring Runway 10 Departures & Runway 28 Arrivals
Feltrim monitoring the local area
Bishopswood monitoring the local area
Our Noise and Flight Track Analyst carries out a monthly detailed analysis of aircraft noise complaints received. Noise complaints are analysed by area, runway and to what type of noise the complaint refers to e.g. aircraft flying off track, engine test runs, specific noise, noise and vibration amongst others.
NFTMS Report 2022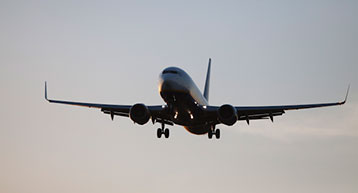 Below are is a list of all reports to date:

Noise Monitoring Reports

The Noise and Flight Track Monitoring System is linked to a series of permanent Noise Monitoring Terminals (NMTs) installed in the locality around the airport. daa publishes quarterly and half-yearly reports on the outputs of these NMTs, providing a summary of the aircraft noise measurements from the system.

The reduction of aircraft noise in neighbouring communities is the joint responsibility of the airport authority, Irish Aviation Authority, and the airlines that operate at Dublin Airport.
To contact us about aircraft noise or make a complaint, please telephone our dedicated freephone noise complaint line on 1800 200 034 or you can use the complaint form, by clicking here. Alternatively, you can print this form in PDF by clicking here and post it to Noise & Flight Track Monitoring Service, Energy, Environmental & Utilities Department, Asset Care Base (Landside), Dublin Airport. Complaints must be submitted within 7 days of the incident.
We fully respect your right to privacy and undertake to only collect your data as required to deliver the service, with your clear permission and consent. Please see our Privacy Policy here for more information.