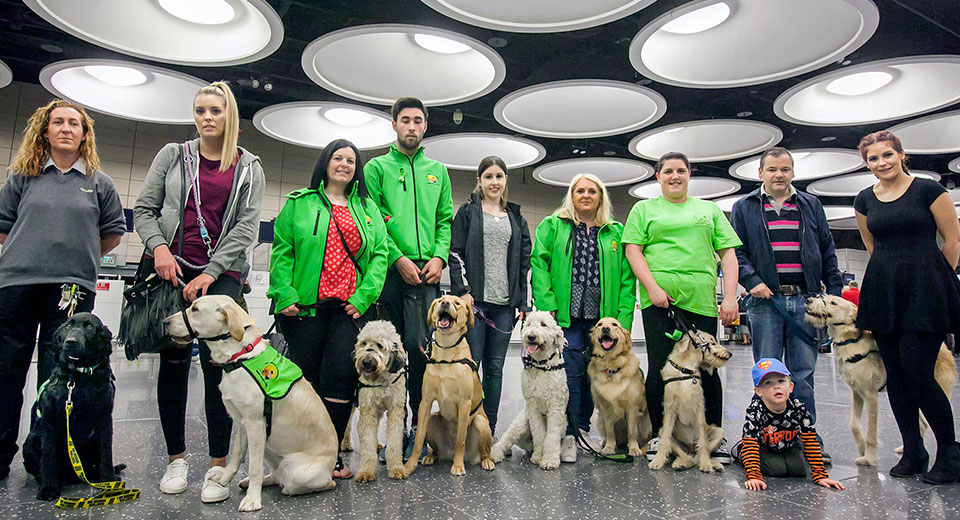 Many passengers with disabilities such as autism or vision impairment now travel with service dogs who provide assistance. Here at Dublin Airport we are delighted to lend our support to these passengers by facilitating familiarisation tours and training programmes for these gorgeous animals, many of them from My Canine Companion.

Led by our Passenger Experience team the dogs are taken through the various stages of the passenger experience which exposes them to an environment they wouldn't experience on a day to day basis.

The tours allow the dogs to become familiar with the various aspects of the passenger journey from the security screening process and metal detectors, to a busy environment with lots of people, (who sometimes just can't resist petting them), and the different smells of perfumes in Duty Free and food in the restaurants.
It also allows them to interact with other canines like airport police and customs dogs and to get used to queuing systems at passport control and check-in. They are toilet trained and once their vest is on they know not to go, but like any small being in training, accidents do happen from time to time. And as you can see in the video, like many small people they get tired and occasionally refuse to walk and simply hitch a lift instead.

So the next time you're passing through Dublin Airport and see these gorgeous puppies, you'll know why they're here and the important role they play in the lives of many passengers.

If you would like more information about this service you can get in touch with our Customer Experience team by emailing prm@dublinairport.com or by phone at +353 1 8144717 or +353 1 8144692