How to use the Flight Schedules and Map
We have an introduced an exciting new Flight Schedules and Map feature with our partner WHEREWEFLY that allows you to search and view all flight options to suit your travel itinerary on a daily basis from Dublin Airport. The flight data is sourced from OAG, a global flight information distribution system.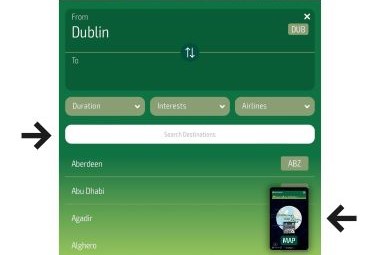 Simply use the 'Search Destinations' bar to type in the destination you are looking for or scroll through the full list.
When you find your destination of choice and click on it, you will see all flight options and scheduled dates and times.

After you select a flight, there is the option to 'book now', which will take you through to the airline website to make a booking.

If you are on a desktop device, you will clearly see an interactive map to the right of the flight schedule and on mobile, if you click on the small icon at the bottom right hand side of the page, it will take you there and when you click on the flight schedule icon, again bottom right of the page, it will take you back.

We hope this new feature helps plan your next flight from Dublin Airport and if you have any feedback to help us improve it, please let us know by emailing: webfeedback@dublinairport.com
Please see below some FAQs which may help you navigate or resolve your queries about this new feature.
Frequently asked questions
You can only search for destinations that have flights in the next 12 months from Dublin Airport. It is possible that there are no flights to your chosen destination in the next 12 months in the OAG system and that is why no result has been returned to your search query.
We have a Travel Inspiration section here where you can find out all about what to do, see and enjoy in the +170 destinations we fly to from Dublin Airport. And from this page you can click into the flight schedules to see all the flight options available to get you there.
It is possible that the flight is sold out or is not flying during the selected period. We suggest you contact the airline(s) to find out more. You can use our Travel Inspiration section
here
to see the airlines that travel to your destination of choice and airline contact details are available
here
.