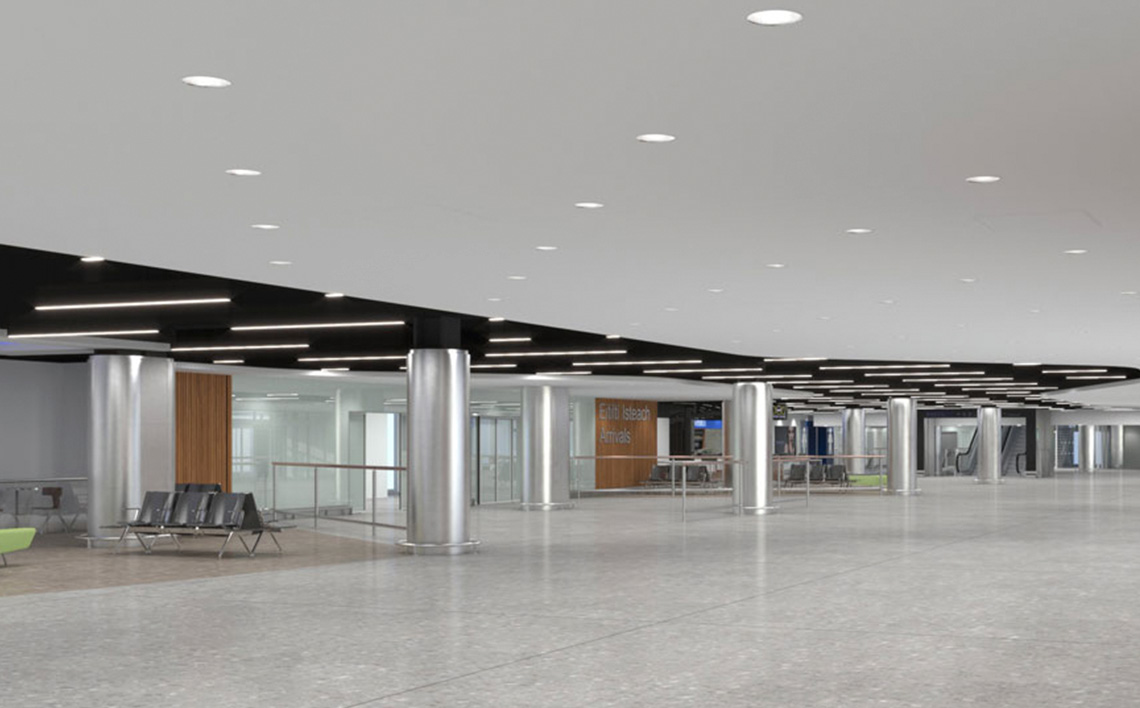 Dublin Airport is investing €10 million to transform the Arrivals Hall and façade of Terminal 1.
Renovations include new flooring, a replacement ceiling, the removal of desks currently situated in some window areas to allow natural light in and a new look to the front of Terminal 1.
When completed, the Arrivals Hall will be brighter, more spacious and modern. All restaurants will be located in one area while services such as the Tourist Information Office, Bus, Travel and the Information Desk will be grouped together making the floor layout more user friendly and intuitive for customers.
Dublin Airport's Managing Director, Vincent Harrison said the Arrivals Hall will look very different. "We are upgrading Terminal 1 on a phased basis and we have already enhanced the Departures Floor. We are now turning our attention to the Arrivals Hall. Our goal is to greatly improve the overall look and feel for our customers," he said.
Floor replacement is underway and hoarding will be in place around different areas of the Arrivals Hall until the project is complete in the coming months.
"The Arrivals Hall is synonymous with happy and emotional scenes at Dublin Airport. We are confident that, when completed, the renovations will significantly enhance the ambience in that area," Mr Harrison added.
Screens currently positioned in front of the Arrivals Hall exit doors will be removed so that customers meeting and greeting friends and family will have an unobstructed view as they come through from the baggage hall.
Terminal 1 is 44 years old and has welcomed over 400 million passengers during that time.
More than 5.5 million passengers have travelled through Dublin Airport in the first three months of this year, representing a 17% increase, or an extra 817,000 passengers, compared to the same period last year.
Passenger growth is set to continue with 13 new routes and services due to start in the coming months.
Dublin Airport currently has direct flights to over 180 destinations in 40 countries on four continents. Image above: Artists impression of the Arrivals Hall when renovations are completed.