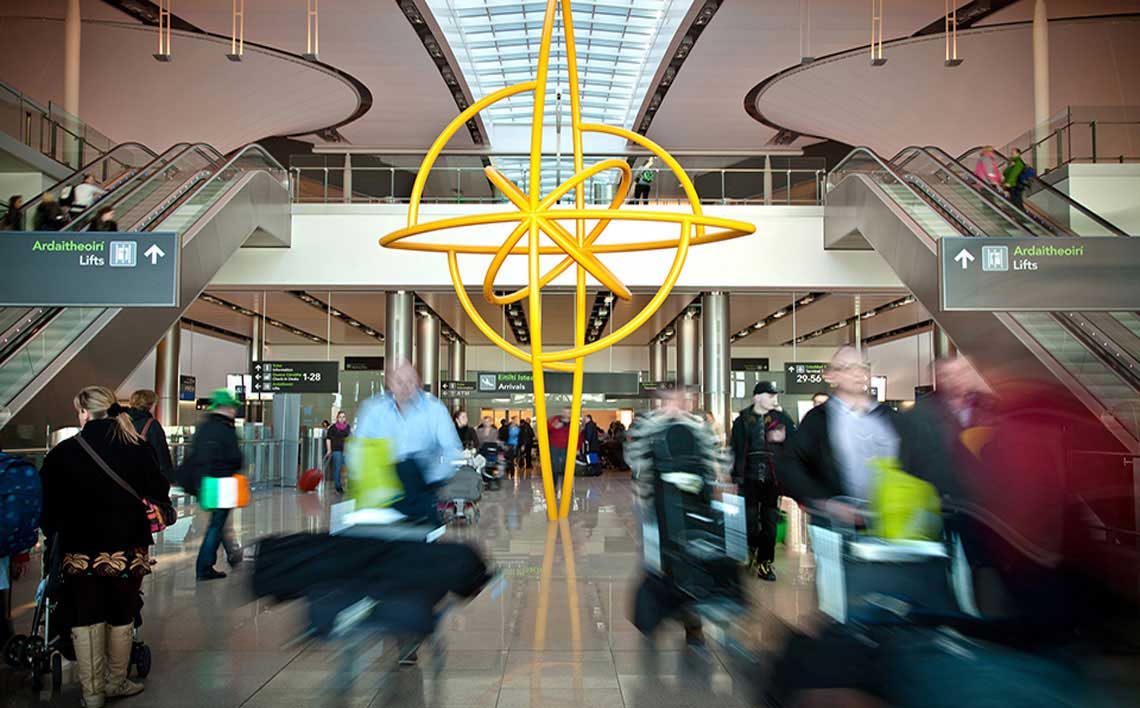 Dublin Airport has been rated number one ahead all other European airports of a similar size in the latest airports survey quality results announced today by Airports Council International (ACI).

Dublin Airport achieved the first place rating ahead of 14 peer airports in the Best Airport by Size and Region in Europe in the 15-25 million passengers per year category. And, Dublin tied for the second place ranking in the Best Airport by Region in Europe in the over two million passengers per year category in the survey with Zurich, Prague and Malta.

"This is a very significant achievement for Dublin Airport," said Dublin Airport Managing Director, Vincent Harrison. "A few short years ago Dublin Airport was rock bottom in its peer group of airports surveyed in ACI's service quality rankings. Since then we were determined to improve our customers' experience of the airport and we have done that every year to get to this top spot," he said.

The 2015 results represent the world's best in class airports where improving the customer experience is concerned. Throughout the year passengers are asked in depth questions about the quality of their travel experience through the airport they are travelling through at that time and this information is benched marked against ACI member airports of a similar size.

Announcing the 2015 Airport Service Quality results Director General of ACI World, Angela Gittens said "Dublin Airport's number one ranking in Europe demonstrates its professionalism, commitment and success in delivering that high level of customer service.

"From duty free and restaurants to ambience, cleanliness, courtesy of staff, amenities, efficiently and more, passengers are expecting big things from the airport they travel through and the Airport Service Quality survey is a way for airport customers' to measure the extent to which they deliver on these expectations," Ms Gittens added.

Dublin Airport seeks the views of up to 30,000 passengers through detailed surveys. The results of these surveys are forensically analysed and many improvements are made to facilities and services based on their feedback.

"The key areas to drive passenger satisfaction at Dublin Airport are courtesy and helpfulness of staff, security, check-in, cleanliness and the Departure Gates," according to Mr Harrison.

"We are passionate about improving our customers' experience further and it is a key priority of our management and staff at Dublin Airport to continue to do that," he said.

Airports Council International (ACI) is the only worldwide association of airports. ACI has 592 member airport authorities which operate in 1,853 airports in 173 countries.

The ASQ survey covers 34 key service areas and includes eight major categories such as access, check-in, security, airport facilities, food and beverage, retail and more. All participating airports use the same survey questions, creating an industry standard set of responses that allows participants to track and analyse its performance, as well as benchmark results against airports across the globe. All participating airports can view the ASQ survey results of all other participating airports on a confidential basis.

Dublin Airport had its busiest ever year in 2015, as a record 25 million passengers travelled through the airport.

The airport welcomed an additional 3.3 million passengers in 2015, this increase was facilitated by 23 new routes and extra capacity on almost 40 existing services.

Dublin Airport has direct flights to over 170 destinations in 38 countries on four continents.