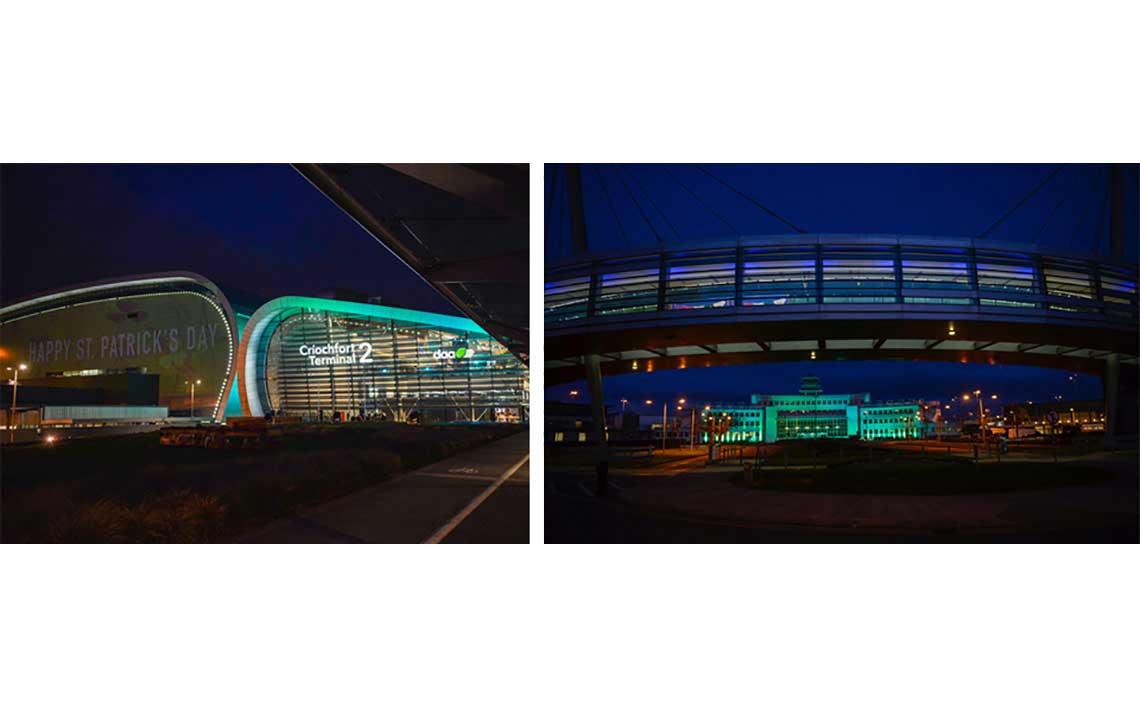 Lá Fhéile Pádraig Shona ó Aerfort Bhaile Átha Cliath
Dublin Airport is getting ready to welcome more than 300,000 passengers arriving and departing through the airport this weekend in advance of the St. Patrick's Day celebrations.
Musical entertainment from local schools, festive decorations in the terminals, and the 'greening' of prominent buildings including Terminals 1, 2 and the original 1940s terminal building will all add to the festive atmosphere around the airport this weekend.
"We participated in the Global Greening for the past two years and it was a tremendous success so we're delighted to be going green again this year," said daa Spokesperson Siobhán O'Donnell. "Dublin Airport will serve 167 scheduled destinations this year so we'll be promoting the fact that the airport is celebrating 75 years connecting Ireland to the world with a series of dynamic projections on Terminal 2 this year."
It will be a big sporting weekend at the airport, with thousands of punters returning home from Cheltenham and rugby fans heading to Cardiff to see if Ireland can defeat Wales in their penultimate Six Nations match.
Passenger numbers at Dublin Airport are up 15% to just over 2.9 million for the first two months of this year.
Dublin Airport has the following advice for passengers travelling this weekend:
Passengers are advised to check which terminal their flight is departing from BEFORE leaving home. Aer Lingus, Etihad Airways, Emirates, Delta Air Lines, United Airlines, American Airlines and US Airways operate from Terminal 2 while all other airlines operate from Terminal 1.
Passengers should plan to arrive in the terminal building at least 90 minutes before their flight departure time irrespective of whether they are checking in from home or at the airport. Some airlines advise passengers to arrive earlier than 90 minutes at busier times; passengers should consult their airline's website before travelling to the airport.
EU Aviation Security regulations concerning liquids are still in place. In this regard passengers are advised to check the details of these regulations on www.dublinairport.com BEFORE setting out on their journey to the airport.
Once again passengers are reminded to remove all sharp objects from hand luggage. These objects should be packed into checked in luggage, in addition, all laptop computers must be removed from their outer casing for security screening.