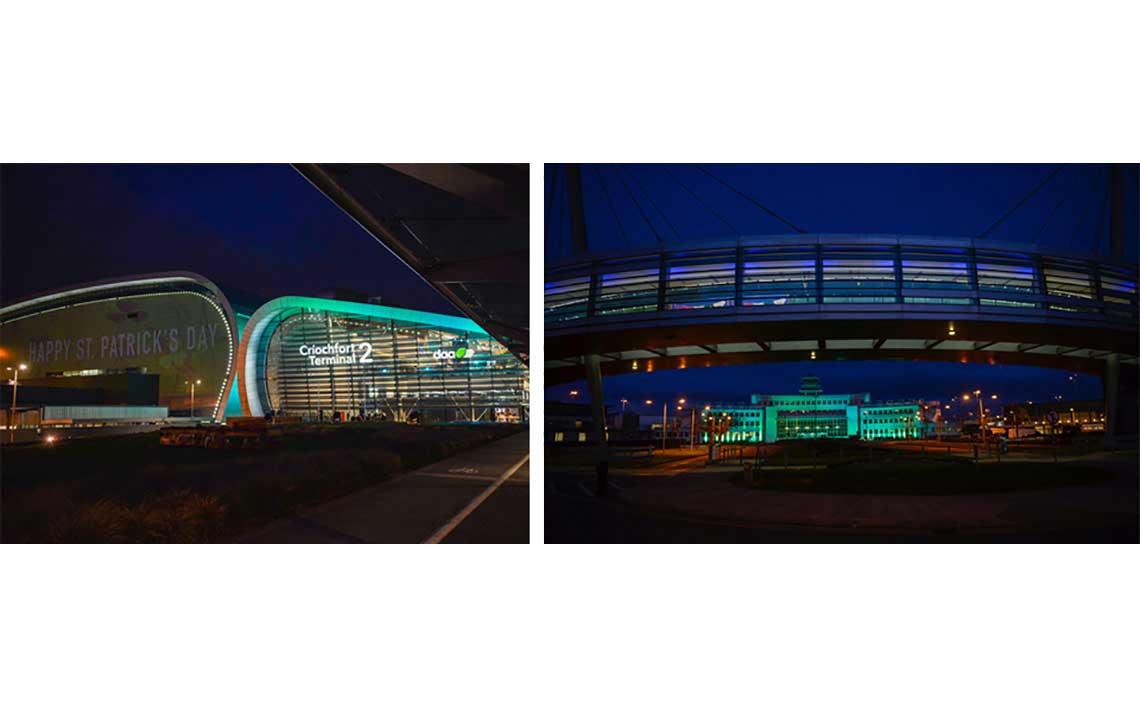 Lá Fhéile Shona ó Aerfort Bhaile Átha Cliath

Dublin Airport is getting ready to welcome more than 370,000 passengers arriving and departing through the airport over the coming days for the St. Patrick's Day celebrations.

Musical entertainment from local schools, festive decorations in the terminals, and the 'greening' of buildings, including Terminals 1 and 2 and the original 1940s terminal building, will all add to the festive atmosphere around the airport this week.

"Once again Dublin Airport is participating in the Global Greening," said daa spokesperson Siobhán O'Donnell. "This is our third year to green the airport and we're lighting up more locations around the airport campus bringing the St. Patrick's Day festival to life at the airport.

"This is also a big sporting week at the airport, 20 flights have been added to the schedule for the thousands of punters travelling to and from Cheltenham and we look forward to welcoming Scottish fans arriving in for the last Six Nations rugby match this Saturday."

Passenger numbers are up 17% to just over 3.4 million for the first two months of the year.

Dublin Airport has the following advice for passengers travelling this weekend:

Passengers are advised to check which terminal their flight is departing from BEFORE leaving home. Aer Lingus, Etihad Airways, Emirates and all the US carriers operate from Terminal 2, while all other airlines operate from Terminal 1.

Passengers should plan to arrive in the terminal building at least 90 minutes before their flight departure time irrespective of whether they are checking in at home or at the airport. Some airlines advise passengers to arrive earlier than 90 minutes at busier times; passengers should consult their airline's website before travelling to the airport.