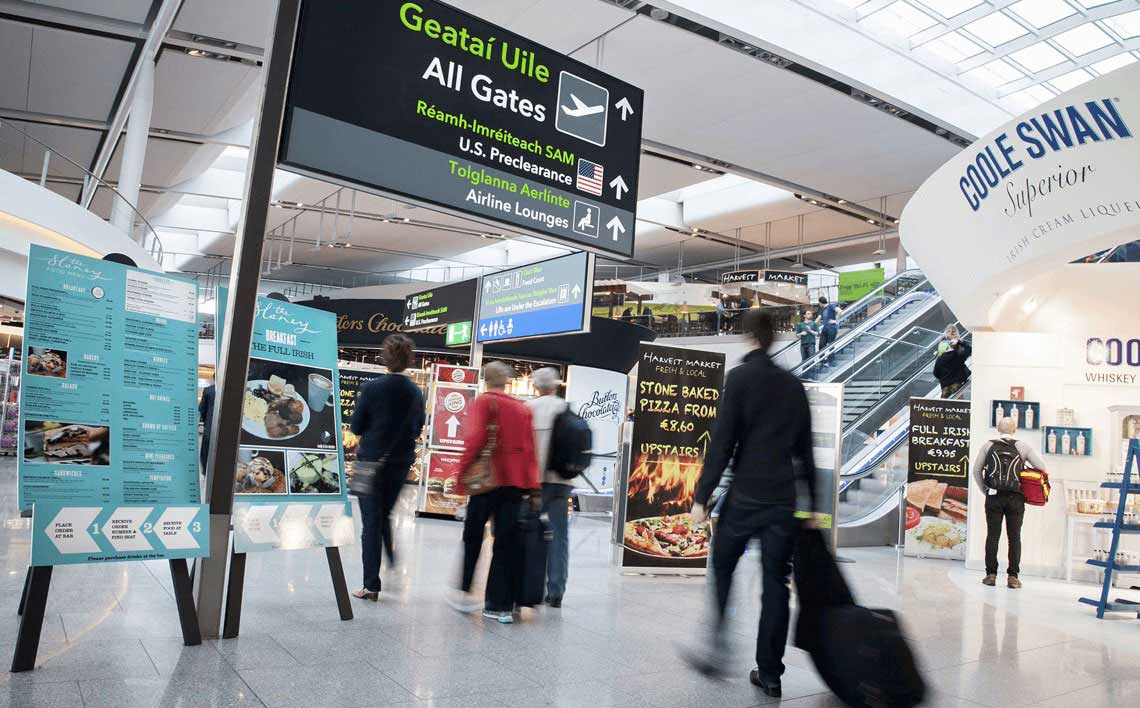 Almost Two Million Extra Seats
Dublin Airport will have almost two million extra seats available this summer, which is an 11% increase in capacity compared to last summer.
A total of 21 new routes/services, comprising 16 short-haul routes to continental Europe and five new long-haul routes to Washington, Chicago, Los Angeles, Addis Ababa and Halifax, Nova Scotia are due to begin in the coming weeks.
This summer is set to be the busiest yet since passenger numbers reached their peak in 2008, according to Dublin Airport Managing Director, Vincent Harrison. We are particularly pleased that Dublin will have a direct connection to sub Saharan Africa this summer, making it easier for our customers to access three continents – Africa, Europe and North America - with Ethiopian Airline's new Addis Ababa-Dublin-Los Angeles route, as well as direct services to Europe, the Middle East and North America."
"Significant increases in seat capacity and frequency on 25 existing routes will give our customers greater flexibility and more options whether they are travelling for business or leisure purposes during this summer season," he added.
"This is a significant year for Dublin Airport, as we celebrate 75 years connecting Ireland to the world," Mr Harrison said. "This year, passengers can choose from 167 scheduled destinations from Dublin Airport to15 destinations in North America, 25 cities in the UK, 122 destinations in Continental Europe, 3 African destinations, and 2 destinations in the Middle East," he added.
The number of additional seats to and from North America is up 18%, with an extra 300,000 seats this year. Dublin Airport will welcome another four new services to the US and Canada in the coming weeks, as Aer Lingus re-establishes connections to Washington DC, Ethiopian Airlines commence services to Los Angeles, United Airlines starts a new service to Chicago and Europe Airpost begins a new route to Halifax, Nova Scotia. Aer Lingus is also adding a third daily Dublin-JFK service for the peak summer season this year.
The peak summer months will see 10 airlines flying 328 flights per week to and from 11 destinations in the US and four destinations in Canada this summer, which equates to an average of 47 flights daily to and from North America.
Capacity on European routes is set to increase by 9%, with almost 800,000 additional seats available this summer. Ryanair has new services to Copenhagen and Lublin, Aer Lingus will launch new services to Agadir and Nantes, SAS will start a new route to Gothenburg and SWISS will connect Dublin to Geneva with a new year-round service.
This summer, Dublin Airport will welcome new airlines such as Ethiopian Airlines on the Addis Ababa-Dublin and Dublin-Los Angeles routes, Vueling, which will operate a service to Barcelona, WOW Air will begin a year-round service to Reykjavik, and Transavia will fly to Paris Orly. Europe Airpost will start services to Paris and Halifax, while Finnair, which recently resumed services between Dublin and Helsinki, has already announced that this new route will continue into the winter season.
Seat capacity between Abu Dhabi with Etihad Airways and Dubai with Emirates is significantly up over last summer, as both airlines now offer a double daily service.