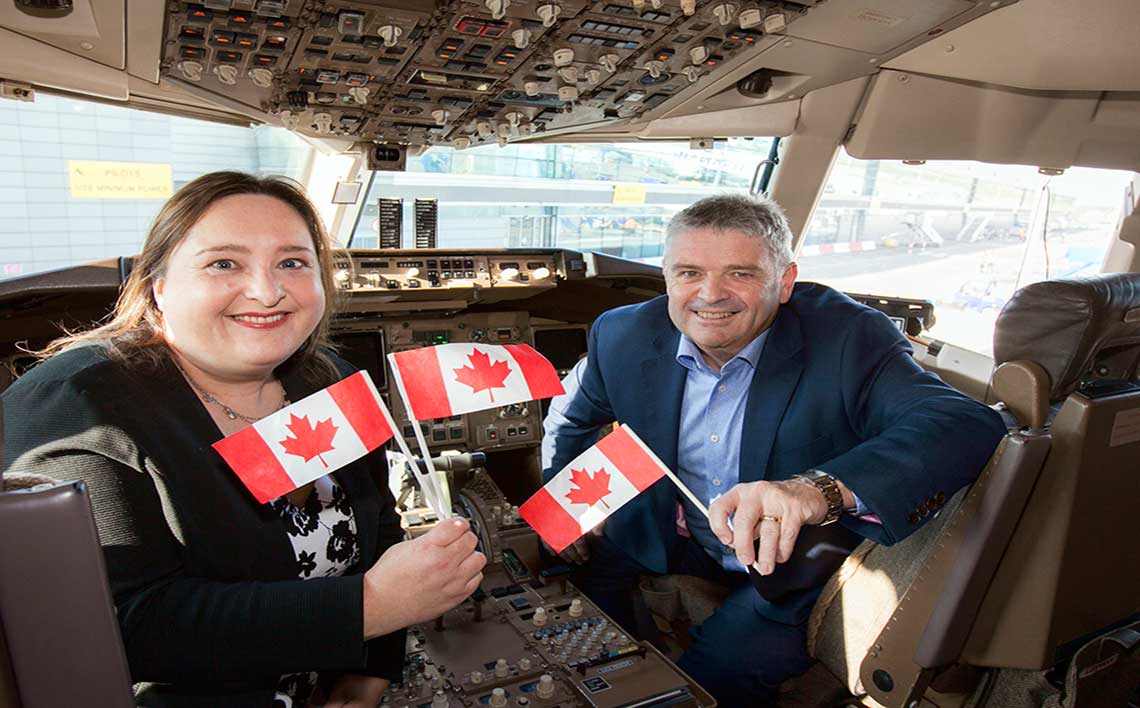 Dublin Airport welcomes today's announcement from Air Canada that it will launch a four times weekly direct service to Montreal next summer.
The airline also announced that it will increase capacity on its Vancouver service by 65% next year with the addition of two extra flights offering a five times weekly service for summer 2018.
Welcoming the Air Canada announcement, Dublin Airport Managing Director, Vincent Harrison said he was "delighted to see Air Canada go from strength to strength" at the airport. "Adding the city of Montreal to its route network from Dublin and increasing frequency on its Vancouver service represents a significant expansion of services by Air Canada."
Air Canada has carried more than 1 million passengers between Dublin Airport and Canada since it started scheduled flights from Dublin in 2002. It will operate its new Montreal route with a B737 Max aircraft. The airline also has daily flights between Dublin and Toronto.
"With 13% of the Canadian population claiming Irish ancestry I have no doubt that Montreal will be popular destination for both Irish and Canadian holidaymakers," according to Mr Harrison.
Air Canada Sales Manager Ireland, Bláithín O'Donnell said "We are delighted to announce our new Dublin to Montreal service for summer 2018. It will appeal to both the many Irish with friends and family in this great city and to the Irish Canadian business communities, who will benefit from non-stop flights to facilitate the ever increasing trade between these two cities.
"We are also pleased to increase capacity to up to five a week on our Dublin to Vancouver service for summer 2018, which will allow greater numbers of Irish travellers to experience Canada's magnificent west coast and allow convenient connections to the US and beyond. We will also increase our year-round Dublin to Toronto three cabin service to daily for the summer season to cater for growing demand on this route. This Dublin to Toronto route is currently operated by Air Canada Rouge, our leisure brand, but will switch to an Air Canada mainline operation with a larger Airbus 330 aircraft from 30th October."
There is also a strong corporate connection between the two countries. Ireland is the fifth largest recipient of Canadian investment overseas, with about 80 Canadian companies are located in Ireland while there are also more than 60 Irish companies with operations in Canada.
More than 20 million passengers have travelled through Dublin Airport in the first eight months of the year, which is a 6% increase on the same period in 2016.
Dublin Airport welcomed 1.2 million additional passengers between January and August. Dublin Airport has direct flights to more than 185 destinations in 41 countries operated by a total of 47 airlines.
Flying Air Canada? Book a relaxing stay at the Dublin Airport Lounge
Image above: Air Canada Sales Manager Ireland, Bláithín O'Donnell and Dublin Airport Senior Vice President Aviation Business Development, Jon Woolf announcing Air Canada's new service to Montreal and expansion of services between Dublin and Vancouver next summer.