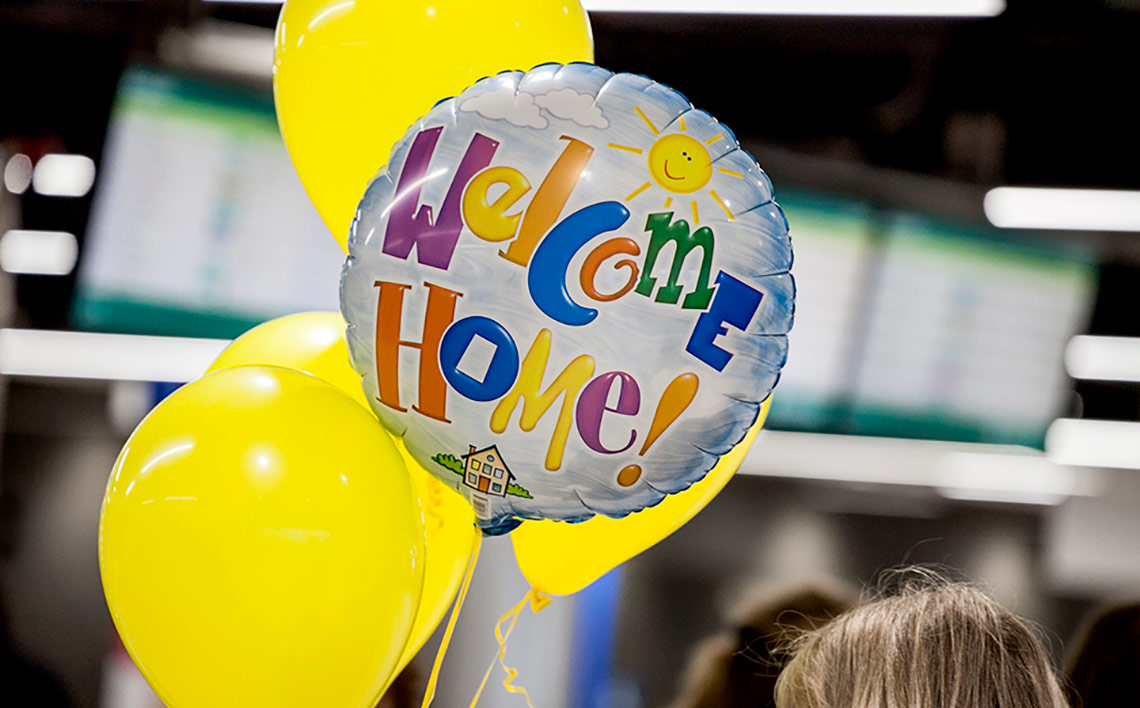 More than 1.1 million passengers expected to travel
Dublin Airport will have its busiest Christmas season on record this year, as just over 1.1 million people are expected to arrive and depart during the festive season.
From Friday, December 21 to Friday, January 4, 2019 an expected 1,136,000 people will travel through Dublin Airport. The numbers expected to travel this year are up 8% compared to the same period last year.
This will be the busiest Christmas in the airport's 78-year history, according to Dublin Airport spokesperson, Siobhán O'Donnell.
"Friday, December 21 is expected to be the busiest day before Christmas, with 94,000 passengers due to arrive and depart through both terminals, while Friday, December 28 is expected to be the busiest day after Christmas, particularly with passengers heading to winter sun and skiing destinations," Ms O'Donnell said.
"Dublin Airport is a truly magical place at Christmas time with many wonderful, emotional family reunions at arrivals in Terminal 1 and Terminal 2," she added.
"Over the years we have had a number of Christmas marriage proposals, and every year we have grandparents seeing their grandchildren in the flesh for the first time – whether that be Irish emigrants returning home or people from overseas visiting their family here in Ireland. Increasingly, those waiting to meet their loved ones at Dublin Airport are entering into the spirit of Christmas by dressing up and making signs to welcome family and friends."
Dublin Airport has also passed the 30 million passenger milestone in a single year for the first time in its history. Passenger numbers are up 6% so far this year, with good growth in European, transatlantic and other long-haul markets.
Over 1,600 performers from local schools and choirs singing in both terminals in the days leading up to Christmas bringing a true Ceád Míle Fáilte to the many people coming home for the Christmas Holidays and to those visiting Ireland from overseas for the holiday season.
Once again, the Dublin Airport campus and terminal buildings have been decorated to give a special atmosphere to the airport over this festive season. The terminals are decked with more than 300,000 led lights, which use significantly less electricity than traditional lighting, more than 60 Christmas trees, 500 metres of garlands, 30 Christmas wreaths and 30 festive displays.
RTE 2FM's Nicky Byrne and Jenny Greene will broadcast live from the airport on Friday, December 21 from 10am until 1pm.
Dublin Airport will close on Christmas Day – the only day on which it closes every year - however a number of staff members will remain on duty that day, including the airport's emergency fire services.
Flight operations will cease on Christmas Eve after the last flight departs to Moscow with Aeroflot at 10pm and they will resume on St. Stephen's Day when Aer Lingus' EI 104 from New York lands at 5am.
Dublin Airport has the following key tips for passengers travelling over the Christmas holidays:
PASSENGERS SHOULD CHECK WHICH TERMINAL THEIR FLIGHT IS DEPARTING FROM
Aer Lingus, Emirates, Norwegian and ALL American carriers operate from Terminal 2, while all other airlines operate from Terminal 1.
THE EU AVIATION LIQUID REGULATIONS – 100ML RULE
EU aviation liquid regulations are still in place, so passengers are reminded to pack any gifts in bottles or containers measuring more than 100ml into their checked in luggage. Details can be found on www.dublinairport.com.
REMOVE ALL SHARP OBJECTS FROM HAND LUGGAGE
Passengers are also reminded not to carry sharp objects in their hand-luggage, such as, scissors, nail files, blades, corkscrews, cutlery or other sharp objects of any description. These objects should be packed into checked in luggage. Christmas crackers may be brought through the passenger security screening area provided the novelty gifts inside are not sharp/prohibited items. Snow globes are not permitted in hand luggage due to their liquid content.
DON'T WRAP THAT PRESENT
If you are planning to bring Christmas gifts by air this festive season Dublin Airport is asking passengers not to gift wrap presents and to consider using an open gift bag instead.
"Many passengers take a lot of care and time to wrap Christmas gifts for family and friends overseas. We would ask them not to wrap these gifts otherwise they may be disappointed if they are requested to open them at the passenger security screening area," said Ms O'Donnell.
CHECK-IN ADVICE
Passengers should plan to arrive in the terminal building at least 90 minutes before their flight departure time irrespective of whether they are checking in online or at the airport. Passengers flying long-haul are advised to consult their airline's website for check-in times.
ROAD TRAFFIC
Finally, passengers travelling this Christmas season are also advised to allow extra time to get to the airport in the event of road congestion to ensure they comply with check-in and airport security regulations.
"Dublin Airport will have additional Customer Care staff on duty over the Christmas season to ensure passengers have an efficient and smooth journey through the airport, but we would also ask passengers to prepare for security screening by removing their outer jacket, belts, keys, coins and laptops from cases so that security searches are kept to a minimum," Ms O'Donnell added.