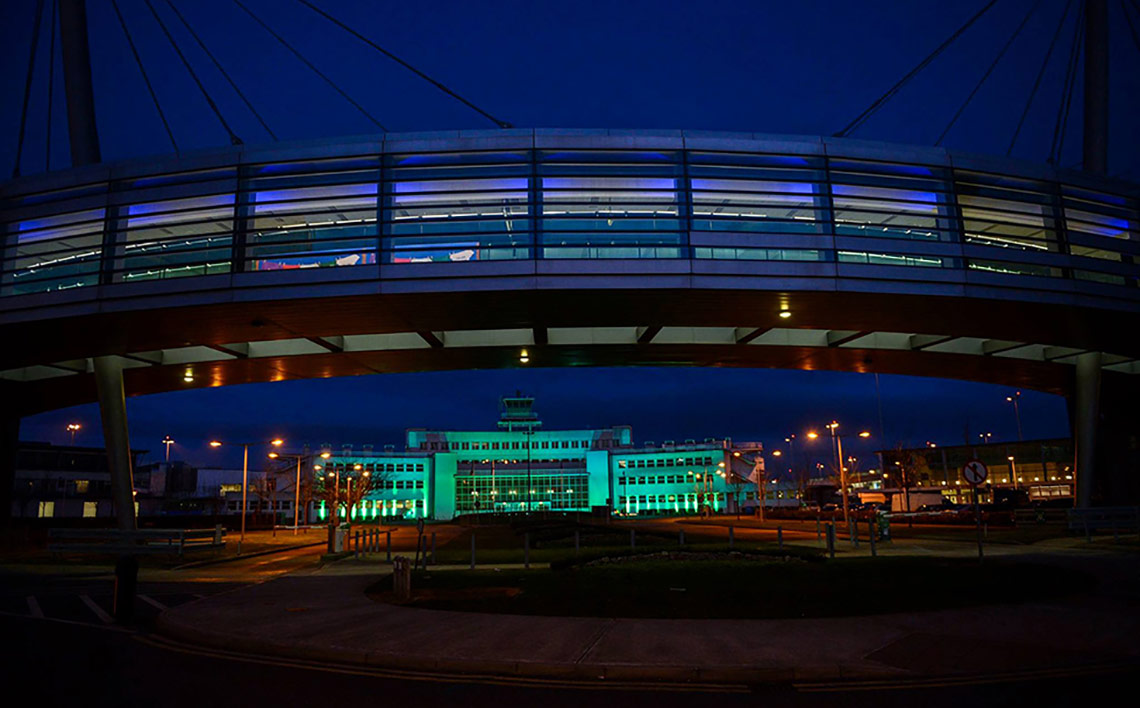 More than one third of a million passengers will pass through Dublin Airport over the St. Patrick's Bank Holiday Weekend.
The airport is expecting more than 350,000 passengers to arrive and depart from Friday, March 15 to Monday, March 18, which is a 6% increase compared to last year. Passengers will be arriving for the St Patrick's Festival celebrations, returning from the Cheltenham Festival, and travelling to and from Ireland's Six Nations rugby game in Cardiff on Saturday.
A variety of musical entertainment is scheduled for passengers in the run up to St. Patrick's Day with singing from Portmarnock Community School students, Kilcoskan National School, Scoil an Duinníningh, Gaelscoil Cholmcille and CCÉ Port Mearnóg.
Both terminals have been festooned with decorations to celebrate Ireland's national day and the airport is again taking part in the Global Greening initiative.
"Eleven separate areas around the airport's campus are going green, including Terminal 1 and 2 and the airport's iconic original 1940s passenger terminal," said Dublin Airport spokesperson Paul O'Kane.
"This is our seventh year to participate in the Global Greening and we're greening even more locations around the airport campus this year to bring the St. Patrick's Festival to life.
"Specialist equipment is required to successfully green the airport. Electricians and site crew will use 33 different lights and beams supported by a total of 2.5 kilometres of temporary cabling at the various greening locations around the campus."
Dublin Airport has welcomed more than 4 million passengers in the first two months of the year, which is a 9% increase on the same period in 2018. Dublin Airport has flights to almost 200 destinations in 43 countries, operated by 56 airlines and is the 11th busiest airport in the European Union.
Dublin Airport has the following advice for passengers travelling this weekend:
Passengers are advised to check which terminal their flight is departing from BEFORE leaving home. Aer Lingus, Emirates, Norwegian and all the US carriers operate from Terminal 2, while all other airlines operate from Terminal 1.
Passengers should plan to arrive at the terminal building at least 90 minutes before their flight departure time irrespective of whether they are checking in from home or at the airport. Some airlines advise passengers to arrive earlier than 90 minutes at busier times; passengers should consult their airline's website before travelling to the airport.
EU Aviation Security regulations concerning liquids over 100mls are still in place. In this regard passengers are required to present liquids in containers measuring 100ml or LESS in a transparent resealable bag measuring no more than 20cm x 20cm SEPARATELY at security screening. Further details can be found on www.dublinairport.com

Passengers are also advised to prepare for security screening in advance by removing large electrical items such as laptops from cases, belts, outer jackets, umbrellas and sharp objects from hand luggage and present separately in the tray at security screening to avoid unnecessary delays.

Dublin Airport will have Customer Care teams on duty across both terminals this Bank Holiday Weekend to help passengers with their journey through the airport.