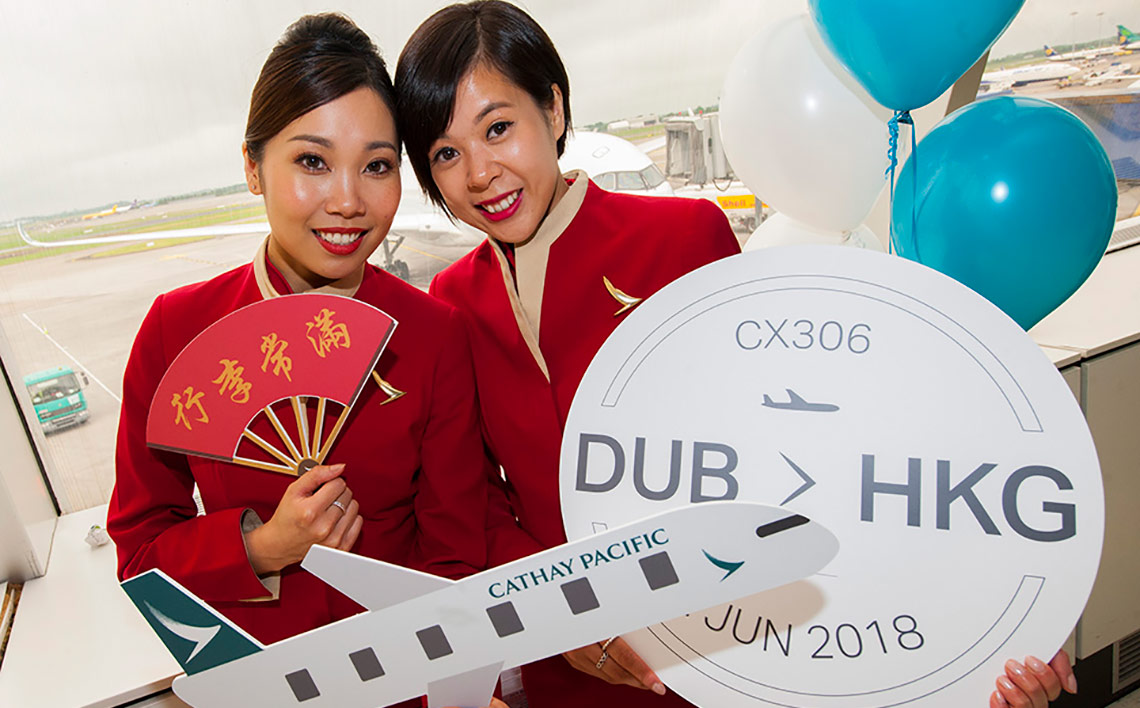 Dublin Airport is delighted welcome the launch of Cathay Pacific's new four times weekly direct service to Hong Kong.
The year-round service is Dublin Airport's first ever direct route to the Asia-Pacific region and is a major milestone for the airport and the entire Irish economy.
The Hong Kong based airline will operate its new service with an Airbus A350-900 aircraft in a three-class configuration on Mondays, Wednesdays, Thursdays and Saturdays.
Dublin Airport Managing Director Vincent Harrison said this is a historic and momentous day for Dublin Airport. "We are delighted to welcome Cathay Pacific to Dublin Airport and to Ireland. Today is the result of collaboration of many years work with a wide range of other bodies such as Irish Embassy in China, the Consulate in Hong Kong, our colleagues at Tourism Ireland and other key stakeholders such as IDA Ireland, Enterprise Ireland and Bord Bia.
"Trade between Ireland and China is worth more than €8 billion per annum and almost 100 Irish firms have operations in China, employing a total of 100,000 people there. With an estimated 4,000 Irish people living in Hong Kong and about 40,000 people per year travelling between our two cities I have no doubt this new route will be popular for business and leisure travellers. We will work closely with Cathay Pacific to market the new route."
Cathay Pacific's General Manager Europe James Ginns said: "We're delighted that Ireland's first and only non-stop flight to Hong Kong has been well-received by customers. Our team is thrilled to be able have a role in fostering bilateral tourism and economic growth between Ireland and Asia. We feel confident that this new route will continue to bring more convenience and choice to the Irish public and optimise opportunities for Irish businesses."
The Dublin flight will arrive in Hong Kong early in the morning local time, providing a wide range of connecting options with flights to mainland China, Japan, Korea, South-East Asia and Australia on the Cathay Pacific and Cathay Dragon networks.
Cathay Pacific, which is part of the oneworld alliance, has flights to 197 destinations in 48 countries and territories. It operates a fleet of 144 aircraft with orders for a further 53 aircraft for delivery until 2024. Its short-haul subsidiary Cathay Dragon flies to 56 destinations in mainland China and other Asian countries.
The planned flight times for the new Hong Kong route are as follows (all times local):
In summer, the flight will depart Dublin at 11.55, arriving in Hong Kong at 07.05. The return flight will depart Hong Kong at 00.50, arriving in Dublin at 06.45. In winter, the flight will depart Dublin at 11.00, arriving in Hong Kong at 07.30. The return flight will depart Hong Kong at 00.15 and arrive in Dublin at 05.30.
More than 8.7 million passengers have travelled through Dublin Airport in the first quarter of this year, representing a 4% increase, or an extra 374,000 passengers, compared to the same period last year.
This summer Dublin Airport will have flights to 195 destinations in 42 countries, operated by 56 airlines.
Image above: Cathay Pacific cabin crew members Christine Wang and Winnie Phan at the launch of the airline's new non-stop direct service from Dublin to Hong Kong.