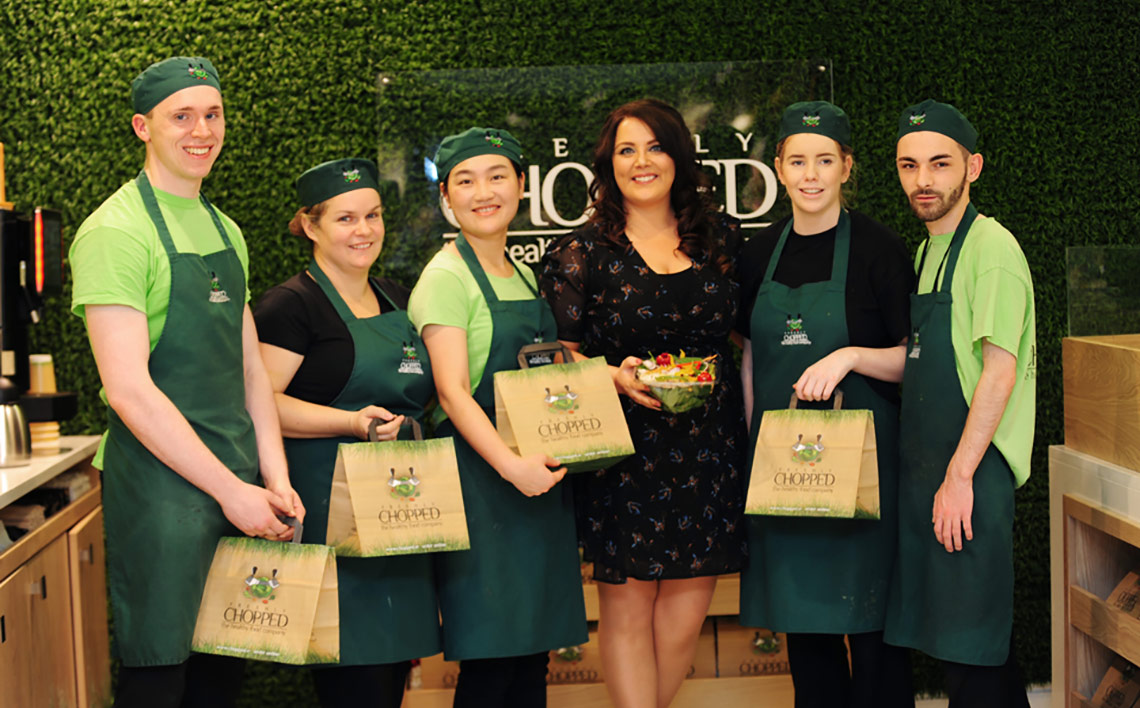 Irish healthy fast food company Chopped has opened a new outlet in Dublin Airport's Terminal 1.
The new Chopped outlet at will create 15 new jobs at Dublin Airport and also help maintain and expand additional jobs at a range of suppliers to the new café.
Founded in 2012 by Dublin entrepreneurs Brian Lee and Andy Chen, Chopped was designed to meet the needs of the growing number of Irish consumers who want a great tasting meal that is healthy, delicious and fresh. Crisp lettuce selections, garden fresh vegetables, incredible salad dressings and more than 30 ingredients are chopped and freshly dressed into salad bowls, sandwiches or wraps.
"We're delighted to welcome Chopped to Dublin Airport," said Dublin Airport Managing Director Vincent Harrison. "It offers passengers a fantastic range of healthy and freshly prepared food options in a matter of minutes," he added.
"We're continually working to improve the passenger experience in Terminal 1 and the new Chopped outlet is a great addition to The Loop's award-winning retail area in T1," according to Mr Harrison.
Chopped, which is located after security screening in Terminal 1, has recently been named Ireland's "Best Emerging Franchise" at the Irish Franchise Awards in April and Brian Lee, creator of the concept, was named as a finalist in the "Best Emerging Entrepreneurs" category at the 2016 EY Entrepreneur of the Year Awards.
Aramark, which recently agreed to an exclusive five-year strategic partnership with Chopped to expand the healthy fast food chain's presence in the corporate, education and industry sectors in Ireland, will open and manage the new outlet at The Loop at Dublin Airport.
More than 21.4 million passengers have travelled through Dublin Airport in the first nine months of the year, a 12% increase when compared to the same period last year. During the first nine months of the year Dublin Airport has welcomed an extra 2.3 million passengers.
Dublin Airport has direct flights to over 180 destinations in 40 countries on four continents.

Pictured: Chopped team members - Liam O'Donoghue, Ann Maguire, Lilly Yu, Aisling Burke and Kyle Fitzpatrick and daa External Communications Officer - Audrey O' Hagan