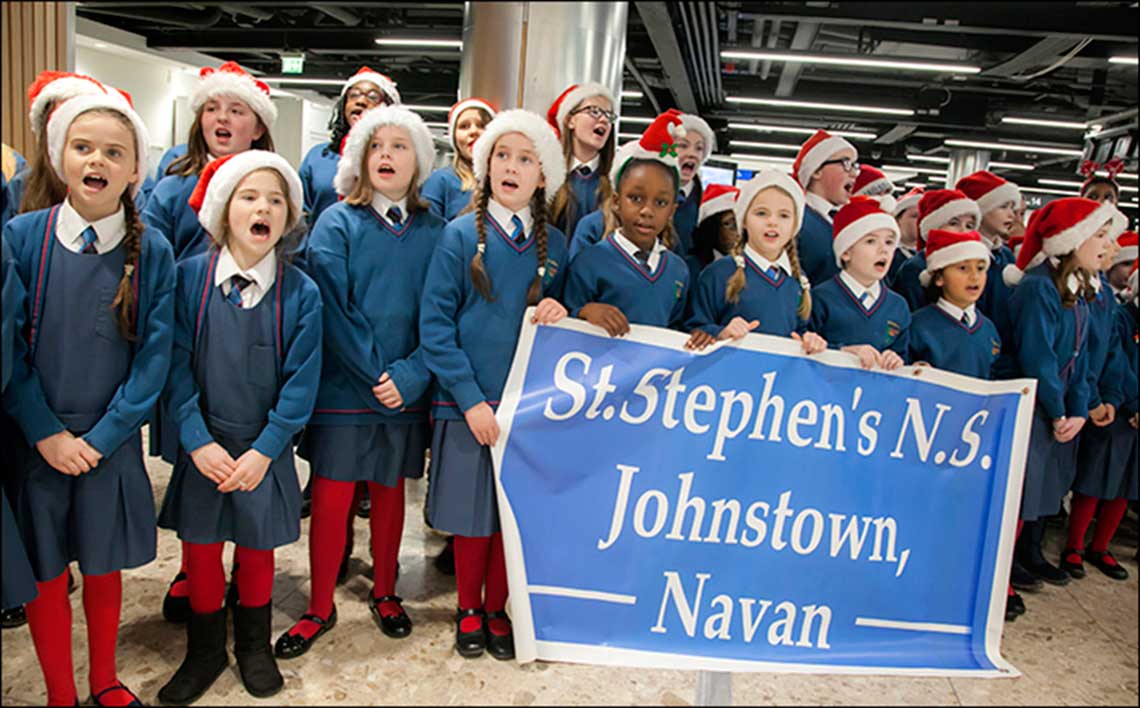 Local schools and choirs will once again bring some festive cheer to passengers coming home for Christmas and those waiting their arrival in Dublin Airport from Thursday, December 15.

In what will be one of the airport's busiest music schedules ever, over 30 performances will take place up to Christmas Eve in the arrivals halls of both Terminal 1 and Terminal 2. Adult choirs, choral societies and orchestras as well many local schools will fill arrivals with familiar Christmas tunes.

Rolestown NS, St Stephen's NS, St. Margaret's NS, Mary Queen of Ireland NS, Portmarnock Community School, St. Cronan's Junior NS, Scoil an Duinnínigh, Scoil Mhuire Trim, and Holywell NS are just some of the schools that will entertain customers at the airport this Christmas.

We'd like to extend a special thanks to the children and teachers from the local schools who have taken time out from the daily school activities to perform for passengers.

Passengers arriving at night will be greeted by The Dublin Airport Singers, The Lambay Singers, The Portmarnock singers, The Airport Police and Fire Service Band, Clane Musical Society, Fingal Gospel Choir and the Dublin Gospel choir among others.

We are also looking forward to hosting Ryan Tubridy's RTE Radio One from 9-10am on Friday December 23 while 2FM's Eoghan McDermott will also broadcast live from the airport from 4pm on the same day.

Both shows will broadcast from the Arrivals Hall in Terminal 2.


| | | | |
| --- | --- | --- | --- |
| Date | Time | Terminal | Group |
| 15.12.16 | 11.00 | T1 | St. Stephen's National School |
| | 11.00 | T2 | Rolestown National School |
| | 19.00 | T2 | Lambay Singers |
| 16.12.16 | 11.00 | T1 | Holywell ETNS |
| | 11.00 | T2 | St. Margaret's National School |
| | 20.00 | T1 | Airport Police Fire Service Band |
| 17.12.16 | 11.00 | T1 | Kylemore College |
| | 11.00 | T2 | Dublin Airport Singers |
| | 19.00 | T1 | Ayrfield Singers |
| | 19.00 | T2 | K&S Accordion Orchestra |
| 18.12.16 | 11.00 | T1 | Young European Strings |
| | 11.00 | T2 | Clane Musical Society |
| | 18.00 | T2 | Ayrfield Singers |
| 19.12.16 | 11.00 | T1 | Scoil Bhride National School |
| | 11.00 | T2 | Santa Sabina Dominican College Choir |
| | 19.00 | T1 | Skerries Community Choir |
| | 19.00 | T2 | Airport Police Fire Service Band |
| 20.12.16 | 11.00 | T1 | Thornleigh ETNS |
| | 12.00 | T2 | St. Cronan's Junior National School |
| | 19.00 | T1 | Cór Dubhlinne |
| | 19.00 | T2 | CCÉ Port Mearnóg |
| 21.12.16 | 11.00 | T1 | Scoil an Duinnínigh |
| | 11.00 | T2 | Mary Queen of Ireland National School |
| | 19.00 | T1 | Rush Musical Scoiety |
| | 19.00 | T2 | Lambay Singers |
| 22.12.16 | 11.00 | T1 | St. Joseph's Secondary School Rush |
| | 11.00 | T2 | Portmarnock Community School |
| | 19.30 | T1 | Fingal Gospel Choir |
| | 19.00 | T2 | Portmarnock Singers |
| 23.12.16 | 09.00 | T2 | Ryan Tubridy RTE Radio One |
| | 11.00 | T1 | Scoil Mhuire Trim |
| | 16.00 | T2 | Eoghan McDermott RTE 2FM |
| 24.12.16 | 11.00 | T1 | Blathnaid Ni Chofaigh, Radio na Gaeltacht |
| | 11.00 | T2 | Dublin Gospel Choir |