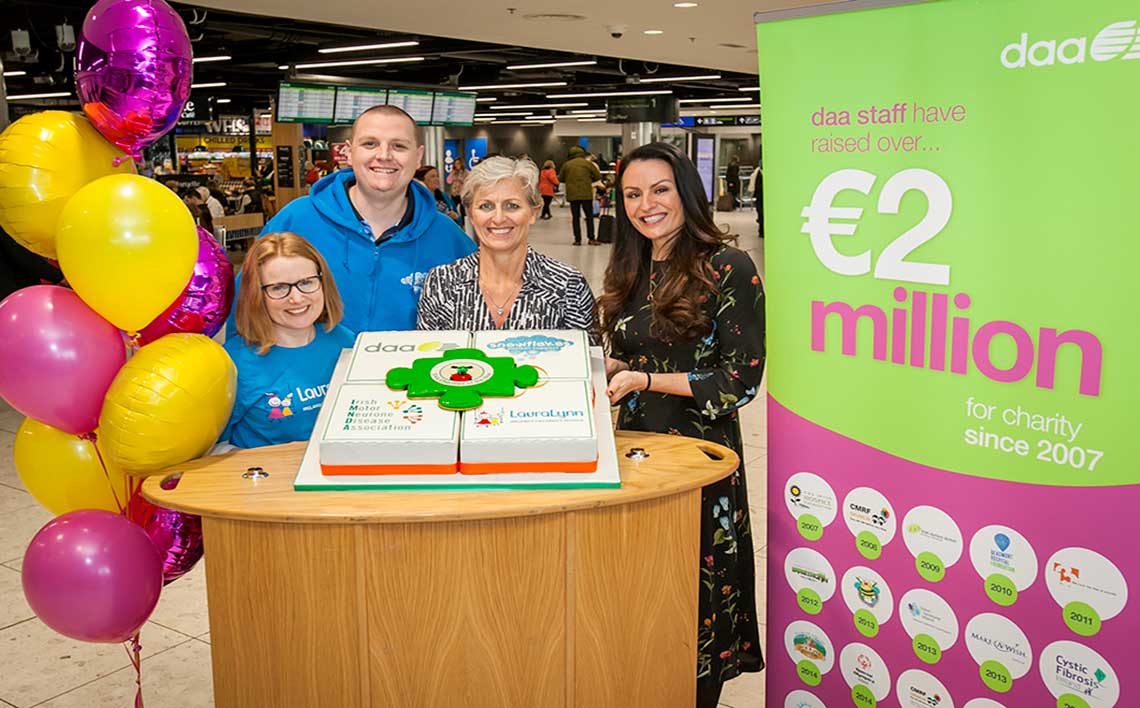 daa is delighted to announce that Irish Motor Neurone Disease Association (IMNDA), LauraLynn (Ireland's Children's Hospice) and Snowflakes (Autism Support) are its charity partners for 2018.
daa's charity initiative started in 2007, and since then its staff and the company, supported by the general public have raised more than €2.3 million for 21 Irish charities.
Every December, daa staff members have an opportunity to nominate a charity partner for the following year. The three charities with the most nominations are deemed elected as the company's new charity partners.
daa Charity of the Year Chairperson, Siobhán O'Donnell said another three fantastic Irish charities have been selected by staff. "Charities are normally selected because the cause resonates deeply with colleagues. IMNDA, LauraLynn and Snowflakes are very worthy causes and we're looking forward to fundraising as much as we can for them through a wide range of fun and novel events."
daa staff raise money for the three charities through a series of events and the company also makes a significant contribution to the fund. Members of the public also support the scheme through collection points throughout the airport for passenger donations.
IMNDA Chief Executive Aisling Farrell, said it was thrilled to be selected as one of daa's charity partners and the partnership will generate invaluable awareness of MND.
"MND is a progressive neurological condition that attacks the motor neurones in the brain and spinal cord. There are currently 370 people living with MND in Ireland. In order to provide vital services, the IMNDA depends heavily on the generosity of the public and supporters of the association who generate over 82% of its income."
LauraLynn Fundraising Manager Michelle Reynolds said the charity was "extremely grateful" to daa staff for selecting it as a charity partner for 2018. "LauraLynn provides hospice care to more than 170 children with life-limiting conditions and support to their families; ensuring patients can be children and families have time together making precious memories. To achieve this, we must raise more than €4 million this year."
The third charity partner is Snowflakes Autism Support, which is based in Swords, and is a support group for parents, siblings and children affected by an autism spectrum disorder.
"Snowflakes Autism Support is delighted to be chosen by daa employees as a Charity Partner for 2018," said Snowflakes Chairperson Glenda Deveney. "Our charity is made up of parents of children with autism doing their best to help children and families through activities, therapies and support in order to make a significant positive difference in the lives of those children with autism and their families," she added.
Image above: daa's three new charity partners for 2018 Claire Sheils, LauraLynn; Stephen Bennett, Snowflakes Autism Support; daa Charity Chairperson, Siobhán O'Donnell; Marie Reavey, Irish Motor Neurone Disease Association.