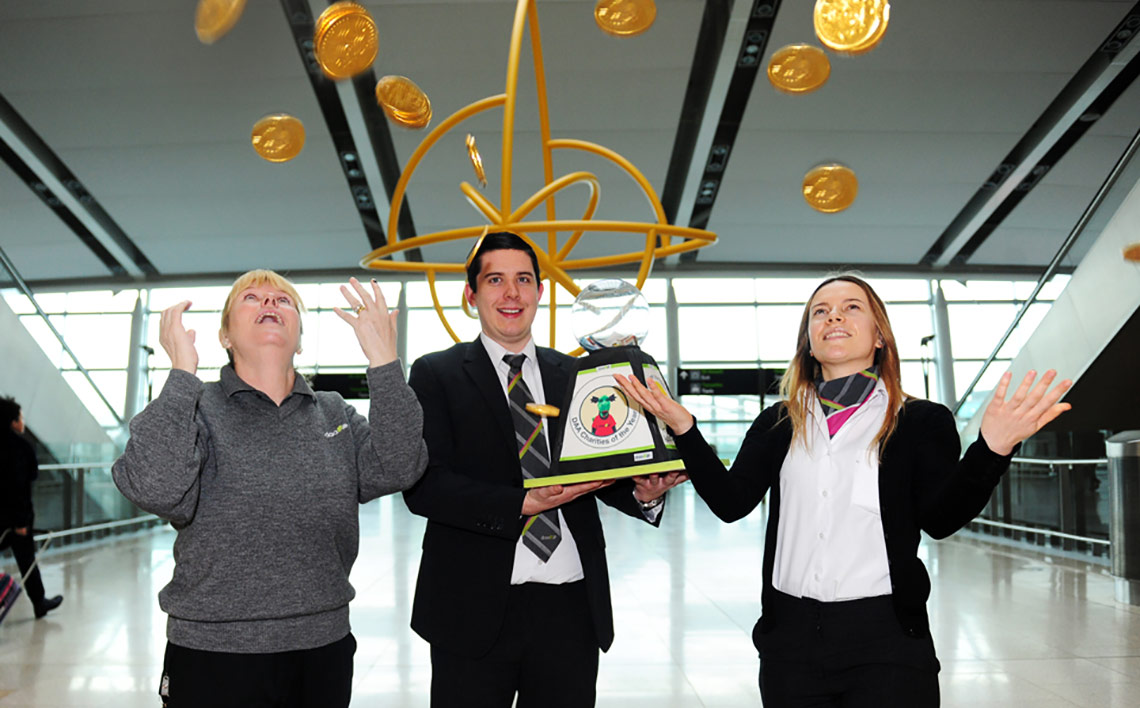 daa employees, supported by the company and members of the public, have raised €2 million for 18 Irish charities in the past 10 years.

daa's Charities of the Year scheme is one of the largest such programmes in the State and its gifts have touched the lives of tens of thousands of people over the past decade.

Every year staff raise money for the chosen charities through a series of events and the company also makes a significant contribution to the fund. There are also cash collection points though out the airport for passenger donations.

"We're celebrating 10 years of the daa Charity of the Year scheme and during that period an incredible €2 million has been raised for a huge range of worthy causes," said daa Chief Executive Kevin Toland. "This is a huge testament to the fundraising efforts of staff as this is a staff initiative. They pick the charities, they manage the programme and they generate the funds."

Last year, a total of €300,000 was raised through a variety of fundraising events and initiatives for the company's three charity partners in 2016 - Aoibheann's Pink Tie, ARC Cancer Support and Childline/ISPCC. Each charity was presented with a cheque for €100,000.

The money raised will make a real difference to people's lives, according to Mr Toland. "The amount raised during 2016 is 25% up on the previous year, making it the largest sum raised ever in a single year. I am immensely proud of the continuing support and passion of daa staff in raising this massive sum of money for charity."

Over the course of 2016 a wide variety of events took place with daa employees, families and friends getting involved to support the three charities. Events included an 80k cycle, the Women's Mini Marathon, a back to the shop floor day for managers, a parachute jump, a Christmas jumper day as well as marathons, book sale and cake sales.

The amount of money raised by staff is boosted by donations made by passengers and other visitors to Dublin Airport using the many charity boxes throughout Terminal 1 and Terminal 2. daa also makes a separate significant donation to the fund every year.

Speaking at the cheque presentation Mairead Mangan, Head of Fundraising with ARC Cancer Support said, ''A million thanks to the staff of daa for their incredible hard work and support throughout the year. It was an honour for ARC to be chosen as a charity of choice.
Receiving this phenomenal bursary from daa provides ARC Cancer Support Centres a lifeline which will enable us to plan future workshops programs and classes to meet the increased needs of men and women affected by cancer and their loved ones.''

Aoibheann's Pink Tie founder and Chief Executive Jimmy Norman said "I would like to thank all the staff at daa for choosing Aoibheann's Pink Tie as one of the charities of the year. I am incredibly honoured by all the hard work and dedication that went into the fundraising activities.

"I am delighted to say that the recognition we have received as a result of our charity visibility across the airport terminals during 2016 has helped to establish Aoibheann's Pink Tie as the National Children's Cancer Charity. The money raised will make a significant difference."

ISPCC Childline's Corporate Fundraising Executive, Carmen Taheny said being chosen as one of the daa charities of the year had helped it raise both funds and awareness.

"Childline has almost 400,000 conversations with children and young people every year, who contact us to talk about issues they are concerned about, including loneliness, anxiety, abuse, violence, exploitation, addiction and suicide. That is over 1,000 contacts by children every day. With daa support, we will ensure that there is always someone there to answer these calls. This donation will be part of every call, text and online conversation with children by the Childline service."


Image above: daa staff Andreea Mantea, Daniel Jordan and Denise O'Hanlon celebrating €2m raised for 18 Irish charities over 10 years.