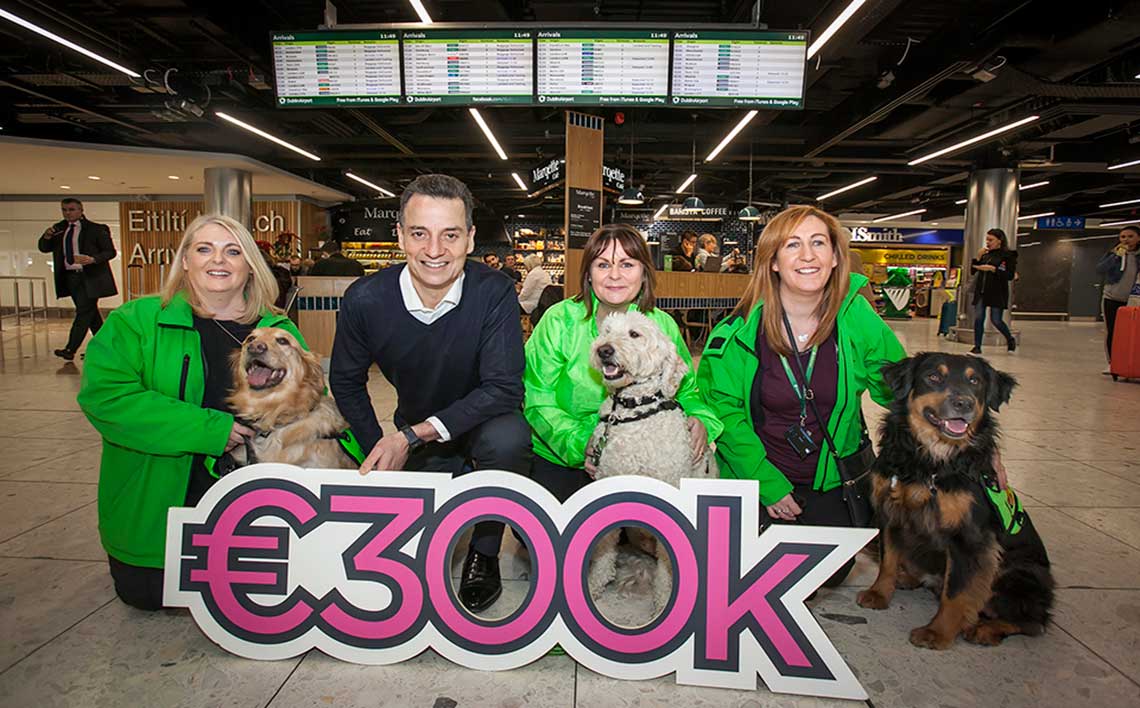 MS Ireland, Merchant's Quay Ireland and My Canine Companion to benefit
daa employees, supported by the company and members of the public, raised a total of €300,000 for the company's charity partners last year - MS Ireland, Merchant's Quay Ireland and My Canine Companion for Autism. Each charity was presented with a cheque for €100,000 from daa.
Staff raised the money for the three charities through a series of events and the company also makes a significant contribution to the fund. Members of the public also support the scheme through collection points throughout the airport for passenger donations.
My Canine Companion, which provides service dogs for children and young adults said it was "blown away" by size of the daa donation, while Homeless and drug services charity Merchants Quay Ireland described the €100,000 cheque as "transformational". MS Ireland said the generosity of daa staff and passengers was "overwhelming".
daa's Charities of the Year scheme, which is one of the largest such programmes in the State, was established in 2007 and over the past decade it has raised more than €2.3 million for a total of 21 Irish charities.
"I am immensely proud of the continuing support and unwavering passion of daa staff in raising this huge sum of money for charity every year," said daa Chief Executive Dalton Philips.
"The €300,000 raised last year will make a real difference to people's lives, and on behalf of our three charity partners I would like to thank staff and passenger who so generously contributed to the charity fund over the past 12 months," Mr Philips said. "We're acutely aware that these funds have the power to transform lives for the better."
daa's Charity of the Year scheme is managed by staff, who also select the charities to benefit each year, and generate a significant amount of the funds through their activities.
Last year daa staff rowed, cycled, ran marathons, baked cakes, lost weight through Operation Transformation, wore their county jersey or Christmas jumper to work, took part in quiz nights, race nights and a host of other events.
The funds left in cash collection points throughout Dublin Airport also support the chosen charities for the year.
MS Ireland Chief Executive Ava Battles said the funds generated by daa would have significant impact on its work.
"I want to thank all the staff and management at daa and everyone who travelled through Dublin Airport for their overwhelming generosity and support in raising €100,000 for MS Ireland in 2017. As well as raising vital funds for our services, this partnership gave us the opportunity to create an awareness of Multiple Sclerosis and the work that we do here at MS Ireland. This will have such a positive impact on our local support services nationwide, as well as our respite Care Centre, ensuring that we can continue to make a difference to the MS community in 2018 and beyond."
My Canine Companion Chief Executive Niall Ruddy said €100,000 will make a huge difference to the charity. "On behalf of all the staff and clients of the My Canine Companion family I would like to thank all daa staff. We are totally blown away by the amount raised from all your efforts. In a record year for the charity My Canine Companion had 47 qualified dogs in 2017. This fantastic donation will ensure that many more children and young adults will receive the life changing gift of a service dog for them and their family. We would like to wish all the staff and your current and future charity partners continued success."
Merchants Quay Ireland Chief Executive Tony Geoghegan said the €100,000 donation would have a huge impact on its work.
"At Merchants Quay Ireland, we never forget that it is by the grace of generous Irish people that we can keep the lights on and the kettle warm for Ireland's homeless and hungry - so we are staggered to have such support today. I am also conscious of all the toil it took, from staff all across daa, to raise such a transformational sum. Thank you for every bit of hard work and for every moment spared for those less fortunate. On behalf of those who rely on kindness like yours, from all at MQI and from the bottom of my heart, thank you."
daa Charity Scheme Beneficiaries
2017 - Merchant's Quay Ireland, My Canine Companion for Autism, MS Ireland
2016 - Aoibheann's Pink Tie, ARC Cancer Support, Childline/ISPCC
2015 – Temple Street, Parkinson's Association, Diabetes Unit OLCH Crumlin
2014 – Special Olympics Ireland, Jack & Jill Foundation, Cystic Fibrosis
2013 – Bee For Battens, Down Syndrome Ireland, Make A Wish Ireland
2012 – Barretstown
2011 – 3Ts Turn the Tide of Suicide
2010 – Irish Autism Action
2009 – Crumlin Children's Hospital
2008 – Beaumont Hospital Foundation
2007 – Irish Hospice Foundation
Image above: daa Chief Executive, Dalton Philips with My Canine Companion for Autism champions Laura Sullivan with Harper, Debbie Keys with Indie and Carmel Darling with Walter