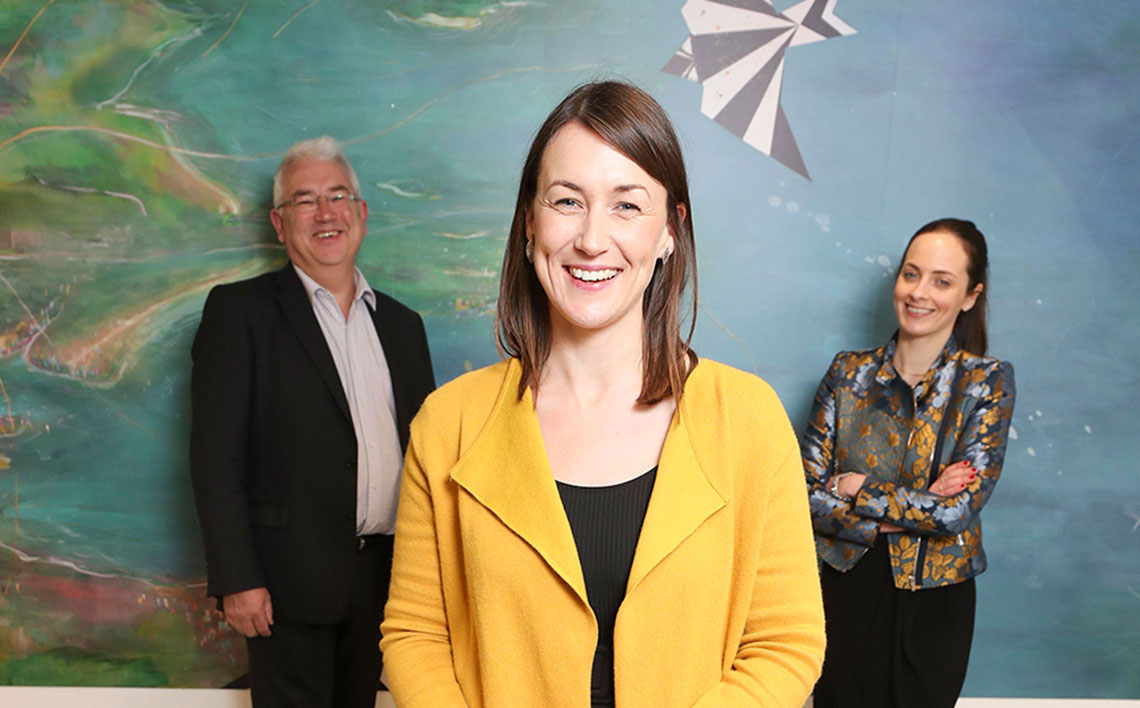 High Flyers by Deirdre Byrne is Dublin Airport's latest art installation in its Creative Journeys initiative on display in Terminal 1.
Creative Journeys is a two-year public art programme involving Dublin Airport, Business to Arts and the National College of Art and Design (NCAD).
Ms Byrne, a visual artist and illustrator from Gorey, County Wexford, was selected as the winning entrant from over 102 submissions following an open call competition.
Her winning entry High Flyers is now on display on a large billboard beyond the passenger security screening area near the Pier 3 boarding gates. Ms Byrne is currently living in Seville in Spain and her work has been exhibited in Ireland, Spain, China, Iceland and New Zealand. At the official unveiling of the painting Dublin Airport Managing Director Vincent Harrison paid tribute to the artist. "I want to congratulate Deirdre on her winning submission, which is now part of our Creative Journeys partnership. We are delighted to feature her hugely impressive and striking piece of art. Dublin Airport provides the first welcome and the last goodbye to Ireland for tens of millions of people every year and High Flyers will be viewed and appreciated by thousands of passengers every day."
Ms Byrne, who has a degree in Fine Art Painting and a postgraduate qualification in Art and Design Education from NCAD, was inspired by the landscape she sees from the air each time she returns to Dublin. "When I learned of the open call competition, I thought this familiar landscape would make a good image for the billboard. The kites in my painting were inspired by the work of the Wildlife Management Team in Dublin Airport, which use kites depicting birds of prey to deter actual birds from the runway."
High Flyers is the fifth installation to be erected in Dublin Airport since the beginning of the Creative Journeys partnership with NCAD and Business to Arts. It joins Philip Napier's Visual Amenity 1 & 2, NCAD illuminated art located at gates 412-414 in Pier 4, an Object and Image exhibition in 51st & Green, the US pre-clearance lounge all located in Terminal 2, and Showreels on the Mezzanine level in Terminal 1.
"The various installations that form part of the Creative Journeys partnership are individually and collectively transforming the visual environment of Dublin Airport for our passengers," Mr Harrison said.
Dublin Airport has welcomed almost 27 million passengers in the first 10 months of the year, which is a 6% increase compared to the same period in 2017. More than 1.6 million additional passengers have travelled through the airport between January and October.
Dublin Airport has flights to almost 190 destinations in 43 countries, operated by 56 airlines.
More information on the Creative Journeys project is available HERE
Image above: Dublin Airport Managing Director, Vincent Harrison; winning artist Deirdre Byrne and Helen Carroll, Head of Communications & Partnerships Business to Arts at the unveiling of High Flyers in Terminal 1, Dublin Airport.