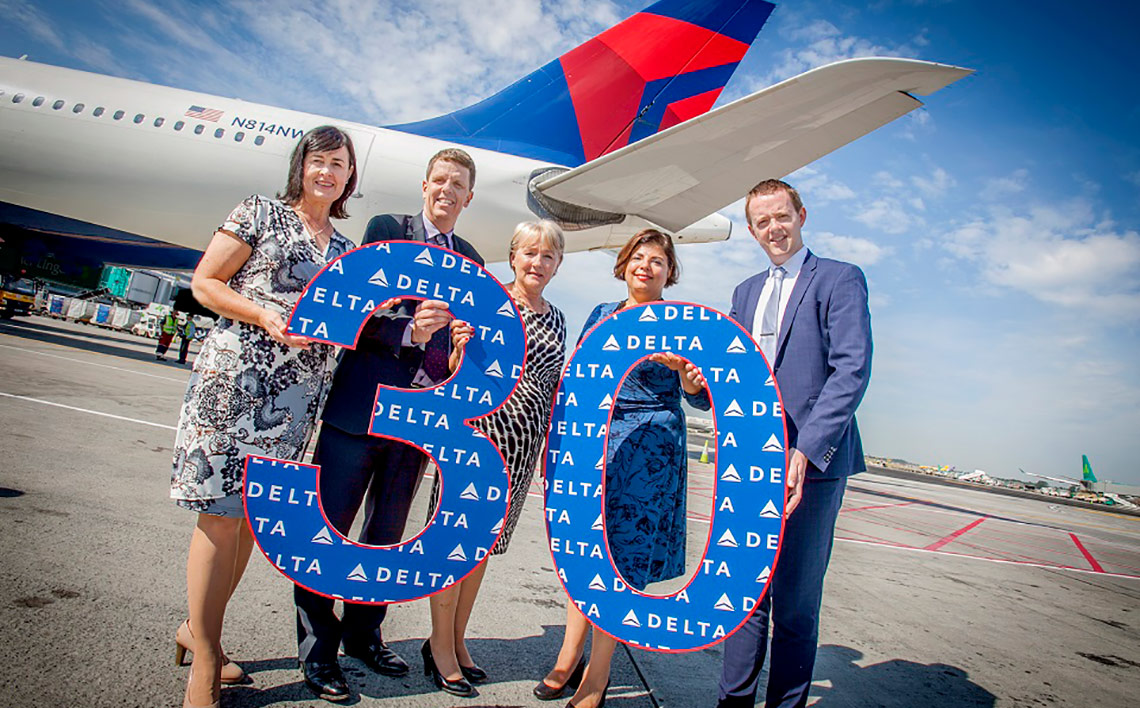 Delta Air Lines is celebrating 30 years of flying between the US and Dublin Airport.
The airline started a direct service between Dublin and Atlanta in 1988 and is the airport's longest serving US carrier. Since then Delta has carried almost five million customers on its route network from Dublin Airport.
Congratulating Delta on its significant milestone Dublin Airport Managing Director Vincent Harrison said "Dublin Airport welcomed over 4.8 million passengers in 1988 and this year passenger numbers are likely to surpass 30 million. Delta Air Lines is Dublin Airport's longest serving North American carrier, it has played an important part in Dublin's transatlantic growth over the past three decades and I want to thank the airline for its commitment to Dublin and Ireland.
"We have worked closely with our friends in Delta fostering strong relationships since it started its Dublin-Atlanta service and we were delighted to see the airline's route network go from strength to strength with its year-round New York-JFK service and seasonal route to Boston.
"Delta has carried almost five million passengers – the equivalent of the population of Ireland – on its three routes from Dublin Airport during those 30 years. We will continue to work closely with Delta Air Lines to grow its passenger numbers further and wish the airline continued success with its route network from Dublin Airport."
At the gate celebrations to mark its 30th anniversary of flight operations at Dublin Airport Nadia Clinton, Delta's Country Manager for the UK and Ireland said "We've more than quadrupled our capacity from Dublin since our first flight 30 years ago, offering three daily flights this summer and nearly 5,000 seats each week from the capital. We've also invested heavily in our customer experience new menus, movies and messaging to ensure a more comfortable and enjoyable flight across the Pond."
Passengers travelling on Delta flights to the US can avail of US pre clearance facilities at Dublin meaning passengers save time on arrival in the US by completing all the necessary immigration and customs checks prior to departure. The only queue a pre cleared passenger encounters on arrival in the US is the taxi queue to their final destination.
So far this year, almost 11.6 million passengers have travelled through Dublin Airport, a 6% increase compared to the first five months of last year.
Dublin Airport has welcomed an additional 639,000 passengers between January and May.
This summer season Dublin Airport has flights to 195 destinations in 42 countries, operated by 56 airlines.