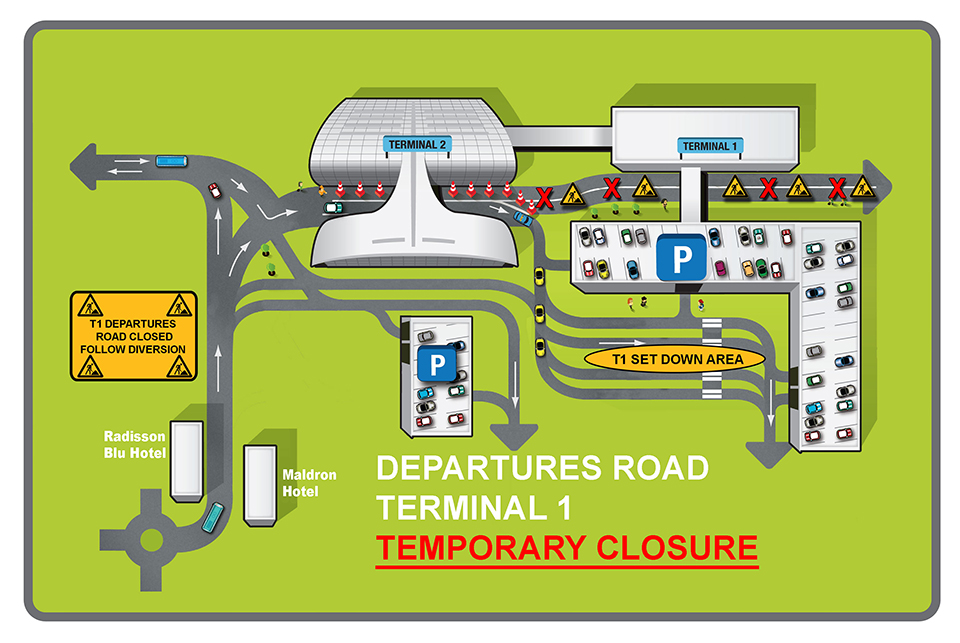 Abseiler will be working on the façade of T1 and road closure will allow for installation of a safety platform so works can proceed safely
The Departures Road at Dublin Airport's Terminal 1 will be temporarily closed from April 17 until the end of May between 23.30 and 03.00 every Monday to Thursday night to allow for upgrade works to T1.
Between 19.00 and 23.30 each night during the works the T1 Departures Road will be reduced to one lane. A full closure of the Departures Road is required from 23.30 until 03.00.
The reduced access is required to facilitate the construction of a safety platform to allow repair works overhead to proceed safely to the façade of T1. The safety platform is needed as the works will be carried out by a specialist abseiler and by repair crews working from a cradle suspended from the roof of T1. The job will include repairs to the concrete fins on the exterior of T1 and spot repairs to some steel columns and beams.
Terminal 1 opened in 1972 and the works to the façade are part of a multi-million euro upgrade programme to the terminal that also includes a major revamp of both the Arrivals and Departures areas.
During the road closure, Dublin Airport will provide an alternative set down area for customers departing from Terminal 1. This will be located at the rear of the T1 multi-storey car park in lanes 2 and 4.
A dedicated traffic management plan will be put in place each night at 19.00 and removed at 03.00. New signage and traffic marshals will be in place to assist customers throughout the works.
Vehicles with a permit to access the Arrivals Road will not be affected.
The repair work to the façade facing the Departures Road will begin on May 25 and is due to be completed by late June 2018. There will be no impact to the Departures Road access during this phase of the work. Repairs to all four façades of the building will be completed in September 2018. Works are subject to favourable weather conditions.
Dublin Airport apologises for any inconvenience that may be caused as a result of these essential improvement works.