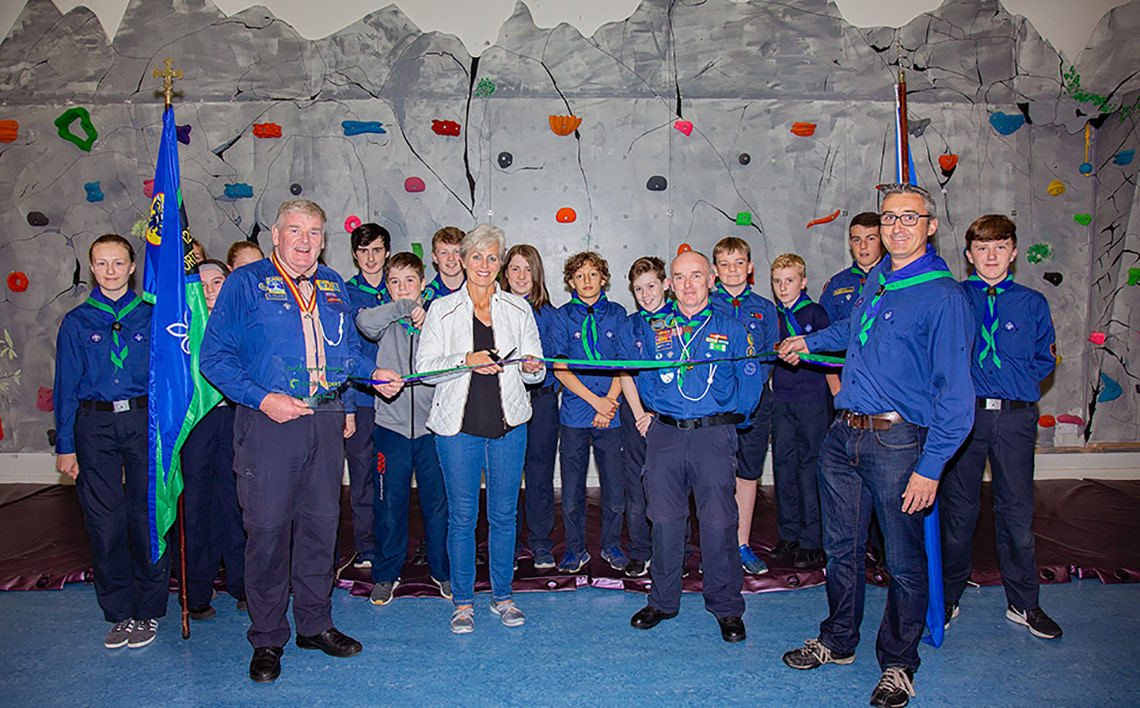 Dublin Airport is delighted to support a new climbing and traversing wall for the 120th Portmarnock Scouts from its €10 million Community Fund.
The wall is one of many projects in the local community that is being funded from the airport's Community Fund.
Speaking at the official opening of the wall, Dublin Airport's Head of External Communications Siobhán O'Donnell said the airport was delighted to support such a worthwhile cause.
"It's really exciting to see the variety of different projects that are being delivered in the local community as a result of our Community Fund initiative," Ms O'Donnell said. "It is hugely uplifting to see the good that is being done in clubs and community groups with the funding they have received," she added.
"We are very grateful to Dublin Airport's Community Fund for recognising the potential value the community gains from the addition of the wall to our den," said Portmarnock Scout Group Leader Peter O'Kelly.
"Most importantly for Portmarnock Scouts, climbing is a fully inclusive activity from our youngest Beaver Scouts to our oldest Venture Scouts, male and female can all take part in this wonderful pursuit," Mr O'Kelly said. "There are many benefits of taking part in climbing activities, including promoting motor skills and cognitive development in young people through problem solving, improving core strength and muscle tone as well as developing hand and foot coordination," he added.
The aim of the traversing wall is to introduce Scouts to new skills, increase confidence and instil a sense of adventure to increase interest in the local environment. The 120th Portmarnock Scouts plan to make the traversing wall available for other Scouts and Guides groups to use.
Scouts and Guides have been active in the Portmarnock area for nearly 40 years with more than 270 youths between the ages of six and seventeen involved. Almost 40 people in the community volunteer with the various troops.
Dublin Airport's €10 million Community Fund was launched in 2017 with an annual investment of €400,000 over 25 years. Support is focussed on areas such as: environment and sustainability, sports and recreation, social inclusion and community development, health and well-being, and culture and heritage.
The Community Fund supports projects in the neighbouring communities around Dublin Airport from Santry south of the airport to Rolestown in the north and from Tyrrelstown on the west to Portmarnock on the east.
All submissions to Dublin Airport's Community Fund are assessed for eligibility and funding is awarded from the independent Grant Making Panel.
The Fund opens again on September 1, 2019. More information and details of how to apply to the Community Fund is available here.
Image above: Portmarnock Scout Group Leader Peter O'Kelly and Dublin Airport Head of External Communications Siobhán O'Donnell at the opening of the new climbing wall in the 120th Portmarnock Scouts den.