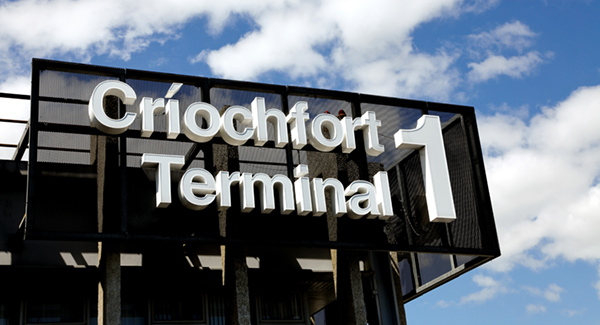 The Departures Floor in Dublin Airport's Terminal 1 is to be replaced as part of the €10 million upgrade project.
Parts of the floor have been upgraded several times over the past four decades but in some areas the original tiling laid when the building opened in 1972 is still in place.
Other improvements to the Departures Floor, include new wooden and tile fascia around the walls and the removal of ticket desks to create more light and space.The project is part of an overall programme to modernise Terminal 1 and enhance the overall passenger experience.
Dublin Airport's Managing Director, Vincent Harrison said this final piece of work will see a significant improvement in the Departures area. "Terminal 1 is 44 years old and has welcomed over 400 million passengers during that time."
"This new, brighter floor tile will significantly improve the look and feel of the Departures area. With the Arrivals Hall upgrade well under way, our goal is to create a greatly enhanced passenger experience for all our customers travelling through Terminal 1," he said.
The Departures Floor upgrade project will involve the phased temporary closure of airline check-in desks, with some check-in facilities being moved for a time to check in area 14, which is located in the lower ground floor of T1 below the Arrivals Hall.
The first phase of this work starts today Monday, September 19 with the closure of check-in desks 6, 7 and 8, along with some ticket desks, and limited access through Departures door 1.
Refurbishment of the Arrivals Hall includes new flooring, a replacement ceiling, the removal of desks currently situated in some window areas to allow natural light in and a new look to the front of Terminal 1.
When completed, the Arrivals Hall will also be brighter, more spacious and modern. All restaurants will be located in one area while services such as the Tourist Information Office, Bus, Travel and the Information Desk will be grouped together making the floor layout more user friendly and intuitive for customers.
Dublin Airport has welcomed more than 18.8 million passengers in the first eight months of the year, which is a 12% increase compared to the same period last year. An extra 2 million passengers were welcomed at the airport in the eight months to the end of August.
Dublin Airport has direct flights to over 180 destinations in 40 countries on four continents.