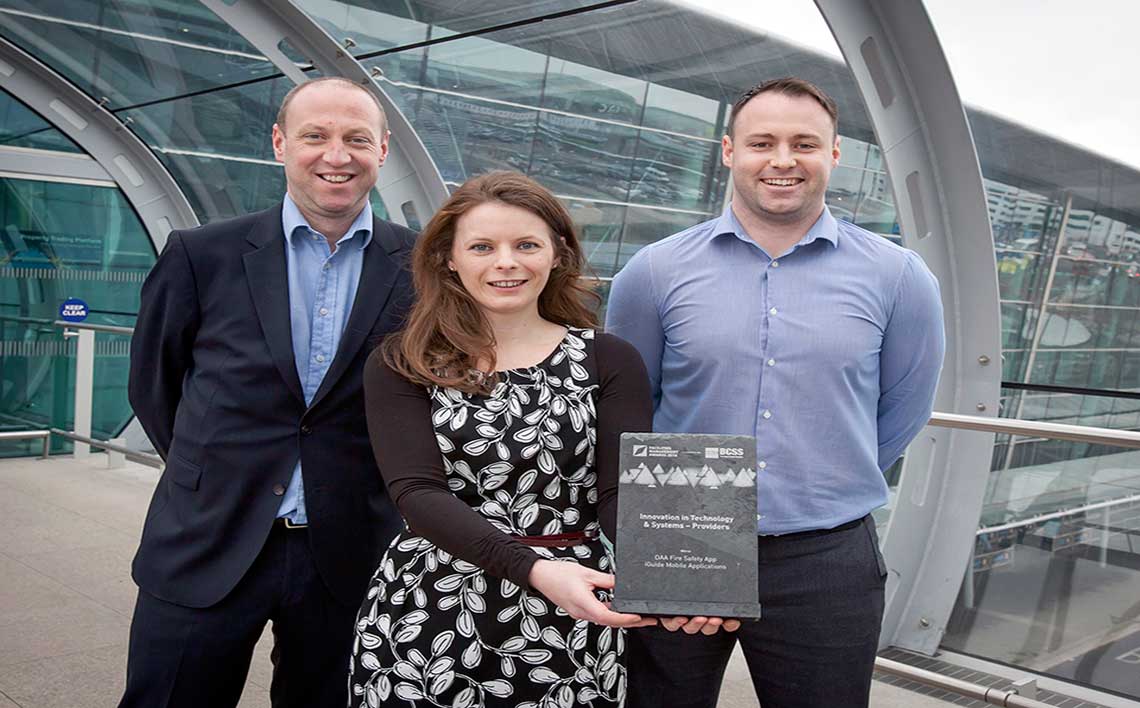 Dublin Airport has won the Innovation in Technology & Systems Award for its Fire Alarm App at the Facilities Management Awards recently.
The Fire Alarm App was designed to help Dublin Airport Fire Alarm Responders find the location of a fire alarm activation using a graphical map interface so they can react without delay.
Dublin Airport IT Project Manager, Gavan Farrell said the project team was delighted to win the award which recognises the most effective use of a system or technology in Ireland's Facilities Management sector. "We have approximately 14,000 fire sensors located across both Terminals, so speed is key in pinpointing the source of a fire alarm so that any potential impact on the passenger journey is minimised."
The Fire Alarm App is the result of a collaboration of work between Dublin Airport's IT and Operational Safety departments, its fire safety service provider Masterfire and mobile application development specialists iGuide.
The Facilities Management Awards recognise and celebrate those involved in the key role of ensuring that businesses achieve their operational objectives.
The awards event showcases the positive contribution made by organisations to significantly improve practical applications, communication in strategies and foster innovation in facilities management.
More than 3.8 million passengers have used Dublin Airport in the first two months of this year, which is a 5% increase on the first two months of last year.
This summer Dublin Airport will have flights to 195 destinations in 42 countries, operated by 56 airlines.
Image above: Dublin Airport IT Project Manager, Gavan Farrell; IT Relationship Manager, Elaine Roche and Fire Safety Manager, Keith O'Hanlon with the Innovation & Technology Systems Award.