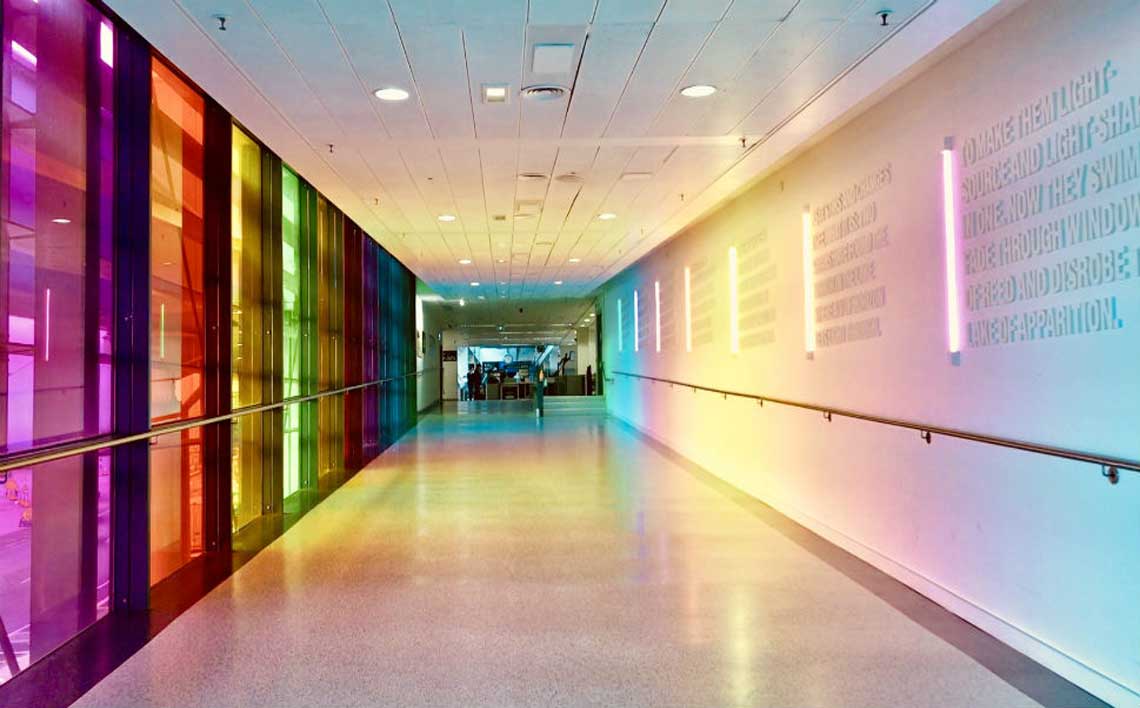 A series of unique Irish art installations has been unveiled at Dublin Airport designed to leave passengers with a positive lasting impression of Ireland.
Three locations after the passenger security screening areas in both terminals have been chosen to depict native wildlife and the unique quality of Irish light.
A visually stunning installation entitled Vibrant Irish Light, located on the passenger journey between Terminals 1 and 2, features an eye catching spectrum of rainbow colours which vary in intensity at different times of the day.
The creation reaches its visual peak when flooded with mid-afternoon sunlight streaming through the glass wall looking out on the airfield.
It also stands out dramatically from the rest of the airport architecture when seen from the airfield by arriving and departing passengers after dark.
This strikingly vibrant area is complemented with the poem, Swanlight, by the late Irish poet and philosopher, John O'Donohue, best-selling author of Anam Cara and other works.
The Irish wildlife and nature designs, which form a separate installation spread across two passenger departure areas, showcase the unique character of Ireland's natural environment. These are accompanied by quotes from a number of Irish poets and writers such as Padraig Pearse, William Butler Yeats, James Joyce and Katherine Tynan.
"We strive to offer our passengers the best possible experience when travelling through Dublin Airport. We want passengers to feel that they are still in Ireland and not just at the beginning or the end of their journey at the airport," said Dublin Airport Managing Director, Vincent Harrison.
"The initiatives to date show that beautiful images or lighting can greatly enhance the ambience in particular areas of the airport. These visually creative areas have been designed with a unique Irish flavour that includes Irish poetry and phrases with images of wildlife, land and colour to leave passengers with a positive lasting impression of Ireland," he added.
Another five areas are earmarked for improvement in the coming months.
Dublin Airport recently won a major international award for the quality of the customer experience that it provides to its passengers. The Airports Council International (ACI) World Airport Service Quality (ASQ) Awards are based on 600,000 passenger survey results in 84 countries that measure the key elements of a passenger's experience at each airport. The ASQ Awards are presented to the airports whose customers have rated them the highest during the year.
More than 5.8 million passengers have travelled through Dublin Airport in the first three months of the year, representing a 5% increase, or an extra 260,000 passengers, compared to the same period last year.
Last year, passenger numbers at Dublin Airport increased by 11% to a record 27.9 million, which is more than four times the population of Ireland.
Dublin Airport has direct flights to 185 destinations in 41 countries operated by a total of 47 airlines.