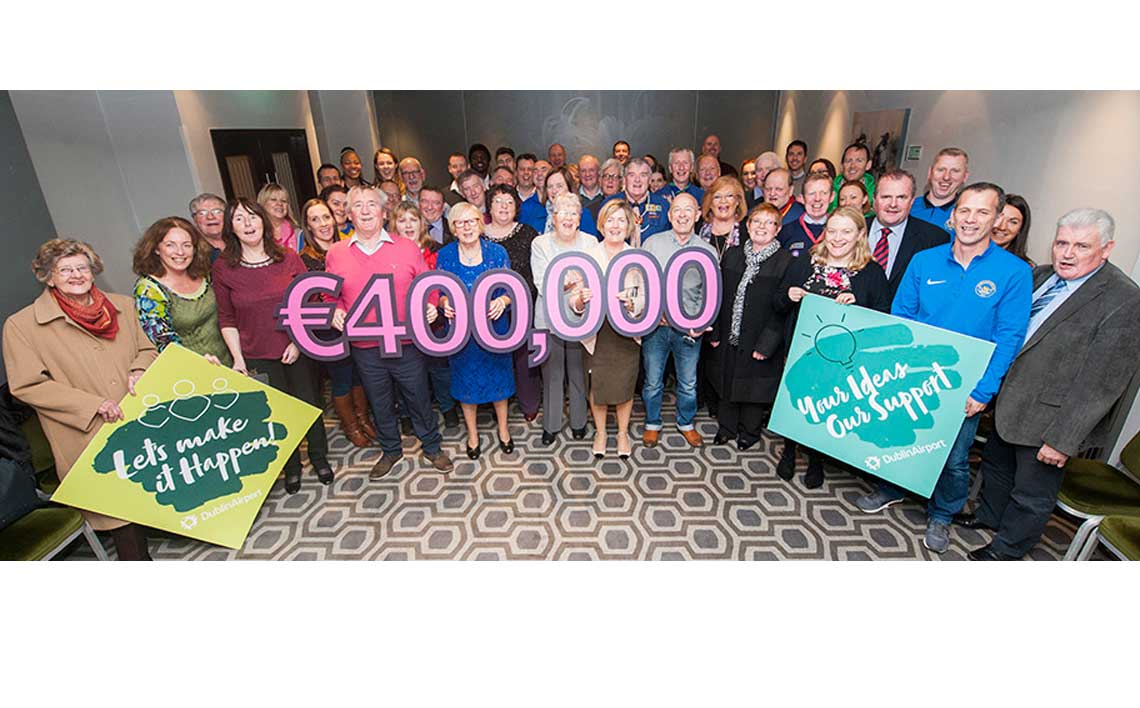 Dublin Airport's Community Fund officially re-opens for applications today, February 1 for a six-week period.
The airport's €10 million Community Fund was launched last summer with an annual investment of €400,000 over the next 25 years. Support is focussed on areas such as; environment and sustainability, sports and recreation, social inclusion and community development, health and wellbeing, and culture and heritage.
The Community Fund supports projects in the neighbouring communities around Dublin Airport from Santry, south of the airport, to Rolestown in the north, and from Tyrrelstown in the west to Portmarnock in the east. Organisations such as voluntary groups or clubs, resident associations from local communities, and schools and colleges can apply.
"We received over 100 applications when the fund opened last September," said daa's Community Liaison Manager, Maura Cassidy. "Sixty organisations that met the eligibility criteria were subsequently approved by the Grant Making Panel. Community groups were delighted and hugely appreciative of the support they received," she added.
Awards from the Community Fund are made by an independent Grant Making Panel, comprising former President of Fingal Dublin Chamber, Guy Thompson; Managing Director of Country Crest, Michael Hoey; daa Chief People Officer, Brian Drain and Dublin Airport Head of Marketing Louise Bannon. The Panel is chaired by Marian Burns, Director of Human Resources with DCU.
Among the projects funded in the last round of approved applications were new sports equipment for Kinsealy United FC, materials to help Swords Woodland Association deliver its Agenda 21 Biodiversity Workshops to schools and a juvenile training facility for Starlights GAA Club in Cloghran.
For many years Dublin Airport has supported community initiatives in areas such as sports, education, literacy and the arts. Organisations and activities that have previously been supported include; St. Margaret's GAA Club, Naomh Mearnóg GAA Club, Swords and Malahide Young Musician of the Year competitions and Fingal Libraries' Battle of the Book reading programme.
Support for these initiatives is continuing as part of the transitional arrangement which will ensure that relevant funding is provided to maintain these projects up to September 2018. Thereafter, all organisations will be required to apply for funding through the Dublin Airport Community Fund process.
"We're looking forward to the fund re-opening for applications and we are confident there will be a large number of submissions again," Cassidy said.
Organisations can apply for grants under three different headings, minor grants of €5,000 or less to suit smaller initiatives, major grants of €5,000 or over for projects that have medium or long-term benefits, and capital grants for the purchase of equipment or the improvement or construction of buildings.
A clear step-by-step application guide for the Dublin Airport Community Fund and application forms can be found HERE or via communityfund@daa.ie.
Applications close on Friday, March 16, 2018.