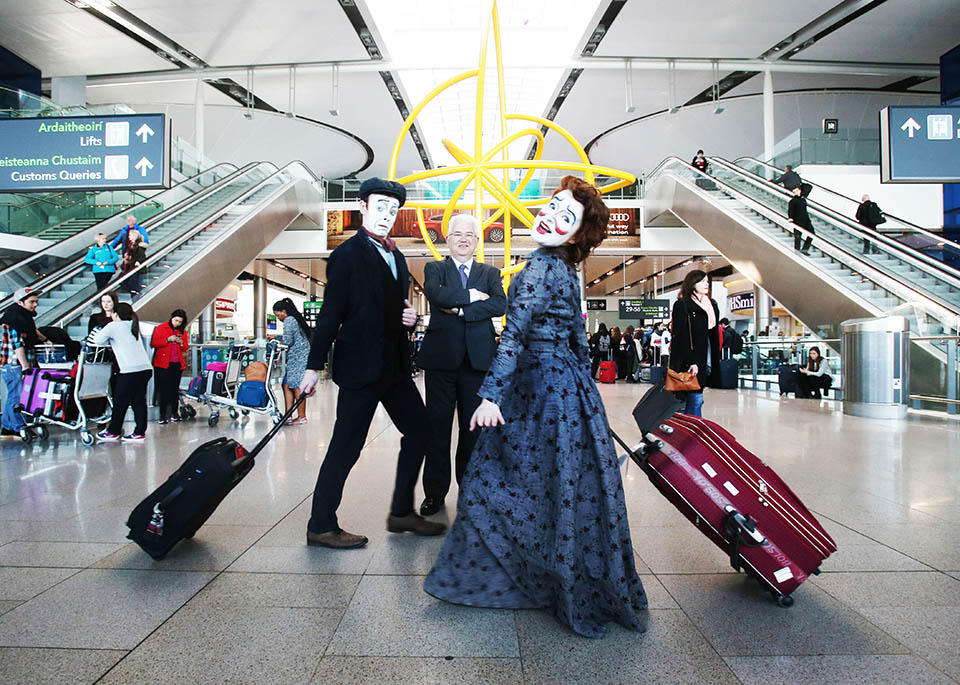 Dublin Airport has entered into a three-year partnership with the award-winning Abbey Theatre, Ireland's National Theatre.
The partnership, which commences this week, will promote 15 plays from the Abbey Theatre this year via the airport's digital display screens in the arrivals hall in Terminals 1 and 2. Further productions will be supported in 2018 and 2019 and Dublin Airport will be named on all promotion and advertising associated with the Abbey Theatre in the programme for each year.
The digital screens will promote all 15 plays to about 40,000 passengers arriving into Dublin Airport daily. The screens will also be seen by many people who come to meet relatives and friends as well as the thousands of staff working at Dublin Airport.
The partnership between the two organisations falls under a new campaign entitled 'Where Stories Go Beyond' which plays on the concept of the airport as the place where the passenger's story begins and the Abbey Theatre as the national stage for sharing stories about Irish culture and history.
Promotion of the Abbey Theatre productions gets underway at Dublin Airport this week. The first play to be advertised at the airport is The Corn Exchange's acclaimed Dublin by Lamplight by Michael West, in collaboration with the company, and directed by Annie Ryan, with an arresting poster image of leading Irish actor, Louis Lovett, who plays Willy Hayes in the production, used on the digital screens.
"We are delighted to present these plays in association with the Abbey Theatre which fits perfectly with our ethos of promoting tourism, visitor attractions and Irish culture to all our customers," said Dublin Airport Managing Director, Vincent Harrison. "Dublin Airport is a key gateway to the island of Ireland, as more than two thirds of all air passengers who arrive in Ireland use Dublin Airport," he added.
"Our collaboration with the Abbey Theatre means that all 15 productions will feature on 30 of our digital screens reaching an international and national audience of over 40,000 people daily," he said.
Other features of the partnership will include surprise pop-up performances by the Abbey Theatre at Dublin Airport for both passengers and staff to enjoy.
"We are delighted to team up with Dublin Airport on this new sponsorship partnership. Adverts promoting the Abbey Theatre's 2017 programme of plays will be seen by over 28 million passengers coming through Dublin Airport this year. It is our hope that this will attract more visitors to the Abbey Theatre, where currently, 15% of our audience is made up of tourists. The Abbey Theatre is a theatre for everyone and we are keen to welcome as many new faces as possible, from across the world, to the Abbey Theatre in the years to come," said Graham Mc Laren and Neil Murray, Directors of the Abbey Theatre.
Passengers arriving in Dublin Airport will be the first to discover details of the Abbey Theatre's exciting new 2017 programme of plays featuring works from Samuel Beckett, James Joyce and Roddy Doyle, as well as exciting adaptations of major films such as Jimmy's Hall and Room with international artists, theatre and dance companies.
The Abbey Theatre will entertain over 120,000 people from Ireland and overseas including the US and Canada, Northern Ireland and UK and Europe during 2017. The Abbey Theatre has toured extensively since 1911 and last year toured in the US, Canada, United Kingdom and Europe.
Last year, passenger numbers at Dublin Airport increased by 11% to a record 27.9 million, which is more than four times the population of Ireland.
Dublin Airport has direct flights to 185 destinations in 41 countries operated by a total of 47 airlines.
Image above: Dublin Airport Managing Director, Vincent Harrison with Abbey actors, Colin Campbell and Caitríona Ennis.