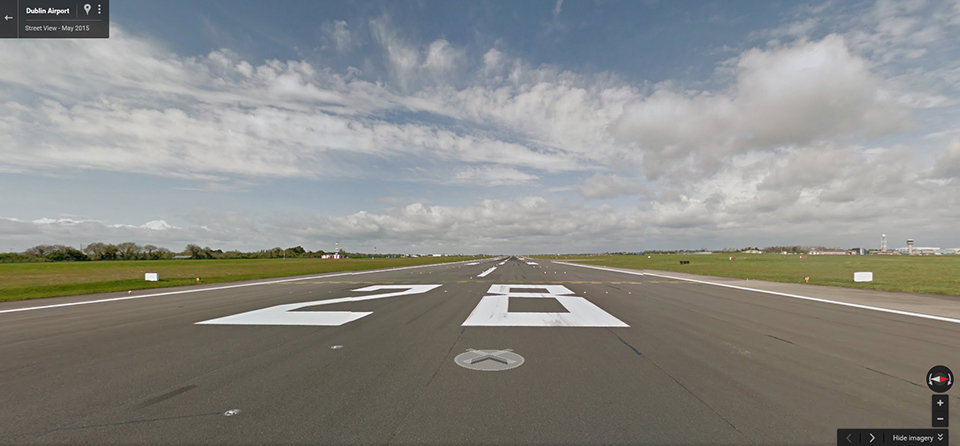 Dublin Airport has become the first airport in the world to provide a virtual tour of its runway and airfield.
In partnership with Google, Dublin Airport is offering a 360 degree street level virtual tour of its runway system and airfield areas.
Thousands of images were captured by Google's Street View car which were compiled together to give a comprehensive 360o virtual tour of the runway and airfield at Dublin Airport.
As it was collecting imagery in a live airfield environment, the Google vehicle was escorted by Dublin Airport personnel at all times to ensure airfield safety requirements were met.
"Airfields are exciting and fascinating places for many people so we are delighted to be the first airport in the world to give free, easy to access virtual tours of our airfield and runway areas," said Dublin Airport Managing Director Vincent Harrison.
"Anyone wishing to have a closer look beyond the boarding gate can now get a pilot's view down the main runway at Dublin Airport, take a virtual tour around other areas of the airfield as well as the four boarding gate piers servicing Terminals 1 and 2," Mr Harrison added.
But the Street View data of the Dublin Airport airfield is not just for aviation geeks, as it also has a very important practical use, according to Mr Harrison. "These new images will also help the airport's Airside Safety Training department, as they will become an essential piece of the training suite in educating and familiarising all airport employees working around the airport's airfield."
Valentina Frassi, Programme Manager, Google said "Whether you want to explore faraway sites or places that most of us would never otherwise get to visit, Street View can let you virtually tour these places. We've worked with Dublin Airport to help people to go beyond the window seat to tour the new runway and the surrounding airfields right from their phone, tablet or computer."
Dublin Airport Google Street View can be accessed via www.google.com/maps from any desktop or mobile device by simply typing 'Dublin Airport' into the search bar. All 75,000 square metres of terminals 1 and 2 were captured previously and are also available to view in the dedicated gallery of the Street View website. The gallery is also accessible through the Street View App.
Last year Dublin Airport had a record year with over 25 million passengers travelling through the airport in 2015. Dublin Airport has welcomed over 7.8 million passengers in the first four months of this year, representing a 15% increase, or an extra one million passengers so far this year.
Dublin Airport has direct flights to over 180 destinations in 40 countries on four continents.
Image above: Google Street View of Dublin Airport's main runway