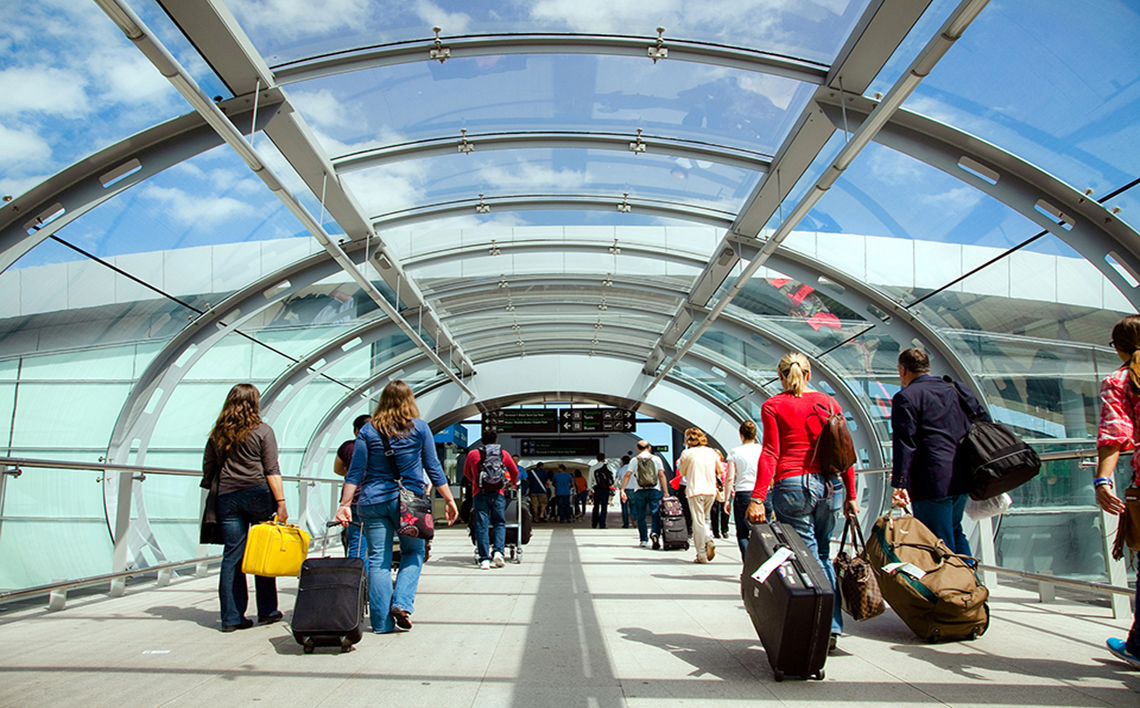 A record 1.2 million Northern Ireland residents used Dublin Airport during 2015, which was a 37% increase on the previous year.

Dublin Airport also set a new record as a gateway to Northern Ireland for overseas visitors last year, as an estimated 1 million overseas residents used Dublin Airport to travel to and from Northern Ireland during 2015.

The significant increase in passengers from Northern Ireland choosing to use Dublin Airport was due in part to a further expanded route network with 23 new services and extra capacity on 40 existing routes at Dublin Airport last year.

"Passengers from Northern Ireland love the choice, convenience and value that Dublin Airport offers with its extensive long-haul and short-haul route network and high frequency connections to a huge number of destinations," said Dublin Airport's Chief Communications Officer Paul O'Kane.

"Our surveys also show that Northern Ireland passengers are impressed with the quality of the passenger experience and the facilities at Dublin Airport," Mr O'Kane added.

Dublin Airport is also growing its importance as a key international gateway for overseas visitors to Northern Ireland, as 67% of all passengers who came by air to the island of Ireland travelled via Dublin Airport last year.

"The additional routes provided at Dublin Airport are bringing increased numbers of overseas visitors to Northern Ireland, and also expanding the choice and convenience for Northern Ireland residents," according to Mr O'Kane.

Half of Northern Ireland residents used Dublin Airport for holiday trips last year, with 26% flying from Dublin on their main holiday and a further 24% using Dublin for an extra holiday. Business travel accounted for 11% of trips and 20% of passengers were visiting friends or relatives.

Three quarters of all passengers from Northern Ireland take a direct flight from Dublin to their final destination with about one-quarter making onward connections at another airport. "The connectivity that Dublin Airport offers is excellent and is growing every year and that's underscored by the high level of Northern Ireland based travellers who take direct flights from the airport," Mr O'Kane said. "This year, Dublin Airport has direct flights to more than 180 destinations in 40 countries".

London Heathrow was the most popular destination for Northern Ireland residents using Dublin Airport last year, followed by New York's JFK, Dubai, Brussels, and Paris Charles De Gaulle. Short-haul services from Dublin to Britain and to continental Europe accounted for 8 of the top 10 routes for Northern Ireland consumers last year.

The UK continues to be the most popular country destination for Northern Ireland passengers using Dublin Airport followed by the United States, Spain, Germany and France.

Dublin Airport has significantly expanded its capacity again this year, offering increased choice and convenience both for travellers in Northern Ireland and also for people living overseas who want to visit to Northern Ireland for business or leisure reasons.

Dublin Airport has 19 new services this year, with six new long-haul and 13 new short-haul routes. There are direct new scheduled long-haul services to Los Angeles, California, Hartford, Connecticut and Newark, New Jersey in the United States and a new direct service to Vancouver on Canada's west coast. Dublin Airport also welcomed two new long-haul charter services to Cancun in Mexico and Montego Bay in Jamaica this summer.

The addition of six new long-haul routes means that Dublin Airport now has a total of 31 long-haul services to 22 destinations in the United States, Canada, the Caribbean, Africa and the Middle East. Over the past five years, Dublin Airport has welcomed an unprecedented 15 new scheduled transatlantic services.

The airport is also adding new direct short-haul services to European destinations such as Athens, Hamburg, Pisa, Montpellier, Sofia and Larnaca to further extend its connectivity.

Passenger numbers at Dublin Airport have increased by 12% to more than 18.8 million in the first in the eight months of this year. Last year, the airport celebrated its 75th birthday by welcoming a record 25 million passengers.