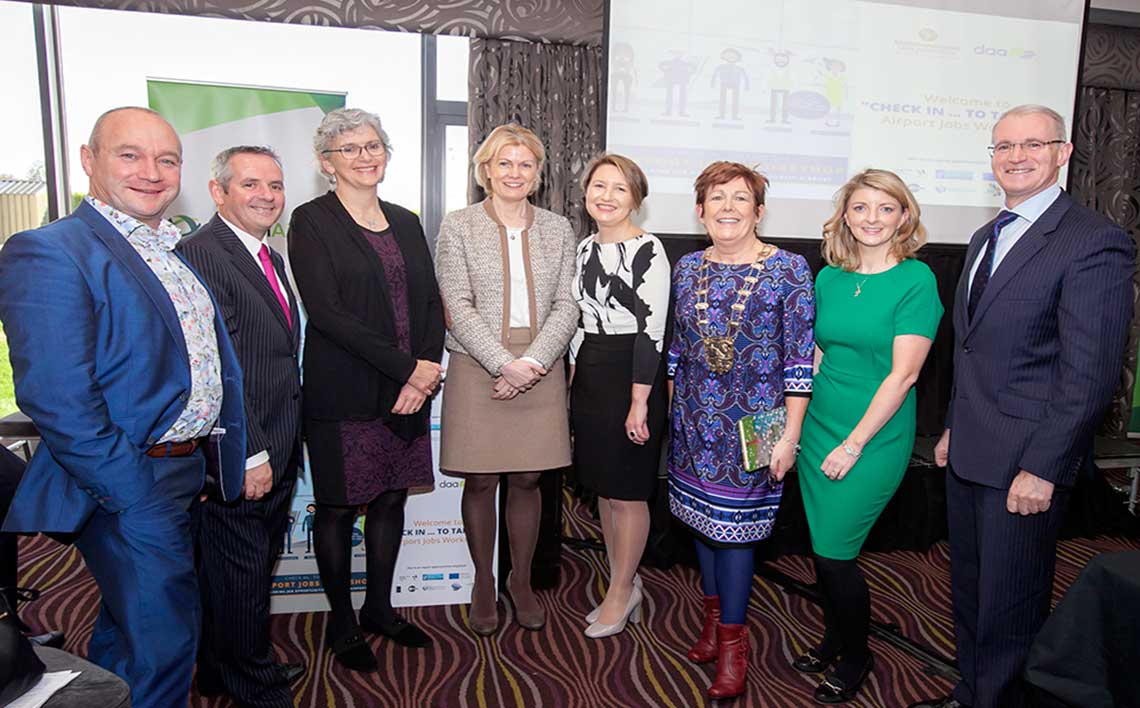 daa hosted an event in conjunction with Blanchardstown Area Partnership last week to promote job opportunities at Dublin Airport.
More than 200 jobseekers from the greater Fingal area attended the Check In To Take Off event which was held last Wednesday in the Radisson Hotel at Dublin Airport.
Students from the Institute of Technology in Blanchardstown seeking information on seasonal work also attended the event.
daa Head of Talent, Siobhán Winters said an increase in passenger numbers leads directly to an increase in employment at Dublin Airport. "We were delighted to co-host this initiative with Blanchardstown Area Partnership to showcase the wide variety of jobs available at Dublin Airport. The airport is an economic hub, and every one million additional passengers generates in the region of 1,200 additional full time jobs at the airport."
Dublin Airport employees from customer services, facilities management, security, car parks and retail gave a detailed insight into the different aspects of the frontline opportunities available at the airport. Attendees were advised on the skills required for the jobs, the selection process and how they should prepare if interested in applying.
Opening the event, Mayor of Fingal Mary McCamley said she was "delighted to see the two organisations working closely together" to promote jobs at the airport. "Dublin Airport is the backbone of the economy in Fingal and we are incredibly proud that we have it in our area. When the airport is doing well it has a ripple effect throughout the region," she added.
According to a recent updated economic study Dublin Airport supports and facilitates almost 20,000 direct jobs on the airport's campus contributing 20% to GDP in Fingal.
Dublin Airport has welcomed more than 25.3 million passengers so far this year, which is a 6% increase over the same period in 2016.
More than 1.4 million extra passengers have travelled through the airport between January and October.
Anyone interested in pursuing job opportunities at the airport should check www.daa.ie/careers for the latest information on vacancies.
Image above: Alan Shortt, MC; CEO Fingal County Council, Paul Reid; daa Chief People Officer, Anna Pringle; daa Head of Talent, Siobhán Winters; CEO Blanchardstown Area Partnership, Adeline O'Brien; Mayor of Fingal, Mary McCamley; Employer Liaison Officer Blanchardstown Area Partnership, Paula Murray and Cllr. Kieran Dennison.