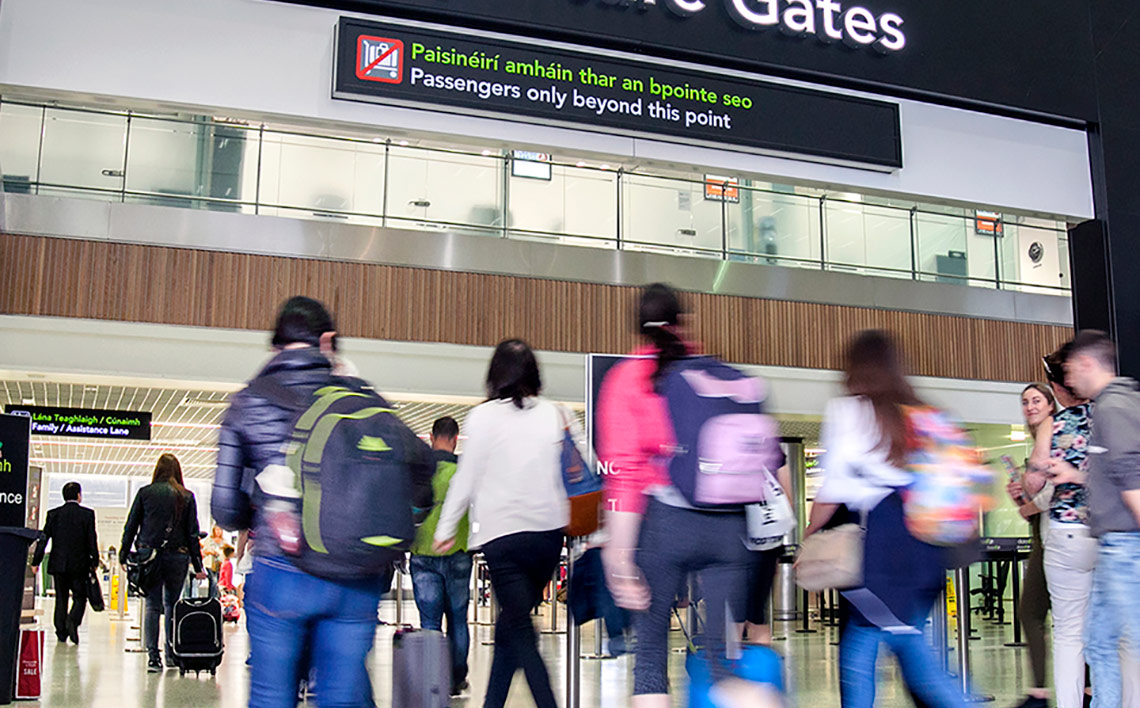 Dublin Airport was the fastest growing major airport in Europe in the first six months of this year, according to new data from ACI Europe, the trade association for European airports.
Passenger numbers at Dublin Airport increased by 13.4% in the first half of the year, making Dublin the leading performer among top tier European airports, which have more than 25 million passengers per year. The growth at Dublin follows last year's record-breaking performance when the airport welcomed 25 million passengers for the first time.
In the first six months of this year traffic at Dublin Airport grew faster than at Barcelona's El-Prat Airport (+12.7%) Istanbul's Sabiha Gokcen International Airport (+12.0%), Copenhagen Airport (+10.9%) and Schiphol Airport in Amsterdam (+9.9%).
The average growth across European airports was 4.9% in the first half of the year, with airports in the European Union reporting stronger average passenger growth of 6.2%, according to ACI Europe. Traffic at non-EU airports within Europe was almost flat in the first half, growing by just 0.5%
"Dublin Airport had a very strong performance in the first half of this year, welcoming just over 13 million passengers," said Dublin Airport Managing Director Vincent Harrison. "The growth in passenger numbers at Dublin Airport is having a significant impact on the Irish economy," Mr Harrison added, "bringing increased trade and investment and also driving higher visitor numbers, which is in turn boosting the Irish tourist industry."
A 2015 study by economic consultants InterVistas showed that Dublin Airport is a key strategic asset for the Irish economy as it supports or facilitates 97,400 jobs and contributes €6.9 billion to the economy.
"The significant growth in passenger numbers meant that more than 1.5 million extra customers travelled through Dublin Airport in the first six months of the year," according to Mr Harrison. "This year Dublin Airport will have a total of 18 new routes and services as well as additional frequencies on 24 existing services."
To meet this growth, Dublin Airport is continuing to invest in new facilitates for both passengers and airlines. A €10 million upgrade to the Arrivals Hall in Terminal 1 is currently underway and 10 new aircraft parking stands entered use earlier this year as part of a €20 million upgrade project.
The airport recently completed a €14 million expansion to the Terminal 2 multi-storey car park, which doubled the number of available spaces, opened a new business lounge after US pre-clearance in T2 and installed new self-service check-in and bag drop kiosks in both terminals.
Dublin Airport is also progressing its plans for the new €320 million North Runway at the airport, which is essential to allow the airport to grow, and will be a key enabler for the Irish economy for decades to come.
The ACI Europe traffic report, which covers 215 airports, is the only air transport report that includes all types of civil aviation, comprising passenger flights to and from Europe on full service, low cost, charter airlines and others.
ACI Europe Director General Olivier Jankovec said that while the pan-European traffic performance was healthy in the half of the year, there was a slowing of growth in non-EU airports, which was expected to continue for the rest of the year.
"EU airports are also likely to see a continued softening of passenger traffic on the back of lower consumer confidence fuelled by terrorism and the decision of the UK to leave the EU, as well as major full service airlines reining in capacity," according to Mr Jankovec. "The only positive remains the price of oil – which should help limit the extent of capacity cuts and keep low cost carriers in expansion mode," he added.