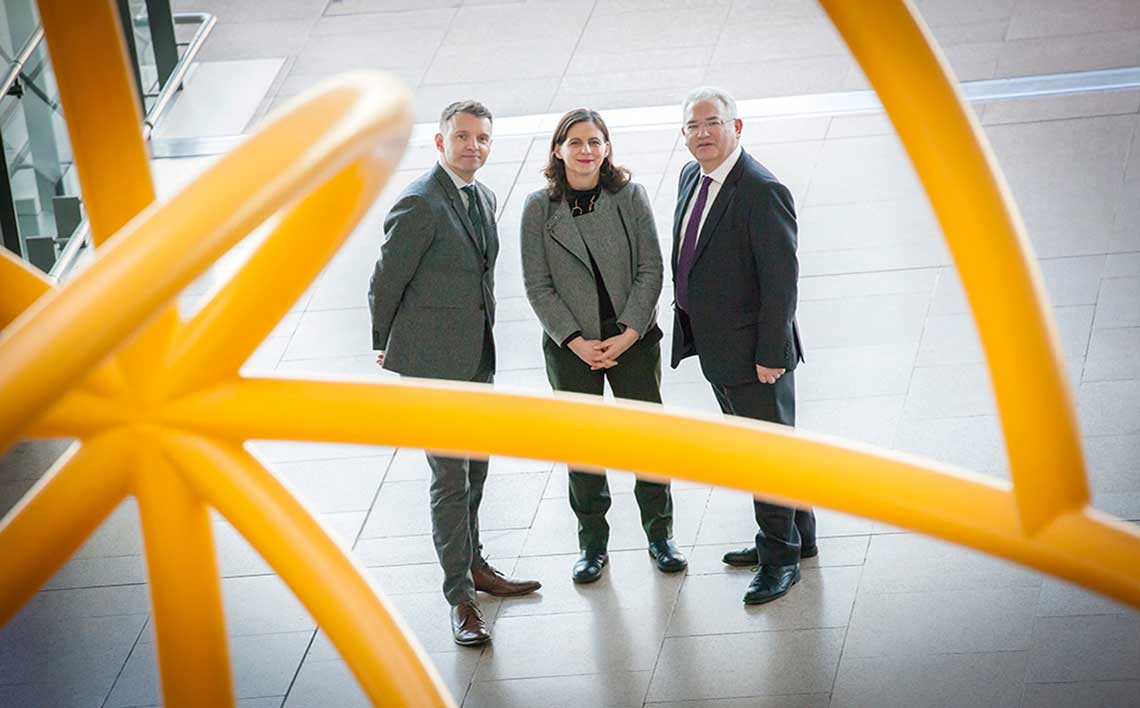 Agreement will bring new public art programme to Dublin Airport
Dublin Airport has agreed a new partnership with the National College of Art and Design (NCAD) in Dublin aimed at bringing an enhanced public art programme to the airport.
The two-year Creative Journeys partnership will enable NCAD students, past and present, to showcase their ideas and work to an international audience, and will provide Dublin Airport passengers with a unique perspective into contemporary Irish art.
Supported by Business to Arts, this new partnership will deliver a full public art programme at Dublin Airport over the next two years. Seven sites have been chosen across the airport campus to host works within Creative Journeys. The sites are located in landside and airside areas to allow both departing and arriving passengers to view the works of art. This will enable members of the public who are at the airport but not travelling to view some of the installations.
The first art work within the Creative Journeys programme will be installed later this month and during the two-year programme each location will house several different works of art.
"Providing a world-class passenger experience is a constant goal at Dublin Airport and the visual environment at the airport plays a key role in this," said Dublin Airport Managing Director Vincent Harrison.
"Dublin Airport provides the first welcome and last goodbye to the island of Ireland for tens of millions of people every year, and Creative Journeys will provide a wonderful showcase opportunity for the creative talents of talented NCAD artists and graduates based here and who are inspired by their surroundings on a daily basis," Mr Harrison added.
"Creative Journeys is part of a wider programme to help Dublin Airport provide an experience that is engaging and memorable, but also one that also creates a unique sense of place. Dublin Airport is proud to partner with NCAD, which fosters and inspires Ireland's future artists."
Over the past year, Dublin Airport and Business to Arts worked together to design a process to enable arts organisations to bid to become involved in the project. An open call process was held to identify potential partners for the public art programme. Interest was strong, with initial submissions from a number of agencies and organisations.
NCAD was eventually selected as Dublin Airport's partner for the project. "We are thrilled to be working in partnership with Dublin Airport on Creative Journeys," said NCAD Director Sarah Glennie.
"This project creates a fantastic opportunity for a wide public to experience some of the great work that is happening in NCAD and for NCAD students to gain invaluable experience of presenting their work in a highly public space. Ireland's creative sector represents an ambitious and internationally connected wealth of talent and NCAD is delighted to be able to give visitors to Dublin Airport an opportunity to experience at first hand work by our emerging creative practitioners."
NCAD has four schools: Design, Education, Fine Art and Visual Culture, with more than 1,000 full time students and a further 600 students who take evening courses. Three NCAD academics Derek McGarry (Head of Innovation and Engagement), Alex Milton (Head of School of Design) and Philip Napier (Head of School of Fine Art) will now work with Dublin Airport and Business to Arts around concepts and plans for the proposed sites across the airport campus.
'Dublin Airport and NCAD are both long-term supporters of Business to Arts and we have worked with their respective teams and celebrated their individual art programmes, commissions and sponsorships over many years," said Business to Arts Chief Executive Andrew Hetherington.
"I am particularly proud that this is one of the first, new partnership announcements during Business to Arts' 30th Anniversary. I can't wait to see the unusual and beautiful installations that will create conversations at Dublin Airport, which is the premier location to showcase Ireland's diverse art and design talent. This new partnership will build on Dublin Airport's recent collaborations with the Abbey Theatre, ID2015 and the Dublin Theatre Festival. Art has the power to change the dynamic of a space, enhancing the overall airport experience and we look forward to watching people engage with the installations."
Dublin Airport and daa have been supporters of the arts for many decades. daa has commissioned the award sculpture for the Allianz Business to Arts Awards for almost 30 years - one of the longest-running corporate art commissions in Ireland. An Irish artist is selected each year and previous commissions include Cara Murphy, Seamus Gill, Felim Egan, and Grace Weir.
Dublin Airport is also home to the iconic Turning Point by Isabel Nolan, which was commissioned by daa in 2010 and is situated at the heart of Terminal 2. in Dublin Airport. The sculpture is one of Ireland's most viewed and best-known pieces of art.
Image above: Business to Arts Chief Executive Andrew Hetherington, NCAD Director Sarah Glennie and Dublin Airport Managing Director Vincent Harrison pictured at the launch of Creative Journeys and seen through Isabel Nolan's Turning Point sculpture at Terminal 2