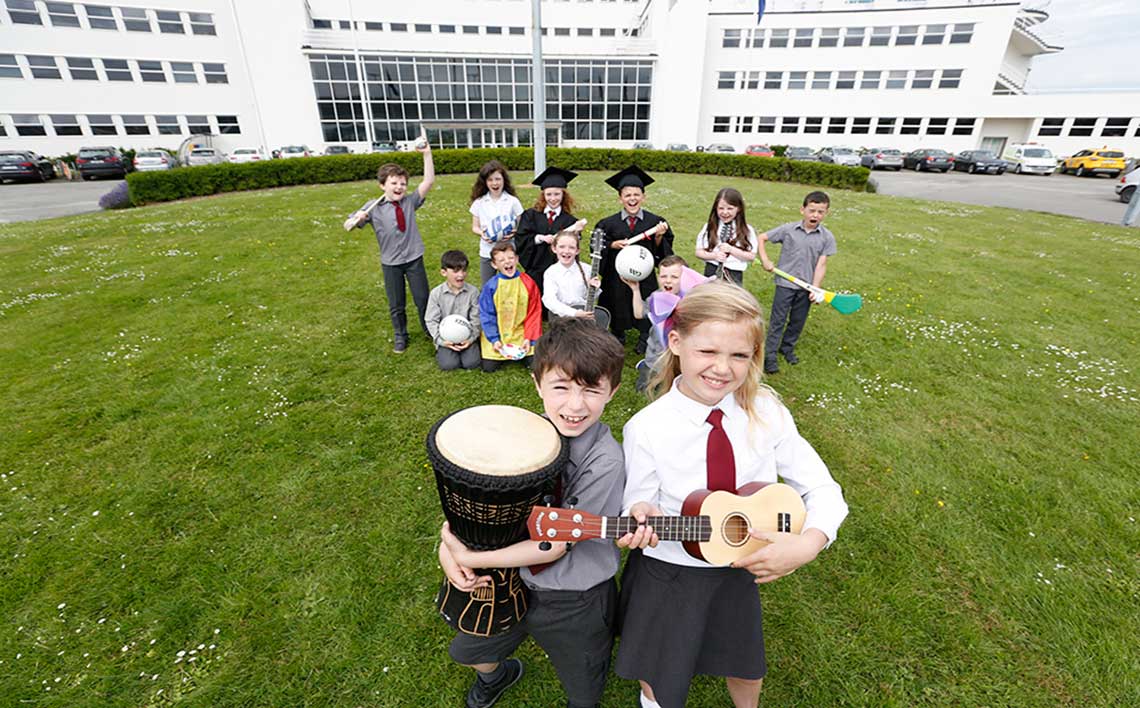 Dublin Airport is launching a new €10 million Community Fund that will support a wide range of local community initiatives.
The Dublin Airport Community Fund will invest €400,000 per year over the next 25 years in local projects focussed on areas such as; environment and sustainability, sports and recreation, social inclusion and community development, health and wellbeing, and culture and heritage.
"Dublin Airport has been supporting projects in local communities for decades and as the airport grows with additional facilities such as the new North Runway, we are expanding our support for those neighbouring communities," said Dublin Airport Managing Director Vincent Harrison.
"The new Community Fund represents is a very significant expansion of our existing local activities, as we are more than doubling our annual community spend," Mr Harrison added.
Dublin Airport already delivers huge benefits to the local community as it is the largest employer in Fingal, with 19,200 jobs located directly at the airport or at airport-related businesses, according to Mr Harrison.
"We also depend on many of our neighbouring communities to provide the staff who work at the airport on a daily basis, not just for daa, but also for all of the other businesses that are based here because of the airport. The new Dublin Airport Community Fund will further strengthen those already close bonds between the airport and its neighbours."
Dublin Airport has supported community initiatives for many years in areas such as sports, education, literacy and the arts. Organisations and activities currently supported include; St Margaret's GAA Club, Naomh Mearnóg GAA Club, Swords and Malahide Young Musician of the Year competitions and Fingal Libraries' Battle of the Book reading programme.
The new Community Fund will support local projects in the neighbouring communities around Dublin Airport from Santry south of the airport to Rolestown in the north and from Tyrrelstown on the west to Portmarnock on the east.
The Community Fund will also support up to 10 students per year from economically disadvantaged backgrounds to enable them to attend Dublin City University (DCU) via its Access Programme. "By working with Dublin City University's Access Programme, the fund will provide scholarships to students that may be marginalised, giving them the life-changing opportunity to access third level education," Mr Harrison said.
Awards from the Community Fund will be made by an independent Grant Making Panel, chaired by Marian Burns, Director of Human Resources with DCU. Ms Burns was appointed to the role in 2002, and joined the university in 1990. The grant making panel will also include two representatives from local businesses and two representatives from Dublin Airport.
The fund has a transparent application process for grants, the full details of which are now available on the Dublin Airport website. There will be two calls for funding applications each year - in February and September - and payments will be awarded in April and November.
Organisations can apply for grants under three different headings: minor grants of €5,000 or less to suit smaller initiatives; major grants of €5,000 or over for projects that have medium or long-term benefits and capital grants for the purchase of equipment or the improvement or construction of buildings.
Dublin Airport's Community Fund will open for applications for the first time on September 1 for a period of six weeks with the first allocation of funds being distributed in November this year.
Applications will be accepted from organisations such as voluntary community groups or clubs, residents associations from local communities, schools/colleges and companies limited by guarantee.
The fund will support community-led projects in the immediate vicinity of Dublin Airport and communities which are located under a flight path. The parameters of the fund – both geographically and in terms of the type of activity that should be supported - were designed following detailed public feedback that was undertaken as part of the consultation process for the new North Runway.
"Our intention is that the Community Fund's annual spend of €400,000 will reach the neighbouring communities that are most impacted by airport operations," Mr Harrison said.
A clear step-by-step application guide for the new Dublin Airport Community Fund and application forms can be found HERE or via communityfund@daa.ie
Image above: Girls and boys from St. Margaret's National School, North County Dublin at the launch of Dublin Airport's €10M Community Fund