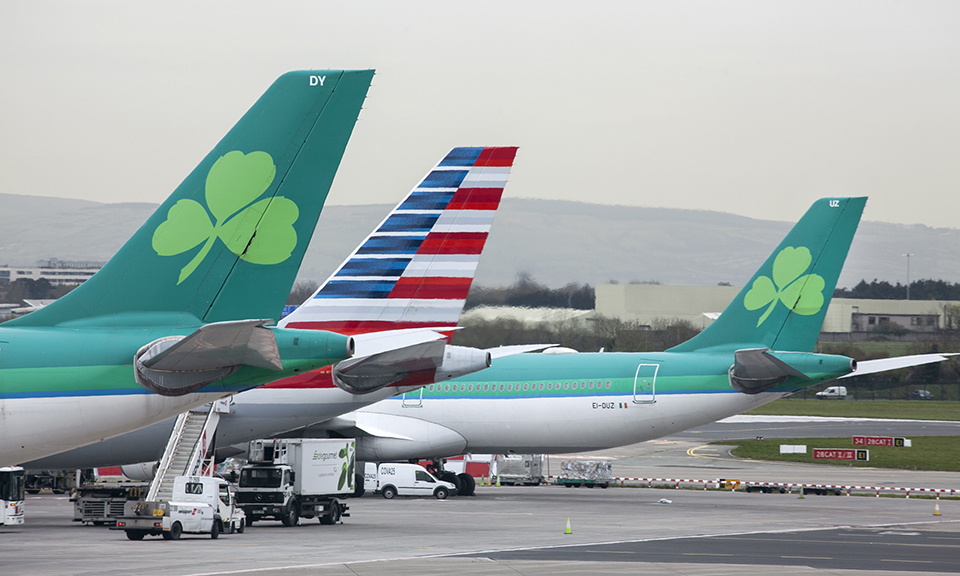 Dublin Airport is now one of Europe's leading airports for both direct connectivity and hub connectivity, according to a major new aviation study.
Dublin Airport has entered the top 20 league rankings for both direct connectivity (20th) and hub connectivity (18th) according to ACI Europe's Airport Industry Connectivity Report 2017.
The report found that Dublin Airport's hub connectivity has increased by 286% over the past 10 years, making Dublin one of four new entrants to the best hub connectivity rankings alongside Düsseldorf, Warsaw and Berlin Tegel airports. Dublin is one of a number of new secondary hubs which have emerged over the past 10 years, according to ACI.
Dublin Airport's direct connectivity has also increased rapidly over the past 10 years – growing by 23% since 2007 to catapult Dublin into the European top 20 league. It is one of three new entrants to the top 20 alongside Moscow-Sheremetyevo and Palma de Mallorca.
"Air connectivity is essential for the Irish economy, which is one of the most open economies in the world," said Dublin Airport Managing Director Vincent Harrison. "By adding new routes and extra flights on existing services, Dublin Airport is facilitating greater trade, tourism and investment for the benefit of the entire island," he added.
"Dublin Airport now has much greater direct and hub connectivity than it had before the global downturn, and we're continuing to expand. Over the past three years alone Dublin Airport has seen 53 new routes and capacity increases on 84 existing services." This increased connectivity and growing passenger numbers have a significant direct and indirect impact on the Irish economy, according to Mr Harrison. "Dublin Airport is the biggest economic engine in the State as the most recent economic study shows that it supports or facilitates 117,300 jobs and is worth €8.3 billion to the Irish economy annually."
Growing Ireland's connectivity will be a key enabler for the Irish economy, particularly in the current climate, Mr Harrison said. "Dublin Airport's new Runway North is essential to allow Ireland the freedom to compete globally in a more uncertain post Brexit environment."
In relation to indirect connectivity, the report found that over the past 10 years the "EU big three" (IAG Group, Lufthansa Group and Air France-KLM) were collectively responsible for almost 34% of the growth in Dublin's Airport's indirect connectivity while the "Middle East big three" (Emirates, Etihad and Qatar) were collectively responsible for almost 27% of the growth.
The ACI ranking counts how many direct services an airport has, and also considers the frequency of those services and the quality of the connections that are available. The report found that Amsterdam Schiphol is Europe's leading airport in terms of direct connectivity while Frankfurt has the best hub connectivity in the world.


Europe's Top 20 Airports for Direct Connectivity (Source ACI)
1. Amsterdam
2. Heathrow
3. Frankfurt
4. Paris CDG
5. Istanbul Atatürk
6. Munich
7. Madrid
8. Barcelona–El Prat
9. Rome Fiumicino
10. Gatwick
11. Moscow Sheremetyevo
12. Copenhagen
13. Stockholm Arlanda
14. Palma de Mallorca
15. Oslo
16. Zurich
17. Paris Orly
18. Vienna
19. Dusseldorf
20. Dublin


Europe's Top 20 Airports for Hub Connectivity (Source ACI)
1. Frankfurt
2. Amsterdam
3. Paris CDG
4. Istanbul Atatürk
5. Heathrow
6. Munich
7. Moscow Sheremetyevo
8. Madrid
9. Zurich
10. Vienna
11. Rome Fiumicino
12. Helsinki
13. Brussels
14. Lisbon
15. Copenhagen
16. Dusseldorf
17. Oslo
18. Dublin
19. Warsaw
20. Berlin Tegel